Dennis Francis Thomas Memorial Stone
Introduction
This memorial honors Dennis Francis Thomas, an American veteran, who shares a common undeniable goal with all American veterans to protect our country's freedoms. Forever a symbol of heroism, sacrifice, loyalty and freedom. "I have just returned from visiting the MARINES at the front, and there is not a finer fighting organization in the world!" – General Douglas MacArthur
Images
1st Marine Raiders Battalion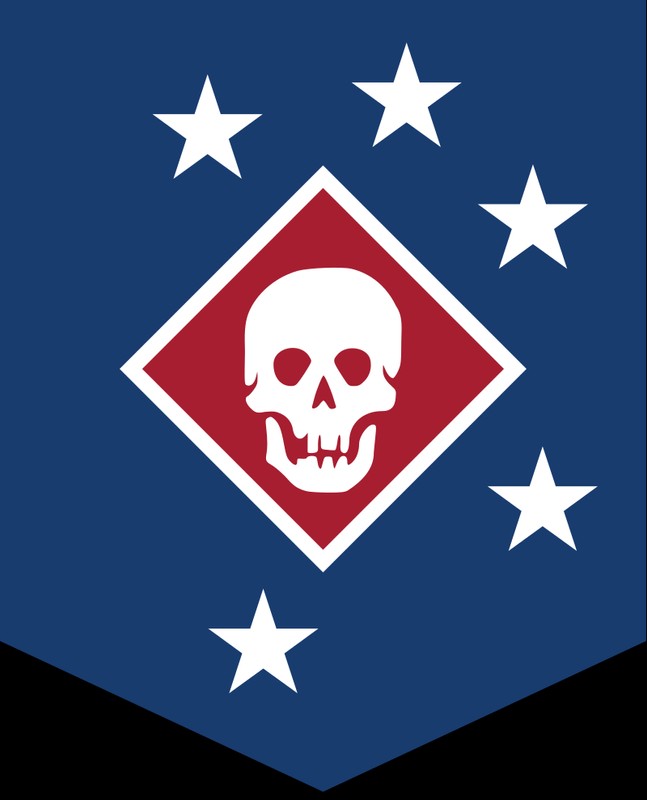 PFC Dennis Francis Thomas Grave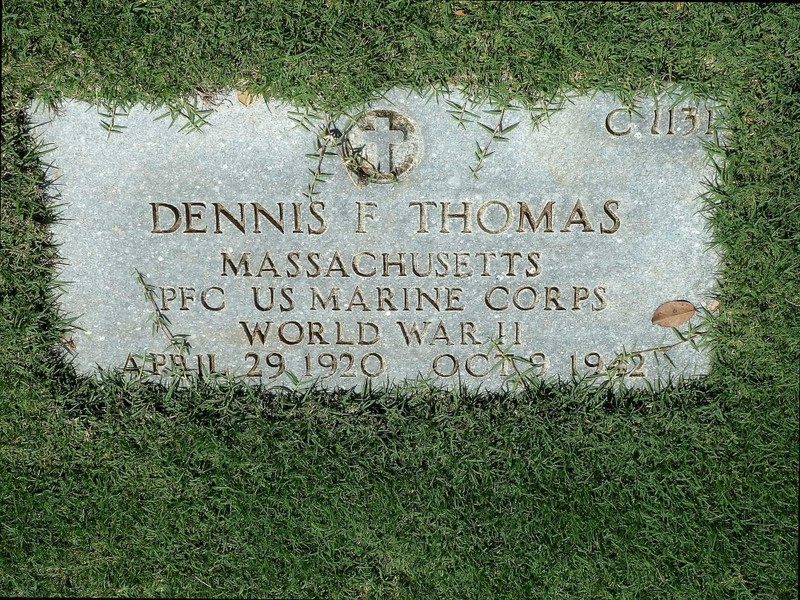 PFC Dennis Francis Thomas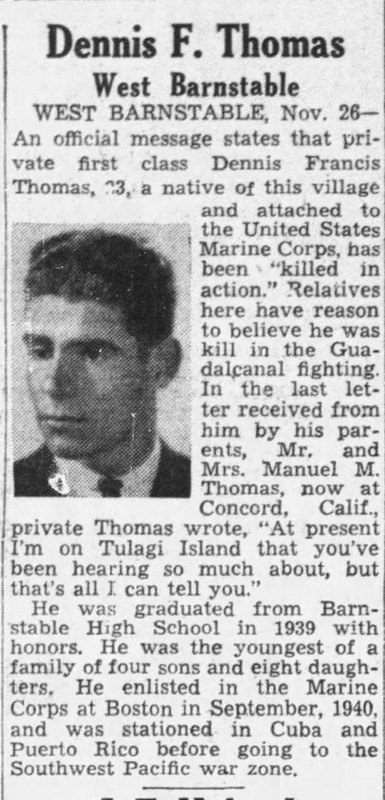 Backstory and Context
Dennis Francis Thomas was the first soldier from the Town of Barnstable killed in action in World War II. He was a native of West Barnstable Village. Dennis was born on April 29, 1920 to Mr. and Mrs. Manuel Thomas, the youngest of fourteen siblings.
He graduated with honors from Barnstable High school in 1939 and a year later he enlisted in the Marine Corps out of Boston on September 30, 1940. He was stationed in Cuba and Puerto Rico before going to the South Pacific war zone.
On October 9, 1942, Private First Class Thomas died at Guadalcanal in the Solomon Islands located in the South Pacific. His first Marine Raider Battalion bore the brunt of a heavy enemy assault of 150 Japanese soldiers. Under the cover of smoke, automatic weapons, hand grenades and bayonets, he fought hand to hand combat against overwhelming number of hostile forces. In the midst of a desperate battle, Private Thomas refused to be dislodged from his post and died heroically. His fighting spirit and unyielding devotion to duty were in keeping with the highest traditions of the United State Naval Service. He was awarded the Navy Cross and the Purple Heart. He was laid to rest at the National Memorial Cemetery of the Pacific in Honolulu, Hawaii. According to Donald Brenner commander of Veterans of Foreign Wars Post 2578 is named in his honor.
Private Thomas' memorial stone is located at the intersection of Route 6A and Parker Road in West Barnstable. 
Sources
"West Barnstable Hero's Medals Come Home." Cape Cod Times November 12th 2013. .
"Barnstable High Commencement." The Hyannis Patriot June 15th 1939. .
"West Barnstable Man Killed In Action." The Yarmouth Register November 13th 1942. .
Accessed March 17th 2020. https://homeofheroes.com/distinguished-service-cross/service-cross-world-war-ii/navy-cross-world-war-ii/navy-cross-world-war-ii-marine-corps/navy-cross-world-war-ii-marine-corps-t-z/ .
Accessed March 17th 2020. https://gravelocator.cem.va.gov/index.html?cemetery=N899 .
Image Sources
https://en.wikipedia.org/wiki/Marine_Raiders

https://www.findagrave.com/memorial/141058899/dennis-francis-thomas

https://www.findagrave.com/memorial/141058899/dennis-francis-thomas