Bartine Outhouse & Eureka & Palisade Railroad Car
Introduction
Located across the street from the Sentinel Museum, this outhouse and a railcar was once owned by the Eureka & Palisade Railroad. There are also a few pieces of mining equipment next to the car. The outhouse, which was built by local businessman Frederick Bartine, is unique in that it is the only "five-hole" outhouse in the state. It is unclear when the railcar was built, but presumably sometime in the last quarter of the 1800s.
Images
The Bartine Outhouse is the only five-hole outhouse in Nevada.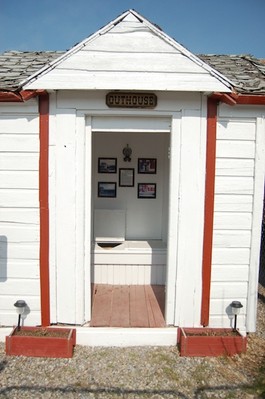 The Eureka and Palisade Railroad car is on display next to historic mining equipment.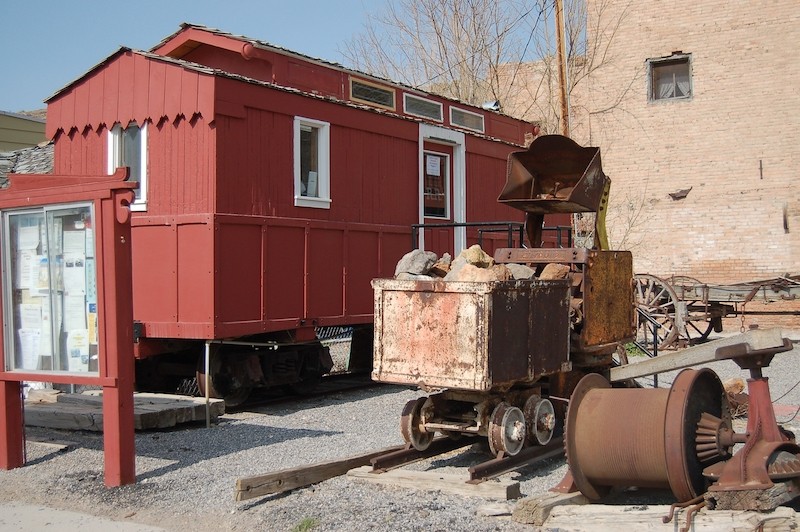 Backstory and Context
Frederick Bartine (1888-1964), a native of Finland, immigrated to the United States in 1901 and settled here in Eureka. He became a successful businessman. He owned a ranch, waterworks, service station, and two mining claims on Willow Creek. There is little information is readily available about the outhouse but apparently is has been moved on a number of occasions before ending up here.
As for the railroad, it was founded in 1873 to transport ore from the mines in the Ruby Hill area, which is also known as the Eureka Mining District. Silver, lead and other minerals were discovered there in the mid-1860s. The track finally reached Eureka in 1875. The next year, the company operated four locomotives, three passenger cars, and 58 freight cars. It acquired more rolling stock by 1878, a clear sign that the mines were thriving. However, the mines began to dry up in the mid-1880s and were eventually abandoned by 1893. The company did continue to operate until about 1910 when it was forced into receivership. A number of factors led to this result including floods that washed tracks away. The company reorganized itself and changed its name to the Eureka-Nevada Railway. It seems to have operated until 1938.
Sources
"Bartine Outhouse." The Historical Marker Database. Accessed March 17, 2020. https://www.hmdb.org/m.asp?m=51694.
Hees, Randy. "Eureka and Palisade Railroad." PacificNG.org. Accessed March 17, 2020. http://www.pacificng.com/template.php?page=roads/nv/ep/index.htm.
Hilton, George W. American Narrow Gauge Railroads. Stanford, California: Stanford University Press, 1990.
Image Sources
The Historical Marker Database

The Historical Marker Database