Moores' Flour Mill Building
Introduction
Author-Uploaded Audio
Bob and Ken Moore opened Moores' Flour Mill in Redding in 1974. Since then, it has been a favorite with locals and area chefs. In addition to selling non-GMO and organic stone-ground flours, Moores' Flour Mill sells products such as pasta, honey, molasses, Scottish oats, and homemade cranberry pecan granola. In 2014, the company purchased a second location with more space, while it continues to also operate its original store-front on Shasta Street.
Images
Moores' Flour Mill on Shasta Street in Redding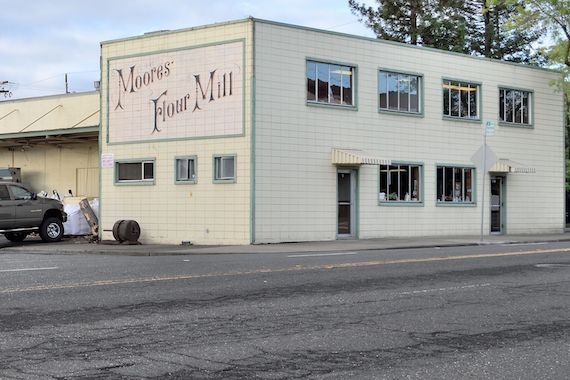 Signage at Moore's Flour Mill on Shasta Street in Redding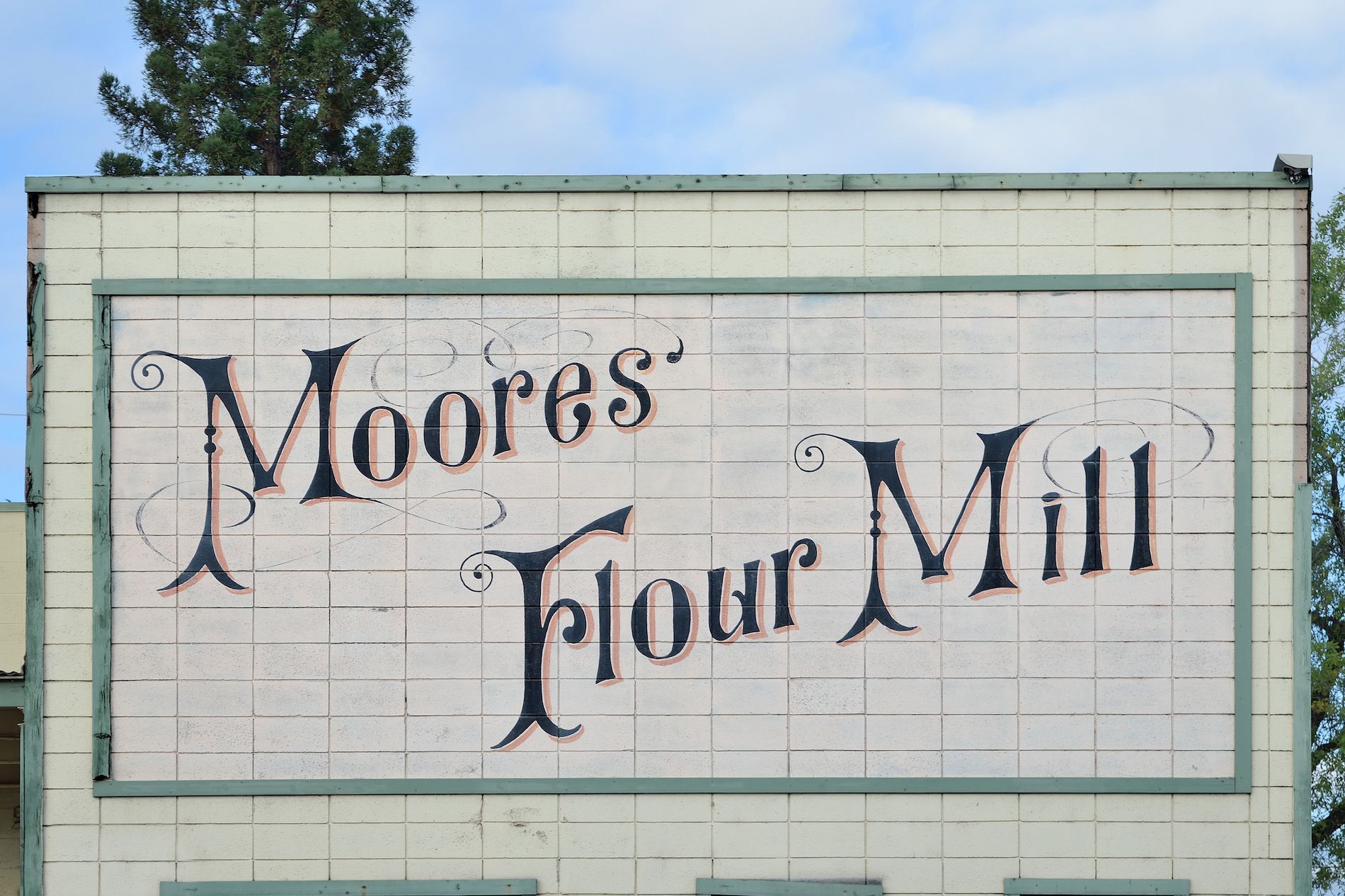 Signage at Moores' Flour Mill on Shasta Street in Redding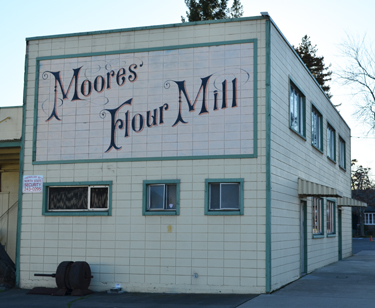 Shelves at Moores' Flour Mill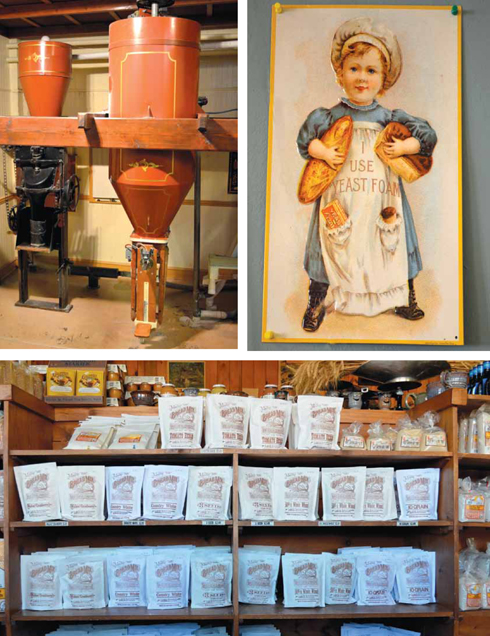 Early advertisement, now framed on the wall at Moores' Flour Mill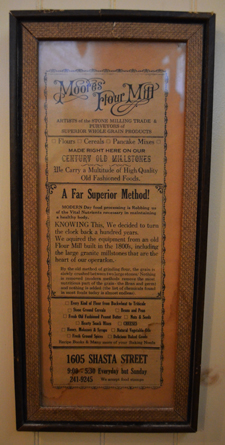 Antique hand-milling tool at Moores' Flour Mill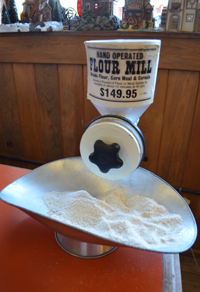 Antique milling equipment at Moores' Flour Mill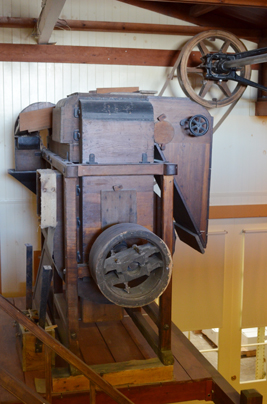 Backstory and Context
Author-Uploaded Audio
Located just across the railroad tracks when approaching from downtown Redding, Moores' Flour Mill has been in operation since 1974. Currently owned by Bob Moore, the company produces quality "stone grain" flours and its products are sought after by local foodies and chefs. The mill's whole grain flours are produced through historic methods of "stone grinding," originally on mill stones that were 150 years old.
Initially, the mill was opened by Bob and his brother Ken in a quonset hut on the south side of Redding as a retail-only shop. By the late 1970s, the Moore brothers were able to purchase the property at the current Shasta Street location, which had previously housed the Redding Record Searchlight newspaper. As their business grew, they began to ship the mill's fresh flours in freight cars across the country, as far east as Mississippi.
In 2014, Bob Moore, who continues to run the company with his brother, Ken, and his son, Chad, purchased a new building just north of the municipal airport because the mill needed a much larger space (and the new building offers six times more space). However, they decided to still continue operating the Shasta Street location because the location remains a popular and accessible favorite among Redding locals. Although the business itself is now primarily wholesale, the retail store on Shasta Street is easily accessible from downtown Redding, so people can come in and purchase fresh-ground flours directly from the mill.
Inside the mill, there are historic 150-year-old grinding stones, supported within an antique wooden frame. Although the Moores eventually upgraded the equipment so that the mill now uses on 30-year-old stones, the mill continues to rely on historic stone-grinding methods to produce quality whole grain flours, unlike some of the more modern stone-grinding equipment and techniques which create a more refined type of stone-ground flour. However, the mill has also modernized to meet current regulations, such as to ensure that its gluten-free products meet certain standards.
From its retail storefront on Shasta Street, Moores' Flour Mill currently sells fresh grains, bread flours, pasta, spices, rice, beans, lentils, and split peas. It also sells ready to eat granola and muffins, as well as ready to bake bread mixes, pancake mixes, and muffin mixes. In addition, the shop sells dried cranberries, nuts, seeds, honey, and molasses, all of which are important ingredients for natural baking. The baking products that line the shelves each appear in simple packaging with old-fashioned labels.
Fresh grain flours sold in the shop include barley, wheat, quinoa, millet, rice, spelt, and corn, among others. Much of the grain, corn, and raw ingredients are sourced locally. Many of the products are also organic, and all are non-GMO. Behind the shop and mill, tall silos hold hundreds of tons of grain, still waiting to be milled, baked, and enjoyed.
Sources
"Moore's Flour Mill | Redding, CA", Moores' Flour Mill. Accessed March 16th 2020. https://www.mooresflourmill.com/.
Benda, David. "Moore's Flour Mill plans move to larger plant near Redding Municipal Airport", Redding Record Searchlight. January 24th 2014. Accessed March 16th 2020. http://archive.redding.com/news/moores-flour-mill-plans-move-to-larger-plant-near-redding-municipal-airport-ep-299106680-353596711.html/.
Jensen, Margaret. Edible Shasta Butte. July 1st 2012. Accessed March 16th 2020. https://www.edibleshastabutte.com/online-magazine/summer-2012/nose-and-the-grindstone/.
Image Sources
Moore's Flour Mill

Moores' Flour Mill

Earl Bloor, Edible Shasta Butte

Earl Bloor, Edible Shasta Butte

Earl Bloor, Edible Shasta Butte

Earl Bloor, Edible Shasta Butte

Earl Bloor, Edible Shasta Butte

Additional Information