Edward Frisbie House
Introduction
Author-Uploaded Audio
This historic Redding home was built in 1887 for the family of Edward Frisbie, a prosperous land developer, banker, cattle rancher, and entrepreneur. Frisbie's leadership and investment helped develop the town of Redding into a commercial center in Northern California. Frisbie built this Italianate style home on East Street for his second wife, Laura. It is the third oldest building in Redding, and it was listed on the National Register of Historic Places in 1990.
Images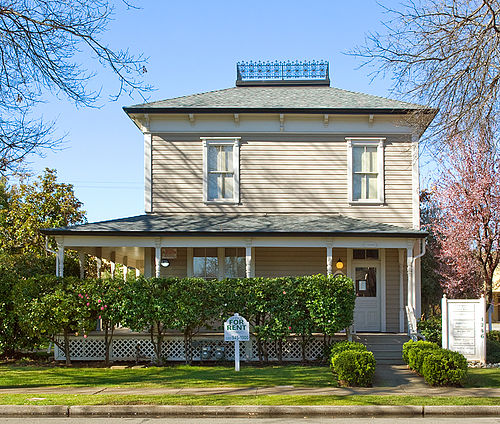 Edward Frisbie reading a newspaper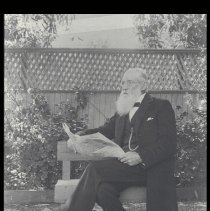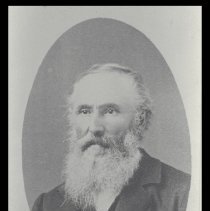 Edward Frisbie's prize-winning bull, which he named " President Mischief "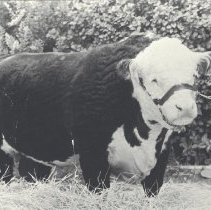 Edward Frisbie with five sons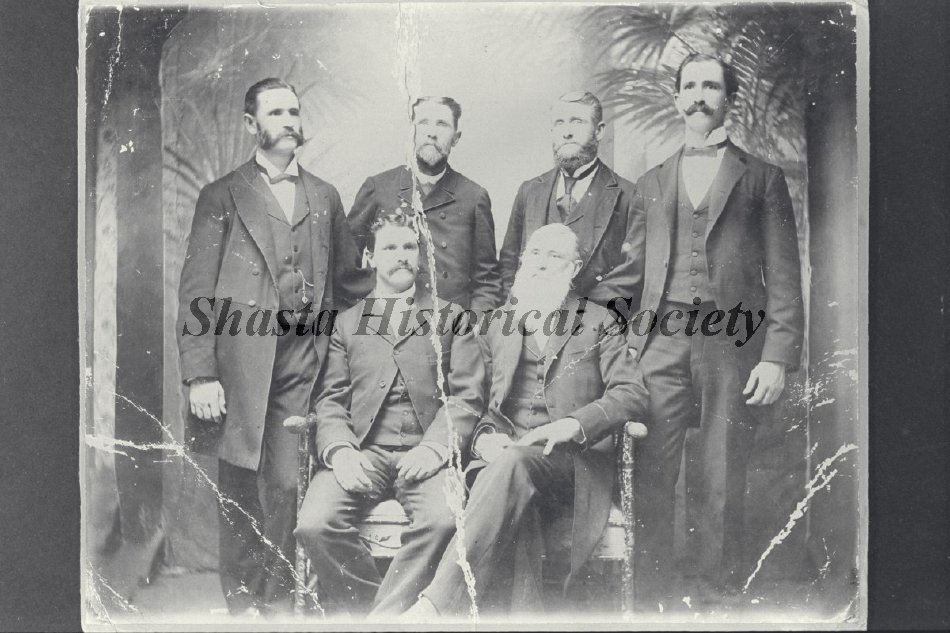 Edwina Fay Frisbee, youngest daughter of Edward Frisbee, shown here at her graduation from the University of California at Berkeley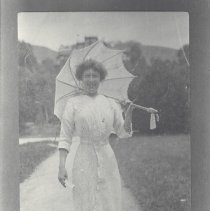 Backstory and Context
Author-Uploaded Audio
The two-story Edward Frisbie house was built in 1887 in the Italianate style of architecture which became popular in America during the late Victorian Era. Architectural details include decorative moldings, cornices, and brackets. These features support the "hipped roof," the gently sloping roofline without gables. Inside the home, there are sliding parlor doors as well as an elegant curved staircase. The property is one of the oldest in Redding and one of the few remaining representations of Victorian Era architecture within the town.
Edward Frisbie came to Shasta County in 1886, and he purchased 20,000 acres of land from the Redding Buena Vista Land Grant. He then divided this into lots and re-sold the land during a time when Redding was emerging as the most important commercial center in Northern California. In 1887, he built the home on East Street for his second wife, Laura. They were married after the death of his first wife, Phoebe, with whom he had eleven children. His second wife, Laura, was involved in educational work and was a graduate of Napa College. Together, Edward and Laura had two children.
In 1888, Frisbie along with four other men established the Bank of Northern California. As the second bank in Redding, it helped to advance trade and commerce in the region. Frisbie also served as president of the Bank. Additionally, he had a lumber business on the Pitt River as well as a cattle ranching operation. He owned 920 acres in the Bald Hills of Shasta County. Frisbee was known to have been particularly fond of his prize-winning Hereford bull with its shaggy white face, which he called "President Mischief." Because of all his many successful commercial endeavors, Frisbie is remembered as a "founding father" of Redding as well as the neighboring town of Anderson.
The Frisbie family sold the home on East Street in 1890 when they relocated away from Redding. After their departure, the home became used as a boarding house. During a period in the twentieth century, the home also stood vacant. The rear of the property was expanded in 1930. From 1985 to 1986, the home was fully restored with considerations given to preserve the original historic architecture of the property. At that time, the "widow's walk," or octagonal balcony on the roof, was removed because it was considered it to be inauthentic by the U.S. Department of the Interior's National Park Service, Division of Historic Preservation Assistance.
The Edward Frisbie House was added to the National Register of Historic Places on March 29, 1990. It is also called the Edward Frisbie Mansion. Although the home has the relatively understated appearance of an Italianate farmhouse and would probably not be considered a "mansion" by today's standards, at the time that it was built, its design reflected the wealth and style of one of the most prosperous families then living in Shasta County. Today, the Edward Frisbie House is currently used as a commercial office space.
Sources
"Asset Detail: Edward Frisbie House", National Park Service. Accessed March 15th 2020. https://npgallery.nps.gov/NRHP/AssetDetail?assetID=b2dd0bd6-04ef-43ca-afd5-3f905f79fe7f.
Davis, Angela M. . " "National Register of Historic Places Registration: Edward Frisbie House", National Park Service. January 1st 1990. Accessed March 15th 2020. https://npgallery.nps.gov/NRHP/GetAsset/NRHP/90000550_text.
"Edward Frisbie House (Redding, California)", Revolvy. Accessed March 15th 2020. https://www.revolvy.com/page/Edward-Frisbie-House-%28Redding%2C-California%29?mt=1.
Guinn, James Miller. History of the State of California and Biographical Record of the Sacramento Valley, California. Chicago, Illinois. Chapman Publishing Company, 1906.
Smith, Dottie. "Travelin' in Time: Dottie Smith: Historic places in Redding", Redding.com. January 28th 2016. Accessed March 15th 2020. https://www.redding.com/story/life/columnists/dottie-smith/2016/01/28/travelin-in-time-dottie-smith-historic-places-in-redding/93437694/.
Image Sources
Edward Frisbie House

Shasta County Historical Society

Shasta County Historical Society

Shasta County Historical Society

Shasta County Historical Society

Shasta County Historical Society

Additional Information