Jordan Field
Introduction
The great journey of Indiana University's 1921-1922 Baseball team begins here. Normally, the team would face teams that are far more local, such as the midwest of the United States, in comparison to Japan. However, the opportunity arises for Indiana University when plans are set in motion to travel across the world to the island country of Japan in order to play a very prominent sport to each country. From here, the Baseball team would begin the lightest of their journey, needing to take a parlor car from Bloomington to their next destination of Chicago. A parlor car is a nicer train car that can hold large groups. Chicago would be the closest city that had a train station that would go across the United States more easily, but it all started in their Midwestern College city of Bloomington.
Images
IU's Jimmy Boyle, circa 1902 on Jordan Field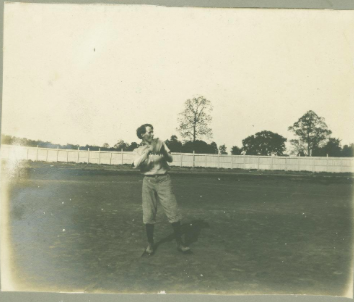 Leonard "Ruck" Ruckelshaus on IU's Jordan Field, circa 1922.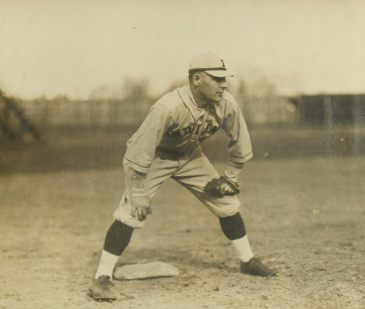 Letter to Indiana University from Fletcher American Company, circa 1922.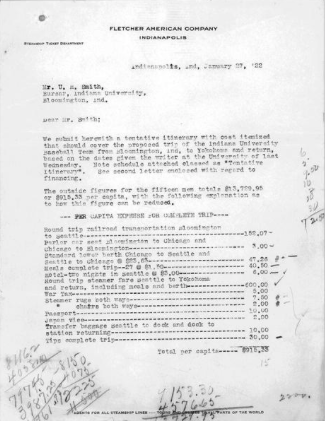 Backstory and Context
In November of 1921, the first correspondence between Indiana University of Bloomington, Indiana and Waseda University of Tokyo, Japan began to form a time practicing together and playing games in the spring of 1922. Indiana University's coach, George Lewis, writes back and forth with Waseda University's Baseball Manager, Iso Abè about informal logistics of what a rough cost could be to make the travel and how Waseda University would cover a large expense of it. In return, they expected that Indiana University would cover their expenses of lodging if and when Waseda University came to practice in Bloomington in the coming years.
To come up with a more affirming itinerary, Indiana University's Bursar wrote to their banking firm to give a more reasonable budget for what it would take overall for the travel overseas. The travel took much more to prepare for, considering the year was 1922. Planes and airports were not a thing of existence, which meant that it would mean a boat was the only option for them to reach the island country. Not only was the boat necessary, but a port needed to give them open and accessible water to make it. This also meant that they would have to travel across the mainland of the United States all the way to the west coast.
Almost all the expenses that could be considered were addressed in the itinerary budget by the banking firm. Each and every destination and service round trip, passports, meals, tips for services, and more. The total cost for the entire team ended up being around $13,729.95 if fifteen people went. In today's terms, that would mean the cost would be around $211,406.91. This does not include the coverage that Waseda University would agree on, which would end up being a majority of it.
Sources
http://webapp1.dlib.indiana.edu/findingaids/view?brand=general&docId=InU-Ar-VAA8687.xml&chunk.id=VAA8687-00001&text1=Japan%20Baseball&startDoc=1#1=undefined&mets=http%3A%2F%2Fpurl.dlib.indiana.edu%2Fiudl%2Farchives%2Fmets%2FVAA8687-02293
[Letter from Iso Abè to George Lewis], "Baseball Team trip to Japan," file, Indiana University President's Office correspondence, Collection C286, Indiana University Archives, Bloomington.
[Letter from Fletcher American Company to Indiana University], "Baseball Team trip to Japan," file, Indiana University President's Office correspondence, Collection C286, Indiana University Archives, Bloomington.