Raid on St. Marys Historical Marker
Introduction
On October 26, 1863, a dozen or more Confederate raiders swept into St. Marys in Pleasants County, stealing horses along the way. Once in town, they destroyed firearms, looted a local store, and accosted townspeople enjoying a ball. The raiders then fled south, their origin and fate unknown. Days after the attack, the people of Pleasants County determined to protect themselves from further raids, denounced local Confederate sympathizers, and barred Confederate soldiers from returning to the area. In 2017, West Virginia placed a historical marker in St. Marys to commemorate the raid.
Images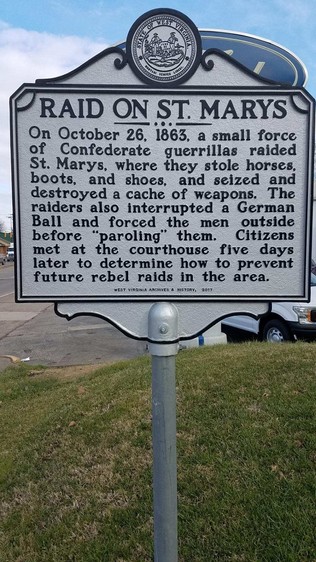 Backstory and Context
During the Civil War, although most West Virginians remained loyal to the United States, as the creation of West Virginia itself in 1863 attests, many sympathized with the Confederacy. Throughout the conflict, communities struggled with their divided loyalties and the guerrilla warfare and banditry that accompanied it. The October 1863 raid on St. Marys by Confederate guerrillas (or perhaps simple bandits) exemplifies the uncertain and local nature of the war in West Virginia.
On October 26, 1863, somewhere between twelve and twenty armed men arrived at the mouth of Middle Island Creek in Pleasants County, West Virginia. Their identities remain unknown, although several hailed from the area and fled at the start of the Civil War. Sweeping south along the Ohio River, the raiders stole horses as they went. Arriving in the little town of St. Marys, the rebels entered a local home and destroyed a stash of weapons. They subsequently looted a store, stealing boots and shoes.
Moving further into town, the raiders discovered the local townspeople enjoying a "German ball." The man "very peremptorily interrupted the fandango, by driving the men out of doors and paroling them." While its unclear any of the accosted men were Union soldiers, the act of paroling them may have been an attempt to prevent them from doing so. Having caused a stir in town and taken a variety of items, the raiders fled south. No record indicates their fate.
As the "people of St. Marys were very much alarmed, as the raid was entirely unexpected," they quickly held a county-wide meeting in St. Marys just days later. The citizens proclaimed "the right to use all lawful means to protect ourselves from the intrusion and depredations of these traitors and their abettors." They feared that Confederate sympathizers aided the raiders and denounced them as "dangerous and despicable." Moreover, they determined to prevent any who enlisted the Confederate army to return to the county. Finally, they resolved to explore further ways to prevent any future attacks.
In 2017, as a result of efforts to commemorate the Civil War and West Virginia sesquicentennial, a state historic marker was placed in downtown St. Marys in remembrance of the raid and the county's reaction to it.
Sources
1. "Another Rebel Raid Upon the Ohio--The Village of St. Marys Visited." [Wheeling] Daily Intelligencer. October 29, 1863. Web. Accessed via Chronicling America: America's Historic Newspapers. June 9, 2020. https://chroniclingamerica.loc.gov/lccn/sn84026845/1863-10-29/ed-1/seq-3/#date1=1863&index=0&rows=20&words=Marys+St&searchType=basic&sequence=0&state=West+Virginia&date2=1863&proxtext=%22St+Marys%22&y=0&x=0&dateFilterType=yearRange&page=1
2. "Union Meeting in Pleasants County." [Wheeling] Daily Intelligencer. November 5, 1863. Web. Accessed via Child of the Rebellion: An Archives and History Sesquicentennial Project. June 9, 2020. http://www.wvculture.org/history/sesquicentennial/18631031.html
Additional Information