Buchanan County Virginia Courthouse
Introduction
The current Buchanan County Courthouse was completed in 1906 and then rebuilt after a fire in 1915. This courthouse is the fourth to serve the county, with the original courthouse being built when the county was established in 1858. The current courthouse has been renovated and expanded multiple times to keep pace with the needs of the county government. This is also one of the few buildings from the early 1900s that are still standing in Grundy's "old downtown" after a two-decade, multi-million-dollar flood protection and road improvement project. The building was listed on the National Register of Historic Places in 1982.
Images
Buchanan County Virginia Courthouse was completed in 1906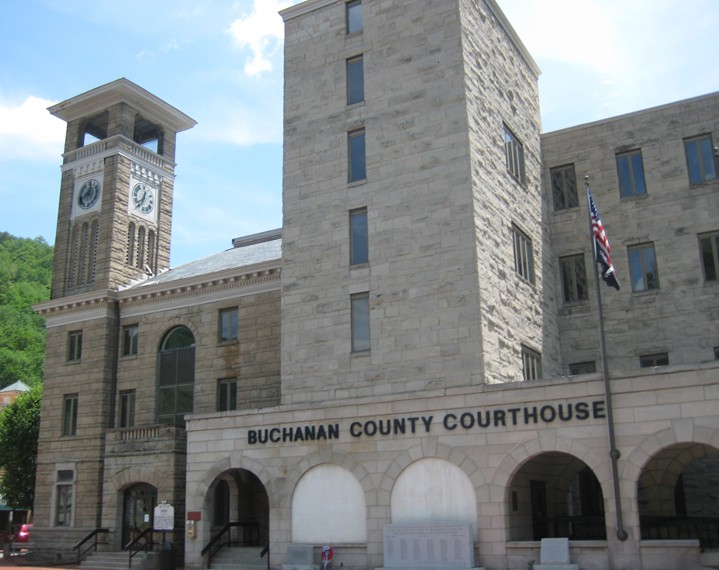 Backstory and Context
Buchanan County, Virginia, has always been starkly rural; the county was formed from surrounding Russell and Tazewell Counties in 1858 because of the vast distances citizens had to travel to reach the seats of those counties. Its first courthouse, built in the town of Grundy in 1858, burnt in 1865. A new wooden courthouse also burnt in 1885. Yet another wooden courthouse was built, but this time a stone vault was also constructed to store records – the fires had spawned confusion (and a plethora of lawsuits) about land boundaries and titles. 
As the county began to industrialize, plans took shape for a new, stone courthouse. The timber industry began to spike in the 1890s, the Big Sandy & Cumberland Railroad was constructed in 1900, and telephone service first came to the county in 1901. Franklin P. Milburn, a Washington, D.C., architect, was chosen to design a new courthouse, which was begun in 1905. Milburn also designed several other southwest Virginia courthouses; for Buchanan County, he chose the Renaissance Revival style that was prominent in government building design at the time. On December 24th, 1915, a devastating fire swept through Grundy and gutted this courthouse. Milburn was tasked with replacing the interior, and this project was completed in 1917.
After Buchanan County's timber resources were depleted in the 1920s, industry in the area shifted to coal. The first mine was opened in 1931, the same year a spur of the Norfolk & Western Railroad arrived in the county. After growing slowly for many years, Buchanan County's population skyrocketed due to coal mining; it grew from 16,700 in 1930 to 31,500 – almost double – in 1940. Such growth and prosperity did not come without difficulties. A coal market downturn in the late 1940s led to union-related violence. Between these disputes and the increased population, Buchanan County found itself needing more courthouse space, and an addition was built between 1949 and 1951.
As American coal business increased in the early 1970s, Buchanan County's economy and industry began to reach unprecedented highs. It produced 40% of Virginia's coal and was said to be one of the state's wealthiest counties. In response, the county built a new, five-story office addition to the courthouse in the early 1980s.
Grundy had long been subject to severe flooding, particularly in 1937, 1957, and, worst of all, 1977. This last flood destroyed businesses and practically buried many buildings in mud. Flood control measures were proposed shortly thereafter, but nothing practical was done until the 1990s. The US Army Corps of Engineers and the Virginia Department of Transportation worked together to simultaneously protect Grundy and expand US 460, which now serves as part of the wall around the town. Most of the town was demolished in the process; a new commercial development site was blasted out of the mountain across the river as remediation. The courthouse was one of the few buildings left in the "old" part of Grundy. In total, the flood control effort for the town was described as, "the largest federally funded project in the history of Southwest Virginia, excluding the federal highway system."[7]
Though plans have been circulated to demolish or, at least, replace the 1905 courthouse, it is still used by the Buchanan County courts and associated offices. Its grounds also feature a Confederate memorial, a coal miners' memorial, and a veterans' memorial.
The Virginia Historic Landmarks Commission juxtaposed the stately courthouse against the lawlessness that plagued the early years of the county. "In a region of Virginia known at the turn of the century for its lawlessness, a condition fostered by the isolation of most of its inhabitants from the law, the new courthouse stood as a towering symbol of justice and order in a society not very far removed from conditions on the closing American frontier."[12]
Sources
1) 229-0001 Buchanan County Courthouse, DHR: Virginia Department of Historic Resources. April 4th 2018. Accessed March 13th 2020. https://www.dhr.virginia.gov/historic-registers/229-0001/.
2) Buchanan County Courthouse, Silling Architects. Accessed March 13th 2020. https://silling.com/work/buchanan-county-courthouse/.
3) Confederate Monuments: Buchanan County, Virginia Center for Civil War Studies. Accessed March 13th 2020. https://civilwar.vt.edu/confederate-monuments/.
4) History of the Buchanan County Courthouse, Buchanan County Virginia. Accessed March 13th 2020. https://buchanancountytourism.com/?page_id=1021.
5) Important Events in Buchanan County's Past; Buchanan County Heritage; Learn & Discover, Buchanan County Public Library. Accessed March 13th 2020. https://bcplnet.org/learn-discover/buchanan-county-heritage/important-events-in-buchanan-countys-past/.
6) Lohmann, Bill. Grundy: Relocation, reinvention, Richmond Times-Dispatch. July 6th 2014. Accessed March 13th 2020. https://www.richmond.com/news/virginia/grundy-relocation-reinvention/article_b48d060a-07c4-5b77-84b8-d0c5f60498d9.html.
7) Mccown, Debra. Grundy makes dramatic entrance into 21st century, Bristol Herald-Courier. April 10th 2011. Accessed March 13th 2020. https://www.heraldcourier.com/news/grundy-makes-dramatic-entrance-into-st-century/article_c2be6f92-d619-50a9-a676-d0de8b8e4d17.html.
8) Pobst, H. Claude. History of Buchanan County. Historical Sketches of Southwest Virginia (Historical Society of Southwest Virginia). Publication No. 9. 1975. pp. 21 - 28. Historical Society of Southwest Virginia. Accessed March 13th 2020. http://sites.rootsweb.com/~vahsswv/historicalsketches/buchananco%20history.html
9) Prats, J. J.. Grundy, The Historical Marker Database. June 16th 2016. Accessed March 13th 2020. https://www.hmdb.org/m.asp?m=89737.
10) Stowers, Blake. Buchanan County Board of Supervisors: Courthouse will not be torn down, Bluefield Daily Telegraph. March 7th 2017. Accessed March 13th 2020. https://www.bdtonline.com/news/buchanan-county-board-of-supervisors-courthouse-will-not-be-torn/article_d6de2954-02dc-11e7-b6cc-8f57dab56d7e.html.
11) Timberg, Craig. Flood-Plagued Va. Town Tries Upward Mobility, The Washington Post. December 28th 2000. Accessed March 13th 2020. https://www.washingtonpost.com/archive/politics/2000/12/28/flood-plagued-va-town-tries-upward-mobility/9a5ef09e-cf0c-45d1-a74a-50189b5757cf/.
12) Virginia Historic Landmarks Commission Staff. Buchanan County Courthouse, National Register of Historic Places Inventory/Nomination Form, Virginia Historic Landmarks Commission (now Virginia Department of Historic Resources). September 16th 1982. Accessed March 13th 2020. https://www.dhr.virginia.gov/VLR_to_transfer/PDFNoms/229-0001_Buchanan_County_Courthouse_1982_Final_Nomination.pdf.
Image Sources
Wikipedia (https://commons.wikimedia.org/wiki/File:BuchananCoCourthouse.jpg) - CC BY-SA 3.0 (https://creativecommons.org/licenses/by-sa/3.0/deed.en)

Additional Information