Allen T. Caperton Highway Historical Marker
Introduction
Born into a prominent southwestern Virginia family, Allen Taylor Caperton attended the University of Virginia and Yale then returned home to Union to practice law. He also pursued a career in politics, serving in both the House of Delegates and the State Senate as a Whig. In 1861, Caperton voted against Virginia's secession. After secession occurred, however, he sided with the Confederacy and served as a Confederate senator from Virginia. After the Civil War, Caperton returned home. He became the first former Confederate to be elected to the United States Senate in 1875 and passed away the following year. In 2016, West Virginia erected a highway marker in Union acknowledging Caperton's role in West Virginia history.
Images
Allen T. Caperton Historic Marker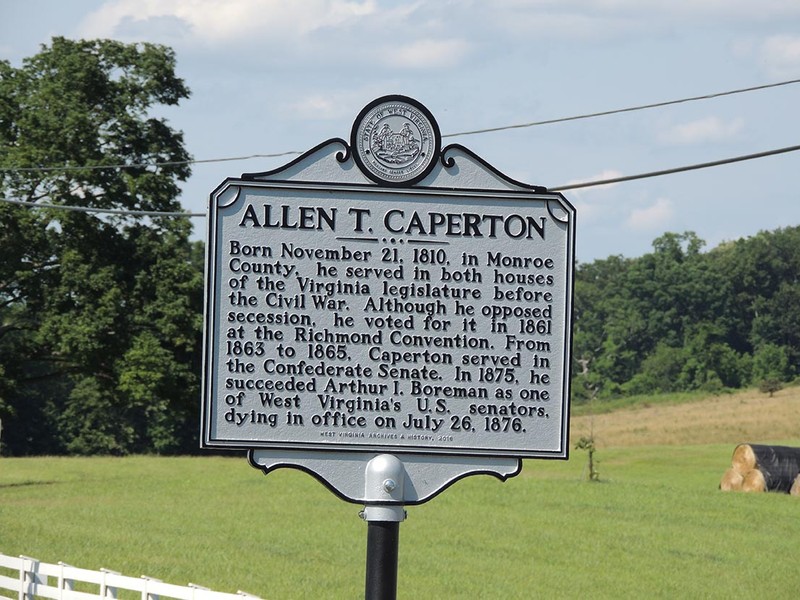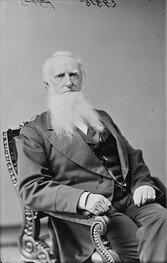 Backstory and Context
Born November 21, 1810 in Union, Monroe County, Virginia, Allen Taylor Caperton belonged to a prominent southwestern Virginia family. Allen's father Hugh Caperton was a planter, whose family lived in a large brick home known as "Elmwood" (which is today on the National Register of Historic Places). Hugh served in the Virginia legislature and was elected to Congress from 1813-1815 as a Federalist, and when that party folded, later became a Whig.
Allen enjoyed an excellent education, studying at the University of Virginia and then Yale where he graduated in 1832. Taking up the study of law, he passed the bar in 1834 and opened a practice back in Union. Allen soon followed in his father's footsteps, however, and was drawn into politics. Starting in 1841, Allen alternatively served in the Virginia House of Delegates and State Senate.
Like his father, Allen proved a firm Whig. A major platform of the Whig Party was government investment in internal improvements, such as roads and canals. These policies appealed to many western Virginians, who resented the dominance of politicians from the eastern part of the state and desired greater development of the west. As a colleague later commented, "All propositions for internal improvements and public works found in him [Caperton] a zealous and energetic supporter, and he was held in the highest esteem by all parties."[1]
In 1861, Caperton was elected to Virginia's constitutional convention where the question of secession was to be considered. Desirous of securing the future of slavery, Southern states seceded one by one and formed the Confederate States of America. Upper South states like Virginia were torn in their allegiance, and Whigs especially tended to be Union men. Allen Caperton voted against secession, but in the wake of Fort Sumter and Virginia's secession, Caperton followed his state and threw his support behind the Confederacy. In 1862, Caperton was elected to the Confederate Senate in Richmond and served there until the end of the war.
Returning home to Union after the war, Allen Caperton again practiced law, but his political career was not over. In February 1875, Caperton was selected to represent West Virginia in the United States Senate as a Democrat (replacing Arthur I. Boreman). He was the first former Confederate to sit in that body. In 1876, Caperton passed away and is buried in Green Hill Cemetery in Union.
In 2016, as part of the Civil War and West Virginia sesquicentennial, the state erected a historical marker in Union acknowledging Caperton's role in West Virginia history.
Sources
1. U.S. Congress. Memorial Addresses on the Life and Character of Allen T. Caperton. Washington, D.C.: Government Printing Office, 1877.
2. "Caperton, Hugh (1781-1847)." Biographical Directory of the United States Congress, 1774-Present. Web. Accessed June 18, 2020. https://bioguideretro.congress.gov/Home/MemberDetails?memIndex=C000131
3. "Caperton, Allen Taylor (1810-1876)." Biographical Directory of the United States Congress, 1774-Present. Web. Accessed June 18, 2020. https://bioguideretro.congress.gov/Home/MemberDetails?memIndex=c000130
4. "Elmwood." December 9, 1975. National Register of Historic Places. Web. Accessed June 18, 2020. https://npgallery.nps.gov/NRHP/GetAsset/1947b842-3464-462c-a61e-3234a707bccf
Image Sources
West Virginia Archives & History, http://www.wvculture.org/history/markers/sesqui/allentcaperton.html

Library of Congress, http://loc.gov/pictures/resource/cwpbh.04979/

Additional Information