Thomas R. Carskadon Historical Marker
Introduction
Thomas Carskadon emerged as an important political figure in 19th-century West Virginia politics. The son of Scotch-Irish immigrants, Carskadon opposed secession and slavery. He served in the Wheeling Constitutional Conventions of 1861-1863 and voted for West Virginia statehood. A member of the Republican Party, the issue of temperance eventually encouraged him to join the Prohibition Party, with whom he unsuccessfully ran for West Virginia governor and U.S. vice-president. He owned a mansion near Keyser, WV and oversaw a successful farm. He died in 1905 and is buried in Keyser. A state historical marker commemorates his place in West Virginia history.
Images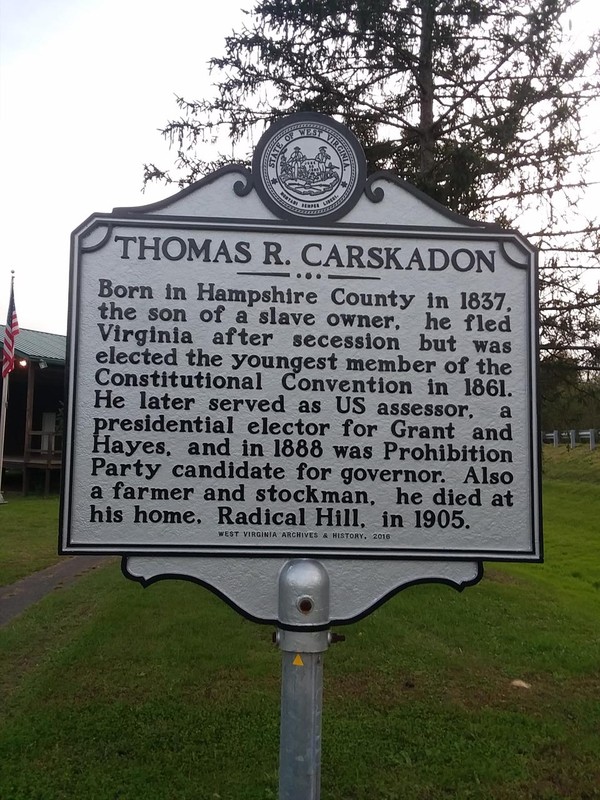 Backstory and Context
Born in 1837, Thomas Rosabaum Carskadon hailed from a Scotch-Irish immigrant family. His father enjoyed a career in state politics, a vocation in which Thomas would follow. Relatively little is known of his youth. He grew up Methodist, and in 1860 he married Sarah Babb, with whom he would have five children. He managed a farm in Hampshire County.
Carskadon made his first political foray during secession crisis of 1860-1861. An opponent of slavery, Carskadon was a Whig and supported the John Bell and Constitutional Union Party in the election of 1860, which sought to preserve the Union (in part by simply ignoring the issue of slavery). Following Abraham Lincoln's election, however, Carskadon aligned with the young Republican Party and opposed secession. In November 1861, Carskadon joined the Constitutional Convention in Wheeling as Hampshire County's delegate; he was the youngest delegate in attendance at twenty-four years old. He again took party in the Constitutional Convention of 1863, where he voted in favor of West Virginia statehood. He spent the latter years of the Civil War serving as a United States Assessor.
Following the Civil War, Carskadon continued his political career as a citizen of newly-formed Mineral County. He remained active in state Republican politics, and in 1868 he served as a Presidential Elector for Ulysses S. Grant and again in 1876 for Rutherford B. Hayes. Bolstering his political clout was his successful farm, upon which he built an ornate mansion known as "Radical Hill" (a reflection of Carskadon's radical Republican views).
In the 1880s, Carskadon increasingly devoted his attention to the issue of temperance, which sought to ban the manufacture and sale of alcohol. Carskadon's attempts to push the state Republican Party to embrace temperance failed, and as a result, Carskadon joined the nascent Prohibition Party. In 1888, Thomas Carskadon unsuccessfully ran for West Virginia Governor on the Prohibition ticket, and in 1892, he served as the Prohibition Party's vice-presidential candidate (losing to Democrat Grover Cleveland).
In his latter years, he focused on running his farm. He patented several agricultural devices and authored a book on grain storage. In 1904, the citizens living in Carskadon's neighborhood formed the town of South Keyser (which is now part of Keyser, WV), and Carskadon served as its first mayor. He died on January 17, 1905 and is buried in Keyser.
A West Virginia state historical marker in Keyser acknowledges Carskadon's role in West Virginia statehood and Republican and Prohibition politics.
Sources
1. Biographical Encyclopedia of the United States. Chicago, IL: American Biographical Publishing Co., 1901. Digitized. https://archive.org/details/biographicalency00chic/page/290/mode/2up
2. "Carskadon, Thomas R., House." National Register of Historic Places Registration Form. National Park Service, U.S. Department of the Interior. 2002. Digitized. https://npgallery.nps.gov/GetAsset/34b41459-3687-421e-8faf-d6a5fdf0b8c3
3. Randall S. Gooden. "Constitutional Convention of 1831-1863." December 8, 2011. e-WV: West Virginia Encyclopedia. Web. Accessed December 28, 2020. https://www.wvencyclopedia.org/articles/1566
Additional Information