Rucker House
Introduction
The Rucker House is arguably Everett's most famous historic residence. Erected in 1905, it was originally the home of brother entrepreneurs Wyatt and Bethel Rucker (as well as their mother and Bethel's wife), who were instrumental in founding developing the city of Everett. The brothers invested in a variety of areas including land—much of which would become the city—real estate, banking, and the lumber industry. As for the house, which is situated on a site overlooking Possession Sound, it was designed in an eclectic manner, combining a number of architectural styles including the Queen Anne and Italian Villa styles. Notable features include a large porch, Doric columns, and large windows. Still a private home today, it was added to the National Register of Historic Places in 1975.
Images
The Ruckers move into their new mansion in Everett, whose rapid growth they have helped promote, in the summer of 1905.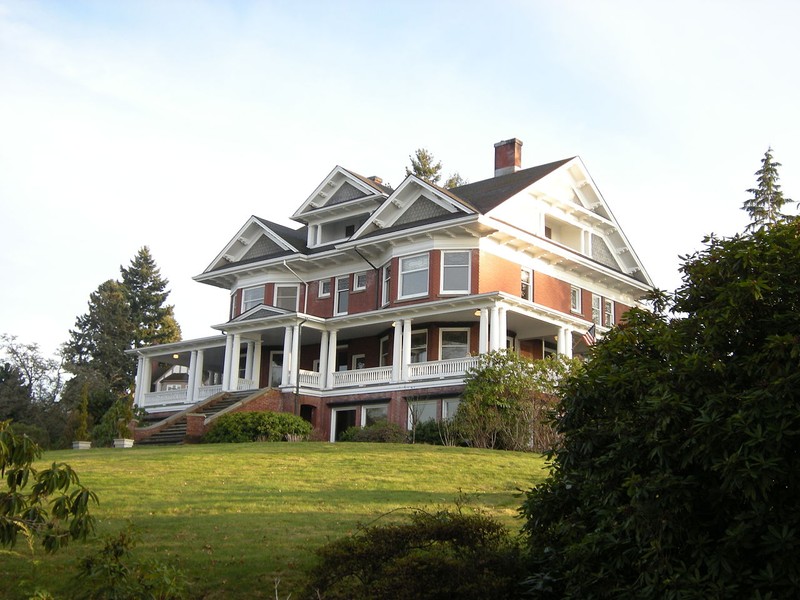 Backstory and Context
Wyatt, Bethel and their mother, Jane, arrived in Tacoma, Washington in 1888 from Ohio (Mr. Rucker had passed away). They were drawn to the Northwest in part because the Great Northern Railway was being built in that direction. The brothers, who were experienced businessmen by then, speculated that the railroad's terminus would end where Everett is now. They knew that wherever it ended would mean numerous opportunities to make enormous profits from investments in real estate (as well as in the lumber industry and banking). Consequently, they bought a homestead that was thousands of acres in size and started to plat a town they called Port Gardner, which is the name of the neighborhood the house is in now.
However, they modified their plans in favor of a new project. In 1891, they joined a new enterprise called the Everett Land Company founded by Tacoma lumberman Henry Hewitt Jr. As a result, the new company, whose principal backers were Charles Colby (principal owner of the Wisconsin Central Railroad) and John D. Rockefeller (founder of Standard Oil and one of the richest Americans in history), acquired half of the brothers' land holdings. The brothers, however, put up the rest of their property (platted plots in Everett) up for sale in September, months before the company did. Prudent moves like this enabled the brothers to prosper. Their interests in other areas, such as banking and the lumber industry, were lucrative as well.
In 1899, the brothers invested in the company's successor, the Everett Improvement Company, and Wyatt became the treasurer. The next year, Everett started to boom once again. To take advantage, the brothers offered free lots to factories and new immigrants poured into the city looking for work and the city experienced a period of significant economic growth.
It was in this context that the Rucker family decided to build the house. It was finished around July 1905. The name of the architect is unknown but that individual was noted to be a local contractor. The house had all of the modern luxuries at the time including an elevator for Jane, who was elderly and confined to a wheelchair (she died in 1907). Bethel and his wife, Ruby, lived in the house until 1913 but returned in 1918. They all moved out in 1923 and sold the house to local lumber company owner Clyde Walton. The Waltons lived in the house until 1959 when Clyde passed away. It has continued to be a private property ever since. The house still retains original features such as wood paneling, hand-cut and hand-laid tile, stone and carved-wood fireplaces, and wall textiles.
Sources
Kreisman, Lawrence. "A Charmed Life." Pacific NW Magazine. December 17, 2006. https://www.seattletimes.com/pacific-nw-magazine/a-charmed-life.
"Neighborhood History." City of Everett. Accessed March 14, 2020. https://everettwa.gov/501/Neighborhood-History.
Oldham, Kit. "The Ruckers move into their new mansion in Everett, whose rapid growth they have helped promote, in the summer of 1905." HistoryLink.org. April 2, 2008. https://historylink.org/File/8569.
Potter, Elisabeth Walton. "Rucker House." National Park Service - National Register of Historic Places Nomination Form. December 4, 1975. https://npgallery.nps.gov/NRHP/GetAsset/NRHP/75001869_text.
Rucker, Michael P. "Rucker Mansion Saved from the Wrecking Ball." The Rucker Family Society Newsletter, vol. 4, no. 3, September 1993.
Image Sources
Joe Mabel, via Wikimedia Commons: https://commons.wikimedia.org/wiki/Category:Rucker_House

Additional Information