Octavia Hatcher Grave at Pikeville Cemetery
Introduction
The legend of Octavia Hatcher and her life-size monument in Pikeville Cemetery is one that has fascinated and disturbed locals and macabre tourists for well-over a century. The story follows one Octavia Hatcher, the wife of a wealthy businessman in Pikeville, Kentucky during the late 1800s. After falling into a comatose state following the death of her infant son, Jacob Hatcher, Octavia was hastily buried during the particularly hot summer when embalming was still in its early development. Octavia's husband, John Hatcher, began to suspect the horrifying notion that his wife had been buried alive when other residents of Pikeville, previously having fallen into comas, were waking up. Octavia's grave was exhumed and her remains were found contorted with agony, proving her husband's fears to be true. Racked with guilt, John Hatcher commissioned a life-size monument to his deceased wife, which overlooks not only the city of Pikeville, but the small grave of Jacob Hatcher as well, who was buried in a small plot beside his mother. Rumors of hauntings and similar oddities at the site abound and the story of Octavia Hatcher was featured in an episode of The Travel Channel's Mysteries at the Museum.
Images
Octavia Hatcher's Headstone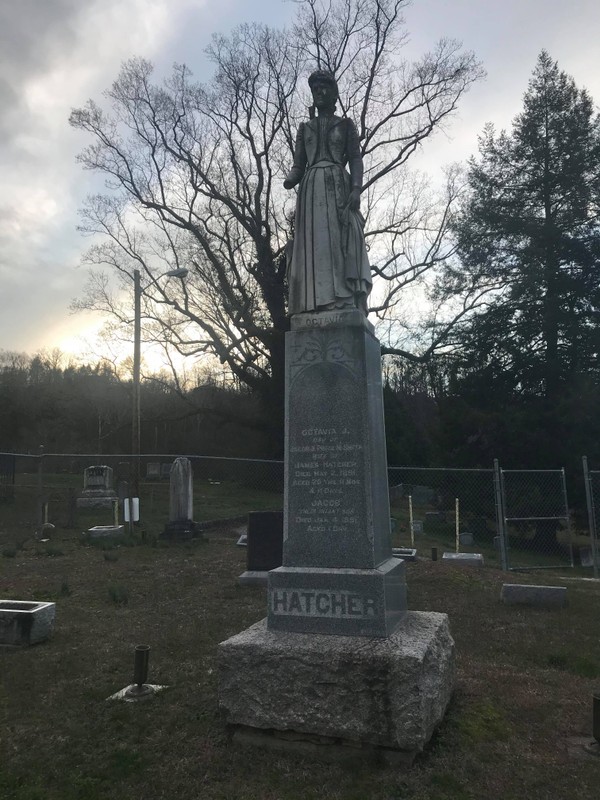 The statue and its view of Pikeville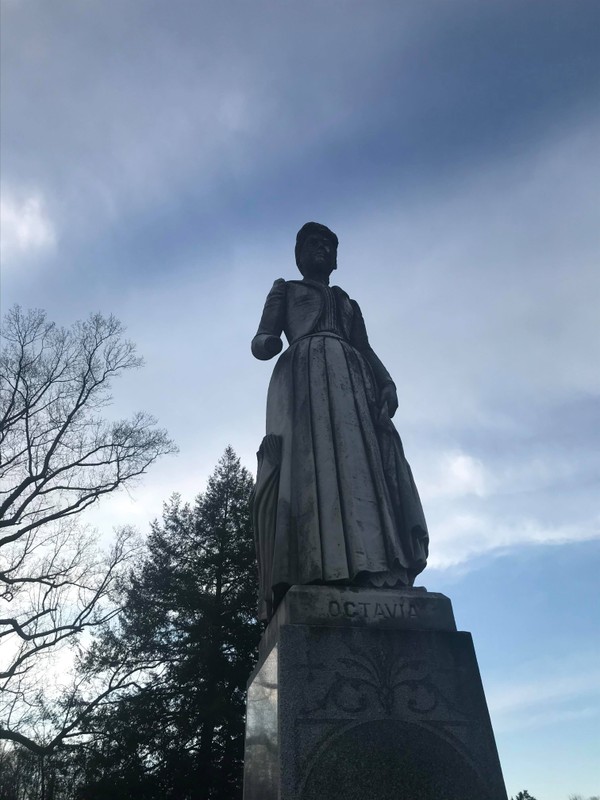 Grave of her son, Jacob Hatcher, located near the base of the statue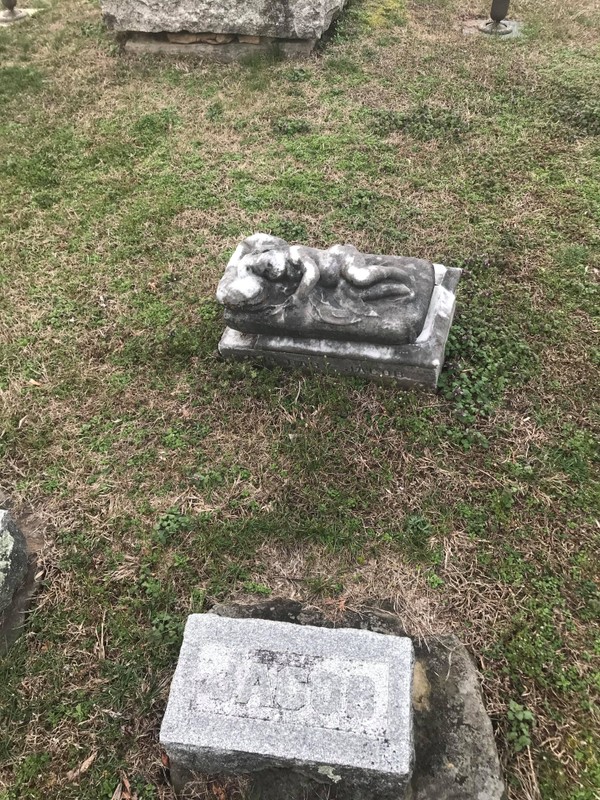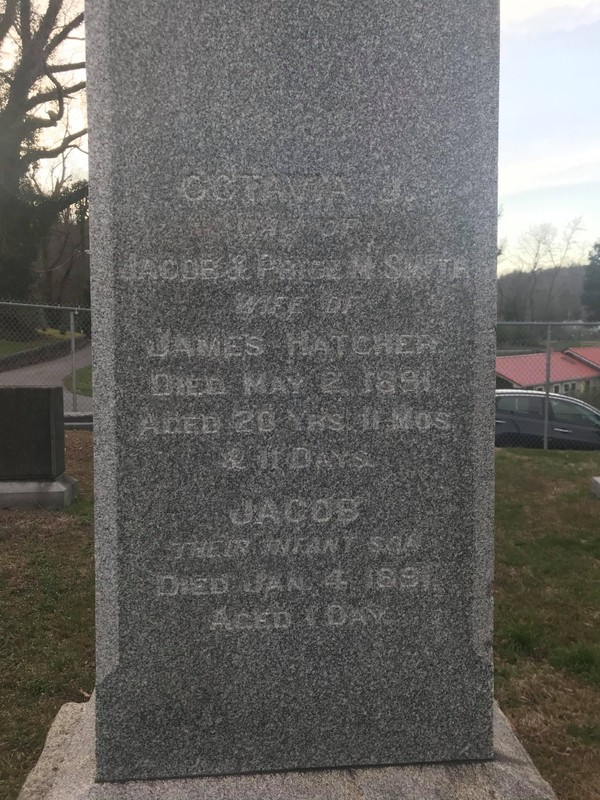 Backstory and Context
James Hatcher was born in Floyd County, Kentucky, in 1859. As an adult, he established a home and numerous successful businesses in Pikeville. By the late 19th century, his empire included ownership interests in warehouses, steamboats, land, timber, oil, coal, banking, and even hotels.
James marred Octavia J. Smith, daughter of Jacob and Pricey Smith, in 1889. She was eleven years his junior, having been born in 1870. Their only child, a son they named Jacob, was born on January 4th, 1891, but died a few hours later. Octavia sunk into depression following the loss of their infant son and by April, she was bedridden. Within a month she was comatose and reportedly passed on May 2nd, 1891. The local legend suggests that Octavia had fallen into a deeper coma and mistakenly buried shortly after her family believed she had passed. Concerns about the unseasonably hot weather given the lack of effective embalming techniques at that time may have accelerated the decision. Her grave was in Pikeville Cemetery, next to that of her infant son. This is where the documented facts of Octavia's life end.
According to local memory, several other Pikeville residents came down with a similar disease in the days following Octavia's death. In contrast to her long ordeal, these individuals recovered after lying in a coma for several days. The local memory suggests that James responded to these recoveries by fearing that his wife may have also been in a deep coma. Fearing that Octavia may have been buried alive, he finally ordered her body exhumed. What he found was shocking: the inside lining of the casket was shredded, while Octavia's fingernails were cracked and bloody. Her face was frozen in a contorted expression of agony.
Here the documentary record picks up again: James ordered a life size marble statue, based on a photograph of Octavia, to adorn her grave. The statue – reportedly sculpted in Italy – was completed and placed in the cemetery in 1892. Some believe that he bought such an extravagant memorial to make sure that she was never forgotten. James later opened the Pike Hotel, said to be located in sight of the statue so that Octavia could look down on him.
Proponents of the myth claim its endurance and widespread acceptance as proof. Big Sandy Heritage Center curator Everett Johnson said, "I think there's enough anecdotal evidence to say this really did happen."[7] Those who doubt the legend point to the total lack of even remotely period evidence; according to Polly Hopkins, BSHC director, "there are no documents to support the fact that she had this 'sleeping' disease, that she was buried alive, or even that she was exhumed."[8] They argue the legend may have originated from some of James's eccentricities. He was an amateur historian of sorts and was even known to tell a tale about a woman and child who were crushed by a large stone and then haunted the site of their death – strikingly similar to some of the later stories associated with Octavia's grave. The walls of his James Hatcher Hotel (opened in 1916) were covered in quotations; the hotel also featured a museum, which displayed artifacts from the days of pioneer settlers as well as James's own custom-built casket. It is generally accepted that this casket had some sort of escape mechanism or alarm. However, it is debated whether James bought the casket to avoid Octavia's fate or if he was simply following a trend of taphophobia (fear of being buried alive) that ran throughout the 19th century.
In 1844, Edgar Allen Poe published Premature Burial, a story about an obsessive taphophobic who ends up buried alive. Supposedly factual stories of mistaken burials from the 1300s to more recent decades were circulated widely during the period; in 1884, a doctor published a collection called One Thousand Persons Buried Alive By Their Best Friends. Patents were issued for various types of "safety caskets" throughout the late 1800s; an 1868 model had a simple bell, while an 1885 model had a motion activated alarm and air intake fan. The book Premature Burial and How It May Be Prevented: With Special Reference to Trance, Catalepsy, and Other Forms of Suspended Animation was published in 1905. It is possible that authors and businessmen simply capitalized from one of man's biggest fears without a shred of evidence; however, as recently as 2014, a man was found alive in a funeral home, on his way to eventual burial. The Octavia Hatcher legend may simply be another part of a long tradition of similar tales.
Whether the story itself is factual or not, ghost stories about the statue abound. One of the most enduring was that "Octavia" would sometimes turn away from the city, as if to reprimand its people for having forgotten her. However, it was found out that University of Pikeville students had been spinning the statue at night (it is alleged that they were the ones who broke off her right hand, which originally held a parasol). In the mid 1990s, the Hatcher family fenced their plot and placed the statue on a large pedestal inscribed with the names of Octavia's immediate relatives as well as her age and date of death.
Sources
1) Finch, Scout. Jacob Hatcher (102501545), Find A Grave. December 23rd 2012. Accessed March 12th 2020. https://www.findagrave.com/memorial/102501545/jacob-hatcher.
2) Finch, Scout. James Hatcher (102501966), Find A Grave. December 23rd 2012. Accessed March 12th 2020. https://www.findagrave.com/memorial/102501966/james-hatcher.
3) Fletcher, Mary Ann. Octavia Hatcher, the legend that never dies, WYMT Mountain News. October 31st 2018. Accessed March 12th 2020. https://www.wymt.com/content/news/Octavia-Hatcher-the-legend-that-never-dies--499195001.html.
4) IndigoJoy. Octavia Smith Hatcher (12149411), Find A Grave. October 24th 2005. Accessed March 12th 2020. https://www.findagrave.com/memorial/12149411/octavia-hatcher.
5) The Legend of Octavia Hatcher, American Hauntings. Accessed March 12th 2020. https://www.americanhauntingsink.com/octavia.
6) Morton, Ella. Scratch Marks on Her Coffin: Tales of Premature Burial, Slate. October 7th 2014. Accessed March 12th 2020. https://slate.com/human-interest/2014/10/buried-alive-victorian-vivisepulture-safety-coffins-and-rufina-cambaceres.html.
7) Octavia Hatcher: Buried Alive?, RoadsideAmerica.com. Accessed March 12th 2020. https://www.roadsideamerica.com/story/23884.
8) Rubio, J'aime. The True Story Of Octavia Hatcher - History vs. Myth, Dreaming Casually (Investigative Blog) by J'aime Rubio. January 13th 2015. Accessed March 12th 2020. https://dreamingcasuallypoetry.blogspot.com/2015/01/the-true-story-of-octavia-hatcher.html.
9) Tarazano, D. Lawrence. People Feared Being Buried Alive So Much They Invented These Special Safety Coffins, Smithsonian Magazine. October 26th 2018. Accessed March 12th 2020. https://www.smithsonianmag.com/sponsored/people-feared-being-buried-alive-so-much-they-invented-these-special-safety-coffins-180970627/.
10) Tebb, William. Vollum, Edward Perry. Hadwen, R. Walter. Premature Burial and how it May be Prevented: With Special Reference to Trance, Catalepsy, and Other Forms of Suspended Animation. Second Edition. London. Swan Sonnenschein and Company, Limited, 1905. Google Books. Accessed March 12th, 2020. https://books.google.com/books?id=X1MaGke_zgQC&dq.
11) When Fears of Premature Burial Stalked the Land, New England Historical Society. 2019. Accessed March 12th 2020. https://www.newenglandhistoricalsociety.com/when-fears-of-premature-burial-stalked-the-land/.
Image Sources
Author (Benjamin Woodard)

Author (Benjamin Woodard)

Author (Benjamin Woodard)

Author (Benjamin Woodard)

Author (Benjamin Woodard)

Additional Information