Dr. Harry Edwards: Olympic Project for Human Rights & the 1968 Olympics Black Power Statue
Introduction
Sociology professor and Civil Rights Activist Dr. Harry Edwards was born November 22, 1942, in East St Louis, Illinois. Edwards grew up in a household that saw his mother abandon him and his seven siblings. Edwards' father worked as a laborer. He attended the newly integrated East St. Louis Senior High School where he excelled in sports. After graduating from high school in 1960, Edwards moved to California where he attended Fresno City College. Edwards would go on to become a scholarship athlete and an outstanding student, earning a Bachelor's degree in sociology and graduated summa cum laude from San Jose State College in 1964. In 1966, Edwards went on to receive his Masters' degree in sociology from Cornell University where he was awarded the Woodrow Wilson Fellowship. In 1973, he received his Ph.D. degree in sociology from Cornell University where he helped to found United Black Students for Action and the Olympic Project for Human Rights. From 1967 to 1969, he was an instructor of sociology at San Jose State College, and an Assistant Professor and then Professor of Sociology at the University of California, Berkeley, from 1970 until his retirement from the school in the year 2002.
Images
OPHR badge that all winners wore in the 1968 Olympics.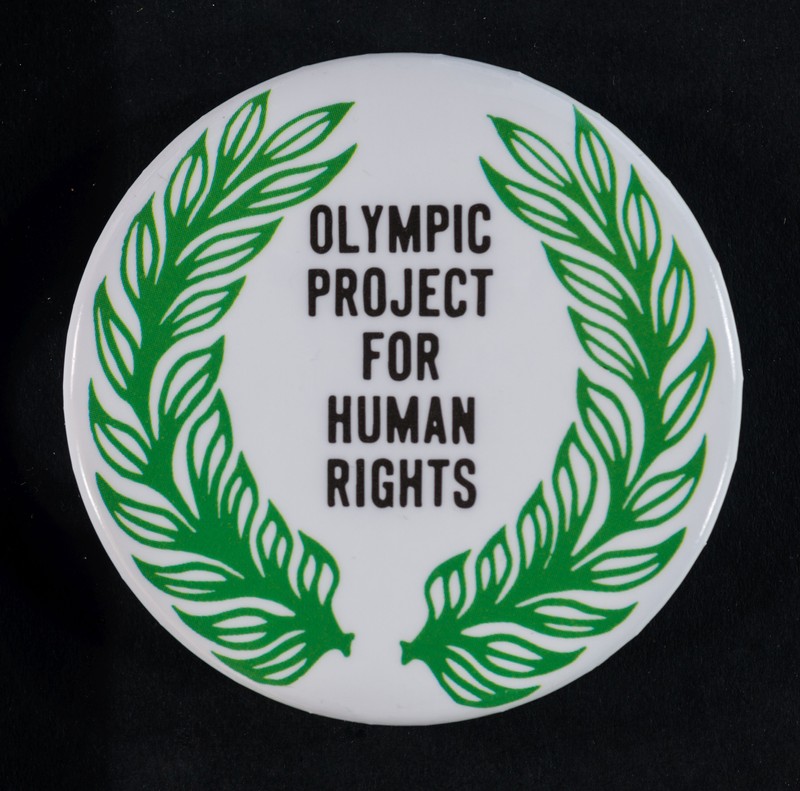 Harry Edwards, lecturer at San Jose State University, talks with Lee Evans (left) and John Carlos (right) at San Jose State University.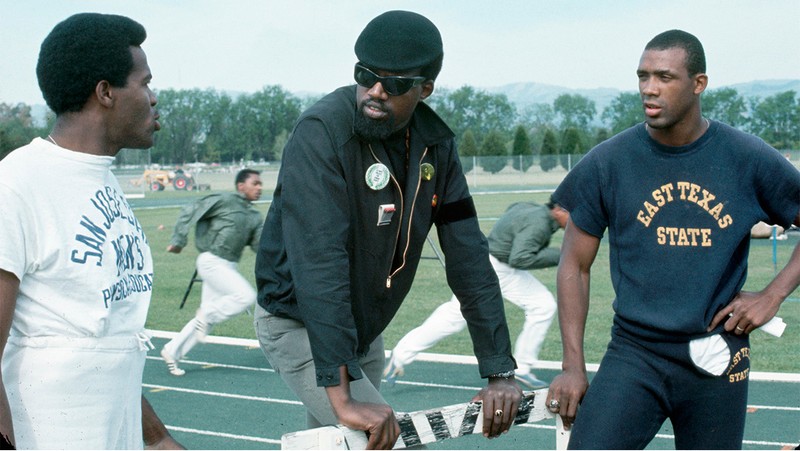 John Carlos, Tommie Smith & Peter Norman during the 1968 Olympic Ceromonies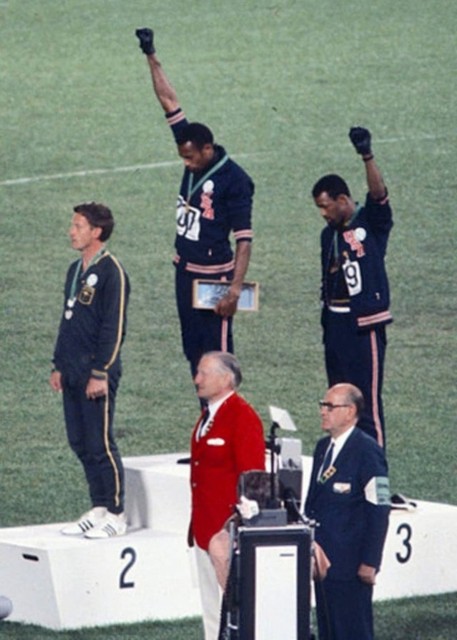 The Black Power Statue of John Carlos & Tommie Smith at San Jose State University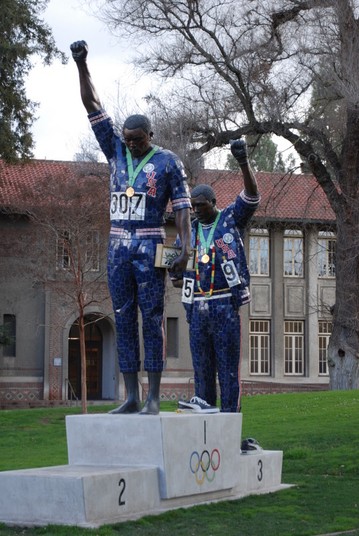 Tommie Smith & John Carlos standing in front of their statue at SJSU.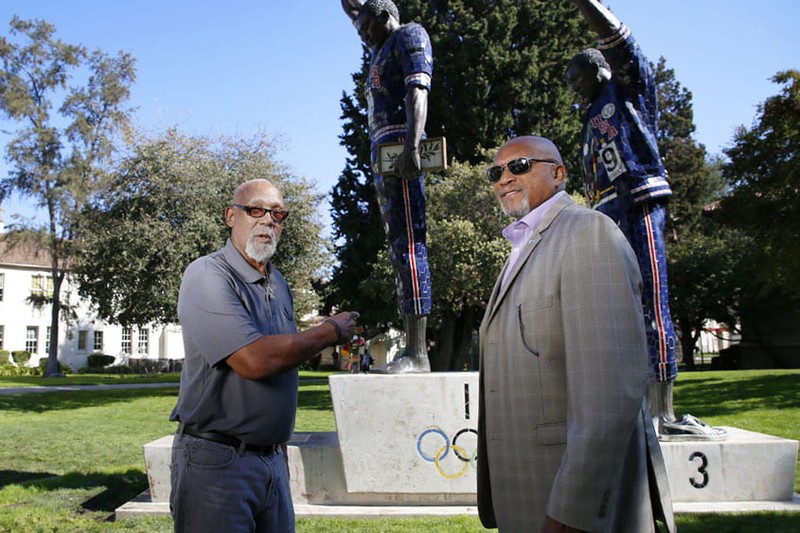 Backstory and Context
After receiving his M.A. in 1966, Edwards took a temporary leave from Cornell to teach at San Jose State University as a visiting professor. Due to his negative experiences as a student athlete on predominately white university campuses, Edwards became heavily involved in exposing the relationship between race and sports in society.
In 1967, Edwards and Kenneth Noel's formed the organization: United Black Students for Action (UBSA). This organizations presence led to the cancellation of San Jose State University's opening football game with the University of Texas at El Paso in 1967, the first major college in the U.S. to cancel an athletic event under the threat of racial protest.
In 1968, with the success of UBSA, it transformed itself into the Olympic Project for Human Rights (OPHR), an organization designed for the specific purpose of boycotting the 1968 Summer Olympics. Edwards was the lead organizer and public face for the OPHR. Despite much public criticism, personal threats and constant FBI surveillance, Edwards and the OPHR led a successful boycott of the New York Athletic Club Indoor Track Classic. OPHR also led anti-apartheid protests that prevented South Africa being reinstated into the Olympic Games.
On the morning of October 16, 1968, US athlete Tommie Smith won the 200 meter race with a world-record time of 19.83 seconds. Australia's Peter Norman finished second with a time of 20.06 seconds, and the US's John Carlos won third place with a time of 20.10 seconds. After the race was completed, the three went to the podium for their medals to be presented. The two US athletes received their medals shoeless, but wearing Black socks, to represent Black poverty. Smith wore a Black scarf around his neck to represent Black pride, Carlos had his tracksuit top unzipped to show solidarity with all blue-collar workers in the US and wore a necklace of beads which he described "were for those individuals that were lynched, or killed and that no-one said a prayer for, that were hung and tarred. All three athletes wore Olympic Project for Human Rights (OPHR) badges after Norman, a critic of Australia's former White Australia Policy, expressed empathy with their ideals. Harry Edwards, the founder of the OPHR, had urged Black athletes to boycott the games; reportedly, the actions of Smith and Carlos on October 16, 1968 were inspired by Edwards' arguments.
Both US athletes intended to bring Black gloves to the event, but Carlos forgot his, leaving them in the Olympic Village. It was Peter Norman who suggested Carlos wear Smith's left-handed glove. For this reason, Carlos raised his left hand as opposed to his right, differing from the traditional Black Power salute. When The Star-Spangled Banner played, Smith and Carlos delivered the salute with heads bowed, a gesture which became front-page news around the world. As they left the podium they were booed by the crowd. Smith later said, "If I win, I am American, not a Black American. But if I did something bad, then they would say I am a Negro. We are Black and we are proud of being Black. Black America will understand what we did tonight."
In 2005, San Jose State University honored former students Smith and Carlos with a 22-foot high statue of their protest, created by artist Ricardo Gouveia. The statue is located in the central part of the campus, next to Robert D. Clark Hall and Tower Hall. A student, Erik Grotz, initiated the project: "One of my professors was talking about unsung heroes and he mentioned Tommie Smith and John Carlos. He said these men had done a courageous thing to advance civil rights, and yet, they had never been honored by their own school."
Sources
O'Neal, L. (2018). Harry Edwards, A Giant of Sports Activism, Still Has People Shook. Retrieved From: https://theundefeated.com/features/harry-edwards-mexico-city-olympics-sports-activism-john-carlos-tommie-smith-1968/
Blakemore, E. (2018). How the Black Power Protest Killed Careers. Retrieved From: https://www.history.com/news/1968-mexico-city-olympics-Black-power-protest-backlash
Edwards, Harry. The Struggle That Must Be. New York: Macmillan Pub Co, 1980
Retrieved March 30, 2020, from: https://www.sport-olympic.gr/sp/index.php/athletics/olympic-games-athletics/1968-olympic-games-ciudad-de-mexico-mexico-athletics/916-1968-olympic-games-ciudad-de-mexico-mexico-men-s-200-m
Image Sources
https://s3.amazonaws.com/libapps/accounts/41834/images/Button.jpg, https://s3.amazonaws.com/

https://globalsportmatters.com/mexico/2018/10/08/olympic-project-for-human-rights-lit-fire-for-1968-protests/

https://upload.wikimedia.org/wikipedia/commons/3/3e/John_Carlos%2C_Tommie_Smith%2C_Peter_Norman_1968cr.jpg, https://www.google.com/search?q=olympic+project+for+human+rights&client=firefox-b-1-d&sxsrf=ALeKk028x_Jq07Vbf9GH8718vBd6cXlmdA:1584933471493&source=lnms&tbm=isch&sa=X&ved=2ahUKEwjdh76k0a_oAhXCK80KHQqqAlMQ_AUoAnoECBYQBA&biw=1535&bih=1061#imgrc=ticJkHtX3QoY6M

https://www.atlasobscura.com/places/olympic-black-power-statue

https://blogs.sjsu.edu/newsroom/2019/alumni-tommie-smith-and-john-carlos-to-be-inducted-into-u-s-olympic-and-paralympic-hall-of-fame/

Additional Information