Moe's Books
Introduction
Author-Uploaded Audio
Morris "Moe" Moskowitz (1921 - 1997) and his wife, Barbara, established Moe's Books in downtown Berkeley during the Beatnik era. Their original shop, called Paperback Books, was opened on Shattuck Avenue in 1959. However, in 1962, they relocated the store to Telegraph Ave and officially renamed it "Moe's Books." It has since become Berkeley's best-known independent bookstore. The store is currently owned and managed by the Moskowitz's daughter, Doris Jo Moskowitz. It features four floors and over 200,000 new, used, and rare books. A historical plaque was placed at the site in 2014.
Images
Moe's Books on Telegraph Avenue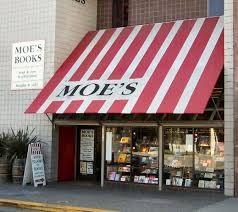 Moe's Books on Telegraph Avenue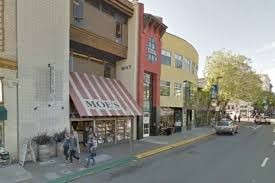 Scene from the movie The Graduate (1967)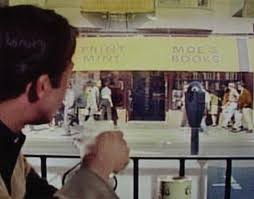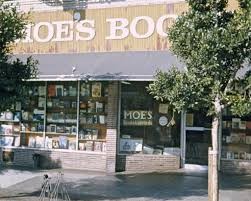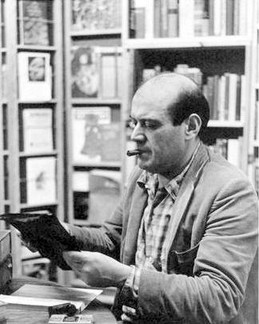 Photograph of protestor on Telegraph Ave during the People's Park protests (May 1969), showing Moe's Books in the background. This image was also made into a poster, which is sold at Moe's Books.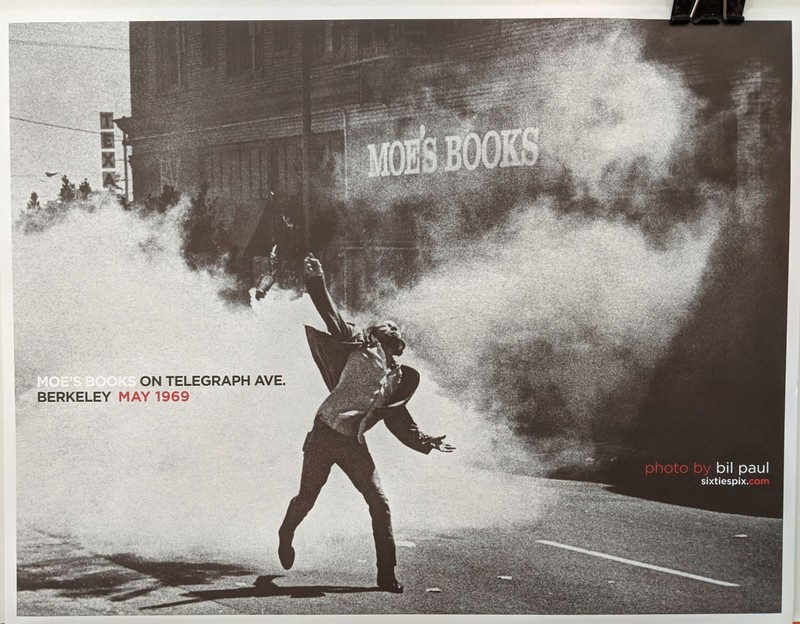 Moe's 70th Birthday Party in 1991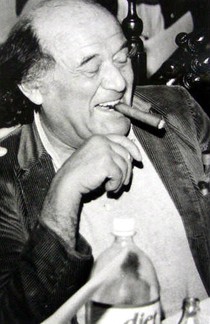 Backstory and Context
Author-Uploaded Audio
"Moe" Moskowitz grew up in Queens, New York, the son of parents from Austria and Yugoslavia. Before he moved to the West Coast of California in 1950, he participated in the Living Theater group in New York and also studied violin and worked in art galleries. Moe and his wife Barbara originally opened a paperback bookstore in a small storefront on Shattuck Avenue in Berkeley in 1959. However, the Moskowitzes moved the store to its present location on Telegraph Avenue in 1962 and officially renamed it "Moe's Books." The store remains open today in this location, just a few blocks from the campus of the University of California at Berkeley. From the start, Moe was committed to buying and selling used paperback books for a fair price, although this was not a common practice at the time. According to Moe's fair trade policy, he would offer either cash or a higher value in "Moe Dollars," with his motto being "In God and Moe We Trust."
During the bookstore's early years, in which Berkeley was a hotbed of anti-war and other political activism associated with the Free Speech Movement, many students and community activists found an intellectual haven at Moe's. Moe himself was a proud political dissident who in 1945 had protested the federal imprisonment of conscientious objectors during wartime. Amidst the tumultuous People's Park protests in May 1969 in Berkeley, Moe's Books provided a refuge for protestors and supporters of the People's Park who were trying to escape from the tear gas that had aimed at the protestors by the police. During the protests, he also kept the bookstore open even amidst government-mandated curfews. Although another downtown bookstore, Cody's Books, was known to have held more political meetings during the 1960s, it was Moe's unique personality and strong political commitment that often brought people into the shop and made Moe's Books such an important community space for activists.
From the start of the business, Moskowitz had pioneered an innovative model of selling used paperback books. Decades later, Moe's Books also became one of the first independent bookstores to venture into selling books "in cyberspace" via the internet. With his larger than life personality and deeply held political convictions, Moskowitz was hailed as an icon and intellectual, who could equally be found singing arias behind the cash register or dancing to Cab Calloway records in that were played in the store as much as he could be found smoking his cigars and vociferously debating politics with customers. Barbara, who became his ex-wife in 1981, described Moe as a "born anarchist" and someone who enjoyed a good argument with anyone who was willing to participate.
Moe Moskowitz's legacy wasn't just selling books, which ranged from paperback fiction to political and academic tracts and science books, to Buddhist philosophy and poetry collections. The bookstore also featured concerts, book readings, and literary discussions. In addition, Moskowitz personally financed an album by the anti-Vietnam War band, Country Joe and the Fish, which performed at major festivals as well as locally at Moe's Books. He also launched his own publishing imprint, Shambhala Publishing. When Moe Moskowitz died in 1997 at age 75, he (as much as his bookstore) was described by numerous people as an "institution" in Berkeley. His daughter, Doris Jo, who currently runs the store, launched a Kickstarter campaign to raise funds to publish a book about her father's life. Her book is titled, Radical Bookselling: A Life of Moe Moskowitz. Today, Moe's Books remains an iconic space within the city of Berkeley. The San Francisco Chronicle has even stated that:
"India has the Taj Mahal. Berkeley has Moe's."
Sources
"About the Store", Moe's Books. Accessed March 12th 2020. https://www.moesbooks.com/about.php.
Chao, Julie . "Bookstore owner "Moe' Moskowitz", SF Chronicle. April 2nd 1997. Accessed March 12th 2020. https://www.sfgate.com/news/article/Bookstore-owner-Moe-Moskowitz-3127044.php.
Dinkelspiel, Frances. "Daughter aims to chronicle life of Moe's Books founder", Berkeleyside. June 8th 2016. Accessed March 12th 2020. https://www.berkeleyside.com/2016/06/08/daughter-aims-to-chronicle-life-of-moes-books-founder.
Garner, Dwight. "The Legend of Moe's Books", The New York Times. July 3rd 2019. Accessed March 12th 2020. https://www.nytimes.com/2019/07/03/books/moes-books-berkeley.html.
"Moe's Books", Atlas Obscura. Accessed March 12th 2020. https://www.atlasobscura.com/places/moe-s-books.
"Moe's Books", Berkeley Historical Plaque Project. Accessed March 12th 2020. https://berkeleyplaques.org/plaque/moes-books/?cat=28.
Richman, Olivia. "Freedom Writers: Moe's Books", Mobile RVing. July 10th 2017. Accessed March 12th 2020. https://mobilerving.com/the-buzz-articles/features/freedom-writers-moes-books-summer-of-love
Yetter, David. "Moe Moskowitz", Moe's Books. Accessed March 12th 2020. https://www.moesbooks.com/moe-moskowitz.php.
Image Sources
Moe's Books

Atlas Obscura

Berkeley Historical Plaque Project, courtesy of Moe's Books

Berkeley Historical Plaque Project, courtesy of Moe's Books

Berkeley Historical Plaque Project, courtesy of Moe's Books

Bil Paul, sixtiespix.com; Moe's Books

Berkeley Historical Plaque Project, courtesy of Moe's Books

Additional Information