George W. Summers Historic Marker
Introduction
Born in 1804, George Summers emerged as a prominent Whig politician in antebellum western Virginia. Championing the interests of that section of the state, Summers served repeated terms in the Virginia House of Delegates. In 1831-1832, Summers advocated for gradual emancipation within Virginia, an effort that ultimately failed. He was elected to the House of Representatives in the 1840s, and in 1851, Summers made a failed bid for governor. Summers' most notable political efforts came in 1861, when he attended the Washington Peace Conference in February and worked to prevent secession and Civil War. Unable to prevent either, Summers retired from politics and pursued law until his death in 1871. In 2016, a historical marker was erected to acknowledge his prominent role in Virginia politics.
Images
George W. Summers Historic Marker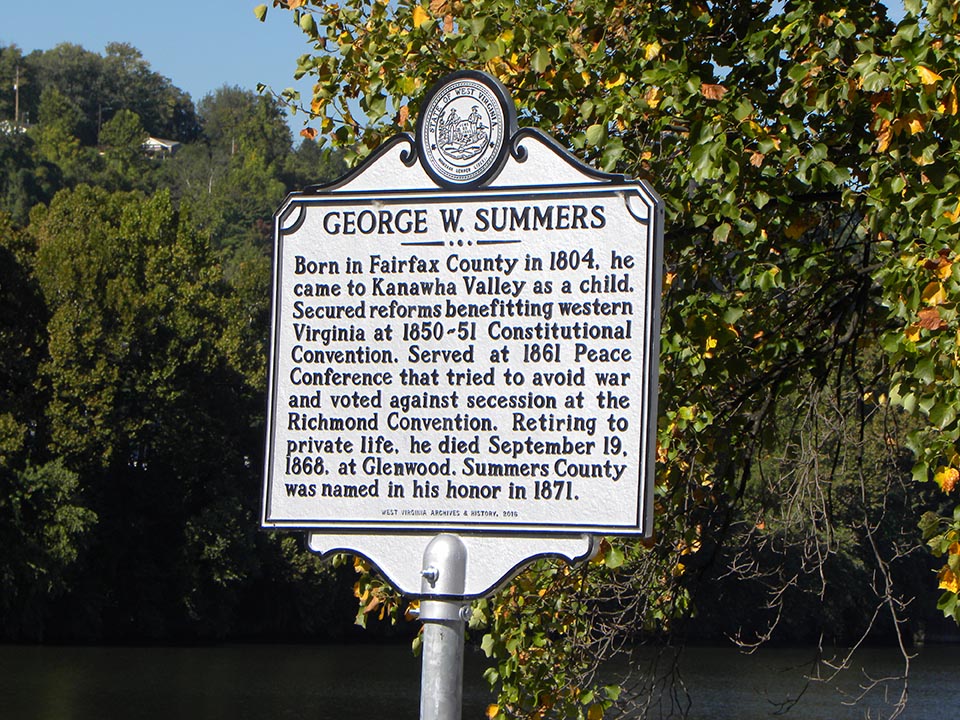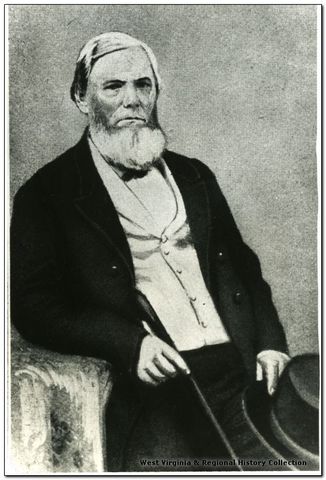 Backstory and Context
Born in 1804, George William Summers' family moved to western Virginia in his youth. Upon his father's passing in 1818, Summers lived with his brother Lewis in Charleston. Educated at Washington College (now Washington and Lee) and Ohio University. Summers pursed a legal career and was admitted to the bar in 1827. During the 1830s, George Summers was elected to multiple terms in the Virginia House of Delegates from Kanawha County as a Whig and became a prominent advocate for western Virginian political issues.
Summers early tenure in the House of Delegates coincided with a major political discussion over the possibility of emancipation within Virginia. A number of Virginians, particularly from the west, had begun to view slavery as a hindrance to the state's advancement. While a few Virginians opposed slavery on moral grounds, most objected on economic grounds, believing chattel slavery undermined free labor and industry. Along with several other western Virginians, Summers supported a plan for the gradual emancipation of the state's slaves. The vote for emancipation failed, however (though there was a distinct geographic division between western Virginians in favor and eastern Virginians opposed). In the wake of the failed 1831-1832 emancipation vote, pro-slavery attitudes hardened across much of Virginia. This demise of anti-slavery discussion and solidifying of pro-slavery views was not unique to Virginia, but indeed occurred throughout the South in the 1830s and 1840s.
Summers' political career continued into the 1840s, when he won election to the United States House of Representatives. He served two terms. In 1850-1851, Summers attended the Virginia constitutional convention, where he advocated for universal white male suffrage in the state. His political career ascendent, he was nominated as the Whig candidate for governor in 1851. Although Summers attempted to walk back his comments, his antislavery stance in the 1830s came back to haunt him and played a significant role in his defeat in the election.
In 1861, as the Deep South states seceded and Virginia considered secession, Summers played a role in a last-ditch attempt to save the Union from dissolution. In February 1861, a Peace Conference was held in Washington, D.C., the purpose of which was to find a compromise to save the United States and prevent possible civil war. Former U.S. President John Tyler presided over the conference. A Unionist who deeply feared secession, Summers was a good choice to represent Virginia. The conference produced a compromise that would've extended the old Missouri Compromise line to the Pacific (essentially dividing the United States into clear free and slave states), guaranteed slavery's protection in places where it existed. Summers proved an ardent supporter of the compromise, believing it could avert secession. He also worked privately with the Lincoln administration to try and find a compromise. Yet the Peace Conference compromise failed to gain the U.S. Congress's approval.
While advocating for peace in Washington, Summers was simultaneously serving as the Kanawha delegate to the Virginia convention considering secession. Summers opposed secession and voted against it, both before and after the firing on Fort Sumter. Although Summers' name was floated for a place in Lincoln's cabinet or for a Supreme Court seat (for which Secretary of State William Seward recommended him), he did not land another political position and returned to Kanawha County.
Summers effectively retired from public politics and returned to law, and his legacy was disputed by his contemporaries, some believing he acquiesced to Confederate rule while others thought secession broke his spirit. Although Summers opposed secession, he also opposed West Virginia statehood. Perhaps a contemporary summed Summers' stance up best by noting he was "a Union man with Southern sympathies."[1]
George Summers died in 1871 and is buried in Spring Hill Cemetery in Charleston. Summers County, West Virginia is named for him. In 2016, as part of an effort to commemorate the Civil War and West Virginia sesquicentennial, a historic marker was erected in Charleston to commemorate Summers' prominent role in the region's history.
Sources
1. Gunter, David A. "George W. Summers." Union or Secession: Virginians Decide. Education at Library of Virginia. 2010. Web. Accessed June 19, 2020. https://edu.lva.virginia.gov/online_classroom/union_or_secession/people/geroge_summers
2. Ratliff, Gerald S. "George William Summers." e-WV: The West Virginia Encyclopedia. December 8, 2015. Web. Accessed June 19, 2020. https://www.wvencyclopedia.org/articles/626
3. "George William Summers." Biographical Directory of the United States Congress, 1774-Present. Web. Accessed June 19, 2020. https://bioguideretro.congress.gov/Home/MemberDetails?memIndex=S001066
4. Ambler, Charles H. Sectionalism in Virginia from 1776-1861. 1910. Reprint. Morgantown, WV: West Virginia University Press, 2008.
Image Sources
West Virginia Archives & History, http://www.wvculture.org/history/markers/sesqui/georgewsummers.html

e-WV: Encyclopedia of West Virginia, https://www.wvencyclopedia.org/articles/626

Additional Information