The Gordon Family Cemetery
Introduction
Located behind the Mary Washington Monument, this cemetery is the resting place for twelve members of the Gordon family. It is believed to have been established by Samuel Gordon, the first of the Gordon family to take residence at the Kenmore Plantation. The city of Fredericksburg gained ownership of the cemetery in 1966, though it was previously cared for by the National Mary Washington Association. Currently the cemetery is open to visitors from dusk until dawn.
Images
Some of the Gordon Family graves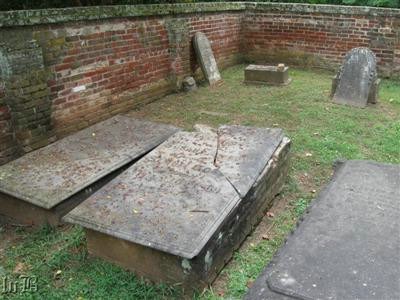 Original gate to the Gordon Family Cemetery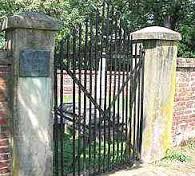 Backstory and Context
This cemetery is located behind the Mary Washington Monument on Washington Avenue in Fredericksburg. It is forty feet wide and thirty feet. long. A thick brick wall surrounds the graves, and is accessible through an iron gate. It is believed that Samuel Gordon, the first Gordon who lived at the Kenmore Plantation from 1819-1859, created the cemetery. After a legal dispute with the National Mary Washington Monument Association in 1966 about ownership of the land, the cemetery was handed over to the city of Fredericksburg.
There are twelve graves located at the cemetery. Most are headstones; four are table markers, two family markers including an obelisk, and a footstone. Most are made of marble and each faces east to symbolize spiritual resurrection. Every gravestone except for one has carvings of names and birth and death dates. Some have decorations carved into the stone and Bible verses. The graves are in adequate shape with the exception of some moss, discoloration, some cracks and tilting. Those who are buried here range in age from three months to ninety-four years. Below is a list of each member of the Gordon family buried here:
Samuel Gordon - 1779-1845
Susan F. Gordon - 1775- 1869
Alexander B. Gordon - 1815-1861
Patsy F. Wallace (no dates)
John Gordon - (1792-1826)
Alexander Gordon - 1798-1832
W K G (no dates)
W. K. Gordon - 1799-1886
Eliza S. Gordon - 1810-1872
Ella Gordon - died 1835
Rosalie Gordon - died 1856
George Gordon - died 1864
Ella Gordon - died 1866
George Lorimer Gordon - died 1861
Additional Information