Sembower Field
Introduction
When Sembower Field was built in 1951, they chose to build it just north of Foster on N. Fee Lane (From Jordan to Sembower to the Bart and the Evolution of the Program). This field was the first of many sporting complexes to move from the central part of campus to the north part of campus. Sembower field was not a "prosperous" facility like Assembly Hall or Omaha. In fact, in the late 1940s the outfield did not even have a fence making it impossible to even hit a homerun. Sembower also did not have dugouts in the very beginning as the article describes the players sitting on a single bench just a few feet away from the fans. The stadium also started with minimal seating and the students and fans that would come watch the games would sit on the hills surrounding the stadium and watch from a distance (From Jordan to Sembower to the Bart and the Evolution of the Program).
Images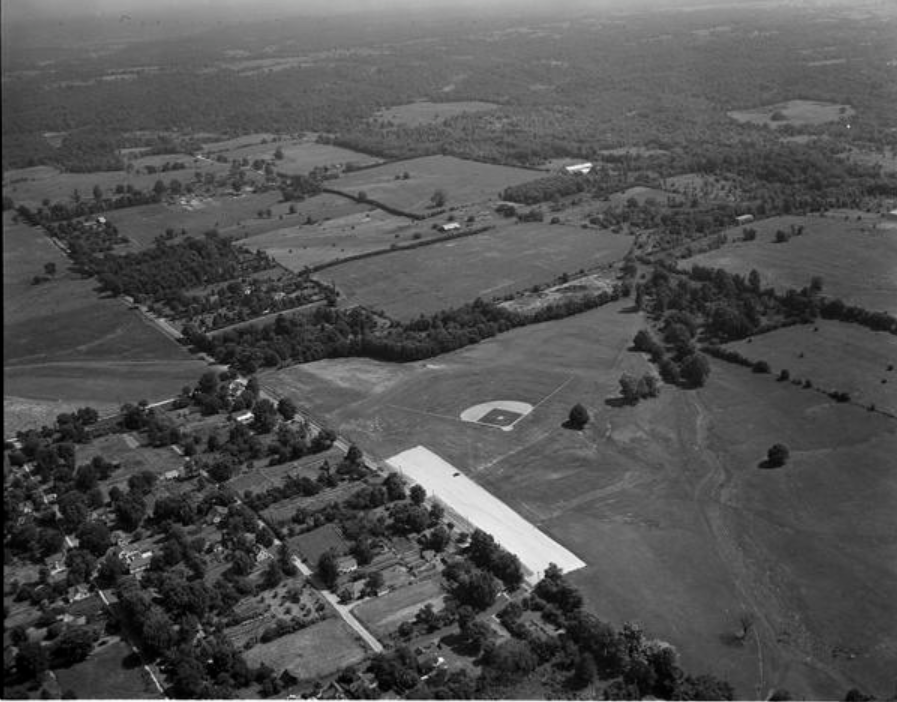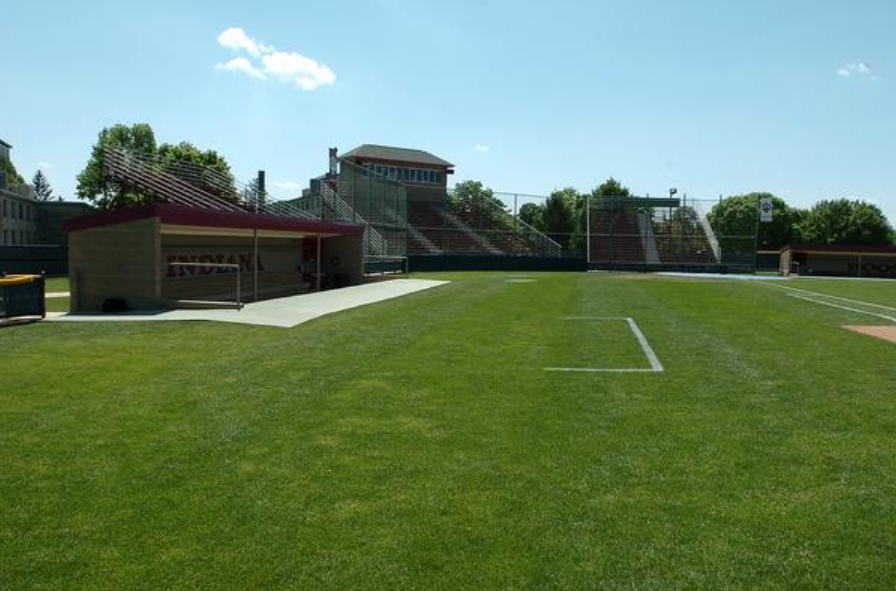 Kyle Schwarber scores a run at Sembower with Briscoe in background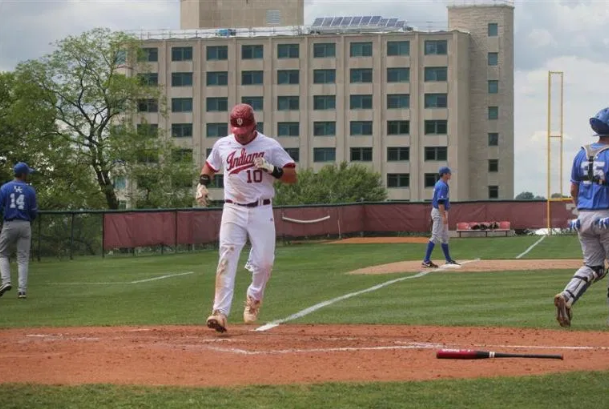 Backstory and Context
Some people wonder where some sporting complex's get their name. Sembower Field was named after Charles J. Sembower, Dean of Students and English Professors at Indiana University, who died on April 26, 1947 (Kuntson). Many knew him by the name of "Semmie" and played shortstop at Indiana University in 1894. After he had passed it only seemed fitting for the new baseball stadium to be named after him. Sembower field was finished being built in 1951 and was said to be one of the first major steps to what is now Indiana Athletic Facilities (Kuntson). A major stepping stone upwards from the old facility of Jordan Field.
Sembower Field was a step in the right direction for not only Indiana University Baseball, but all other athletics as well. A former Indiana University baseball coach ,Mr. Andres, said this was a sign that Indiana University as a whole was going to start pouring more money into athletics (Kuntson). Sembower was laid out by Matty Schab, who was a former groundskeeper for the San Francisco Giants and the Cincinnati Reds (Kunston). There were no dorms or schools even near Sembower field at this time, showing the expansion of what Indiana University is today. The reasoning even for the construction of Sembower Field was because Indiana University was trying to expand Jordan Field as a whole. There was not enough room to expand Jordan Field because of the Indiana Memorial Union, discussing how there is now a parking lot where this once was (Kuntson). Jordan Field was not a field that had much room for expansion, only being around 250 feet to right field. Mr. Andres goes onto discuss that Sembower Field was bigger and nicer than the Jordan facilities as well.
The reasoning behind this is because IU was aware that they were not a major baseball program yet and the athletics department did not want to exceed funds to make a stadium that made them look like one (From Jordan to Sembower to the Bart and the Evolution of the Program).Although Sembower field might not have been the best quality, Sembower field has still had many high quality players play on their field. They had greats like Mickey Morandini who played 11 years in the MLB for the Philadelphia Phillies, Chicago Cubs, and the Toronto Blue Jays, John Wehner who also played in the MLB as a utility player for the Pittsburgh Pirates, and the famous Kyle Schwarber who is currently in the MLB and was on the 2016 Chicago Cubs world series team (Baseball Stats, Fantasy & News). Kyle Scharber played on the final years of Sembower field before IU transferred over to the famous stadium we have today, Bart Kauffman Field.
Indiana University began their transition from Sembower Field to Bart Kauffman field in 2005 when they hired a new manager Tracy Smith. Before Tracy Smith, Indiana University has never been a prominent and prosperous baseball program. By his fourth year as the baseball coach for IU, he had taken the team back to the NCAA regional tournament. Since Indiana University was finally starting to get recognized for having a great baseball program, the University Athletic Department decided it was finally time to invest in their baseball program with a new stadium. Like stated above, this is directly linked to Indiana University wanting to put more money into the facilities. Making them nicer and trying to compete with college campus's around the country. We saw this from Jordan to Sembower, and now we are seeing it from Sembower to Bart Kaufman.
Sources
Kuntson, Kevin. History of Sembower Field. Indiana University Archives, collection 4.
"Mickey Morandini Stats, Fantasy & News." MLB.com. Accessed March 10, 2020. https://www.mlb.com/player/mickey-morandini-119347.
Schumann, Mike. "From Jordan to Sembower to The Bart, and the Evolution of a Program." The
Daily Hoosier, March 7, 2018.
https://www.thedailyhoosier.com/from-jordan-to-sembower-to-the-bart-and-the-evolutio
of-a-program/.
Image Sources
Sembower Field. Photograph. Bloomington, n.d. Indiana University Archives.

Sembower Field. Photograph. Bloomington, n.d. Indiana University Archives.

IDS / Jonathen Streetman