Weyerhaeuser Office Building
Introduction
Built in 1923, the historic Weyerhaeuser Office Building is one of the most attractive and unique structures in Everett. It was built by lumberman Frederick Weyerhaeuser (1834-1914), who established the Weyerhaeuser Timber company in 1900, which is now known as Weyerhaeuser Company. Designed by architect Carl Frelinghuysen Gould (1873-1939), who founded the architecture program at the University of Washington, the building is an excellent example of the English Gothic cottage style. Not only that, it was built with locally sourced wood—red cedar roof shingles, douglas fir walls, and west coast hemlock woodwork. As such, the building was not only an office; it was a way for the company to promote its lumber products. Today, the building is located in Boxcar Park overlooking Possession Sound and is used as a marina clubhouse and outdoor performance venue. It is one of the attractions in the Esplanade District of the Waterfront Place Central mixed-use development. It was added to the National Register of Historic Places in 1986.
Images
The historic Weyerhaeuser Office Building was erected in 1923. It is a fine example of English Cottage architecture.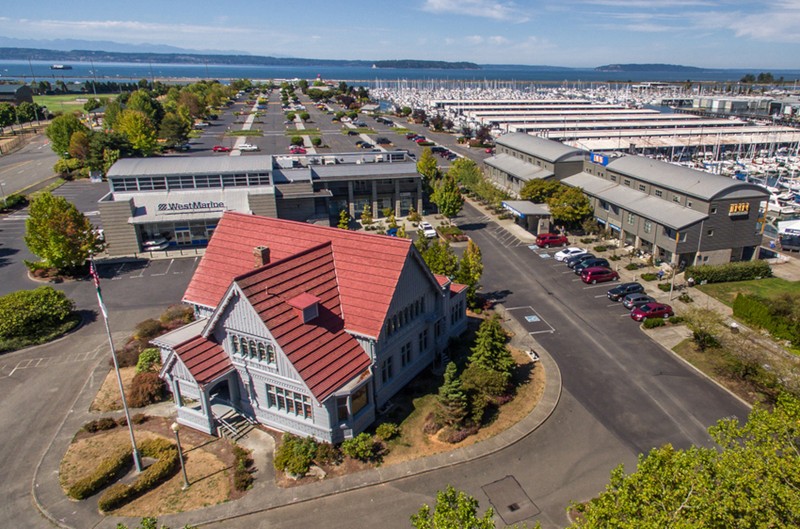 The building features ornate woodwork on the exterior and interior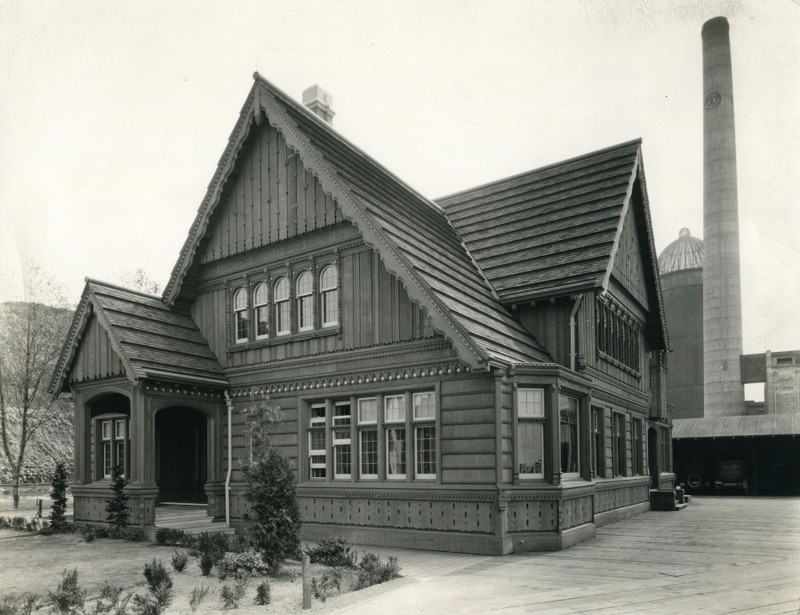 The building was designed to demonstrate how the company's products could be used.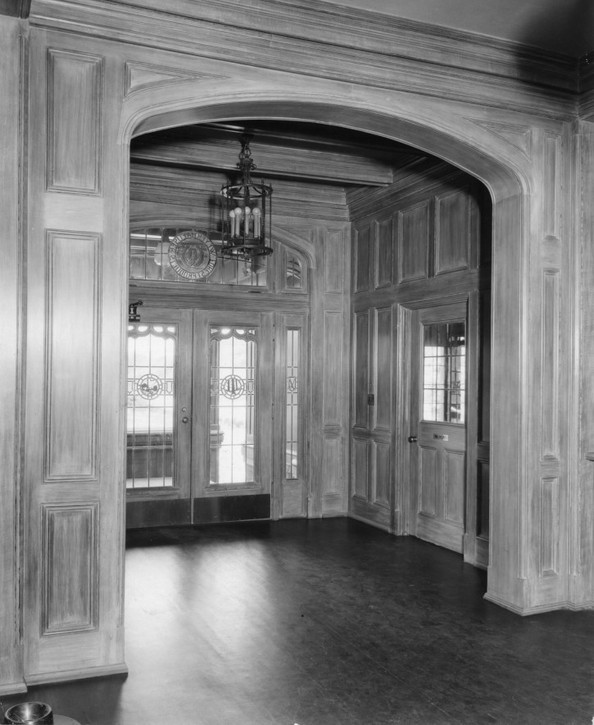 This picture depicts the move in 1938.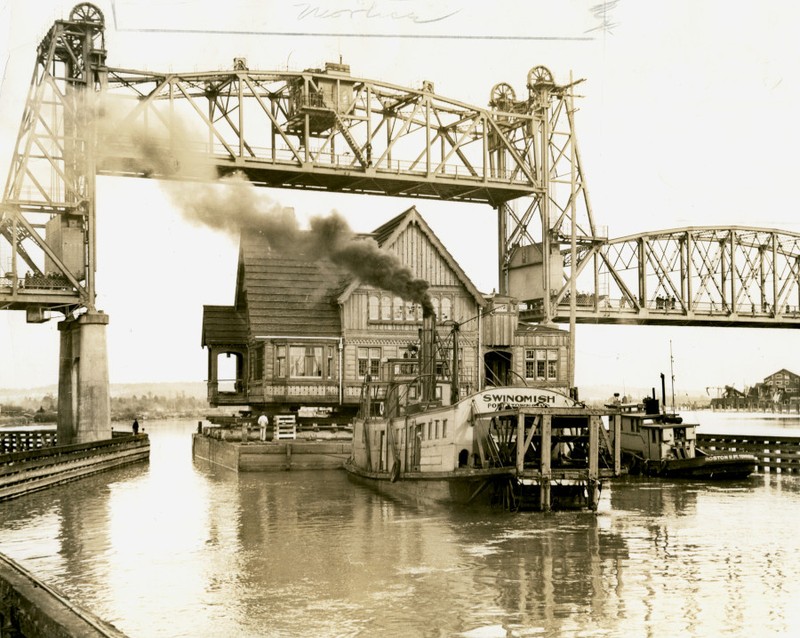 Backstory and Context
Frederick Weyerhaeuser was born on November 21, 1834 in Germany. He, along with his sister, Louisa, and her husband, immigrated to American in 1852. Their uncle had already immigrated in 1848 and encouraged them to come. Weyerhaeuser was 18 at the time. They made their way to Pennsylvania, where their uncle lived. Weyerhaeuser found work in German breweries and then, after he obtained his inheritance at the age of 21 (he and Louisa sold their shares of the family farm in Germany; he could not collect it until he became 21), moved to Rock Island in 1855, Illinois in the hopes of buying farm land there. However, when he arrived, there was little land left. As a result, he found work again in a brewery but also helped build a railroad.
Weyerhaeuser next started to work for a sawmill and rose up in the ranks. He was put in charge of the company's mills in Coal Valley, Illinois and became a very successful manager there. He eventually bought the company in 1858 (it was having financial difficulties), thus beginning his career in the lumber industry. Weyerhaeuser proved to be an excellent and hardworking businessman. He guided his company through the Panic of 1857, earning profits by making shrewd business moves and working as an independent contractor to support the business. He earned a solid reputation among all he encountered. By this time he also married his wife, Sarah, the daughter of a Blacksmith (they would have 11 children). In 1860, Weyerhaeuser and his brother-in-law, Frederick C.A. Denkmann, also a German immigrant, bought a failing sawmill. It, too, became a successful operation. They paid their employees well, many of whom were family members, and worked hard to keep it afloat during the recession that followed the Panic.
In 1870, he organized a cooperative of American and German lumber companies who formed the Mississippi River Logging Company, which was soon called the "Weyerhaeuser syndicate." The company quickly took control over much of the lumber industry in Wisconsin. For the next 20 years, the company thrived. But by 1890, it was clear to Weyerhaeuser that Minnesota was where he needed to go to next as the lumber industry was booming there. As a result, he moved to St. Paul, Minnesota in 1891.
However, by 1900 the virgin forests of Minnesota and Wisconsin were all but gone. Recognizing this reality, Weyerhaeuser decided to move to the Northwest. He bought 900,000 acres from the Northern Pacific Railroad and founded the Weyerhaeuser Timber Company, which he based in Tacoma, Washington. In 1902, he bought a mill here in Everett, signaling his commitment to remain in the city permanently. The mill processed more lumber each year; by 1914, it was processing 40 million board feet of lumber. In the coming years, the company built additional sawmills.
The construction of the Weyerhaeuser Office Building in 1923 further solidified the company's presence in Everett. As noted above, it was in itself a means to show how the company's wood products could be used. In 1936, the company moved the building to another sawmill site where it remained until 1983. The company donated it to the Everett Chamber of Commerce and it was relocated once again to a spot not far from its original location at the entrance of the city's marina. Finally, in 2016 it was moved to its current location in Boxcar Park.
Sources
Clark, Charles. "Historic Everett building is on the move again." The Seattle Times. July 13, 2016. https://www.seattletimes.com/business/historic-everett-building-is-on-the-move-again.
"Historic Weyerhaeuser Building Relocation." Port of Everett. Accessed March 10, 2020. http://www.portofeverett.com/your-port/projects/historic-weyerhaeuser-building-relocation.
"History." Weyerhaeuser. Accessed March 10, 2020. https://www.weyerhaeuser.com/company/history.
Lambert, Brent. "Weyerhaeuser Office Building." National Park Service - National Register of Historic Places Nomination Form. May 14, 1986. https://npgallery.nps.gov/GetAsset/7d51ada4-6a07-4f0c-9693-6662300a33c9.
Lehman, Eben. "Forest History on the Move: Everett's Wandering Weyerhaeuser Office." Forest History Society. May 10, 2019. https://foresthistory.org/forest-history-on-the-move-everetts-wandering-weyerhaeuser-office.
"Weyerhaeuser Building Move Complete." MyEverettNews.com. July 14, 2016. https://myeverettnews.com/2016/07/14/weyerhaeuser-building-move-complete.
Image Sources
All images via the Forest History Society

Additional Information