Boeing Future of Flight​ Museum​
Introduction
Opened in 2005, the Boeing Future of Flight​ Museum​ is dedicated to educating the public about the history of aviation and promoting Boeing's plans for the future. The museum, which is located at Paine Field just to the west of the company's massive airplane manufacturing facility, features numerous static and interactive exhibits. The museum is also the starting point for the Boeing Factory tour, the only public tour in North America of a commercial jet manufacturing plant.
Images
The Destiny Module Exhibit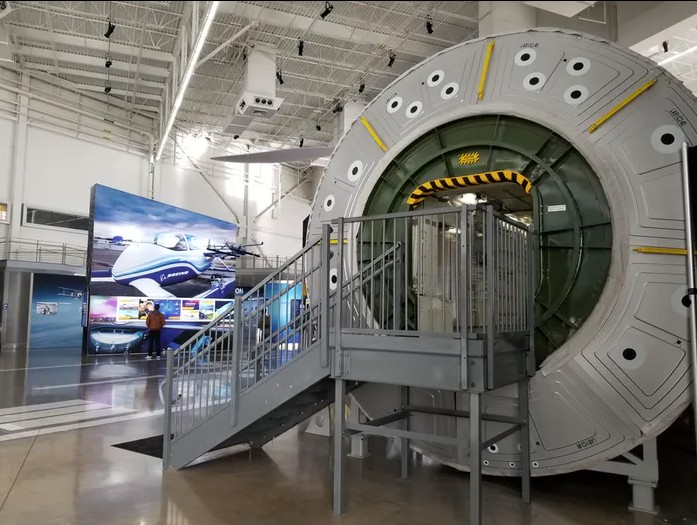 Backstory and Context
Highlights include the Above and Beyond Exhibit, which explores how innovation has impacted aviation; the Destiny Module Exhibit, which is a replica of the main research lab of the International Space Station; and a large section of a fuselage, which enables visitors to get an up-close view of what the structure of a plane looks like. Other exhibits highlight Boeing's efforts in developing technologies in submarines, autonomous aerial systems, personal flight aircraft, satellites, and alternative fuels. The museum also features a cafe and gift shop. Boeing took over the museum in 2018, which up until that point was run by an organization called the Institute of Flight. 
Sources
"Future of Flight Aviation Center and the Boeing Tour." Airplane Museums. Accessed March 8, 2020. https://www.airplanemuseums.com/future-of-flight-aviation-center-boeing-tour.htm.
"Gallery." Boeing Future of Flight​ Museum​. Accessed March 8, 2020. https://www.boeingfutureofflight.com/gallery-exhibits.
Podsada, Janice. "Boeing will take the controls at the Future of Flight museum." July 24, 2018. https://www.heraldnet.com/business/boeing-aims-to-take-over-future-of-flight-operations.
Image Sources
Boeing Future of Flight​ Museum​

Additional Information