Frederick Vergenz and the 28th Infantry Division
Introduction
One of the oldest and most decorated divisions in military history, the 28th Infantry had served as a huge line of defense for Paris during WWI. Led by the famous General John J Pershing, he would say his men were made of iron. Frederick Vergenz from Waukesha was one of those many brave men. Many people don't know his name, but his sacrifice must not be forgotten.
Images
Frederick J Vergenz Private 1st Class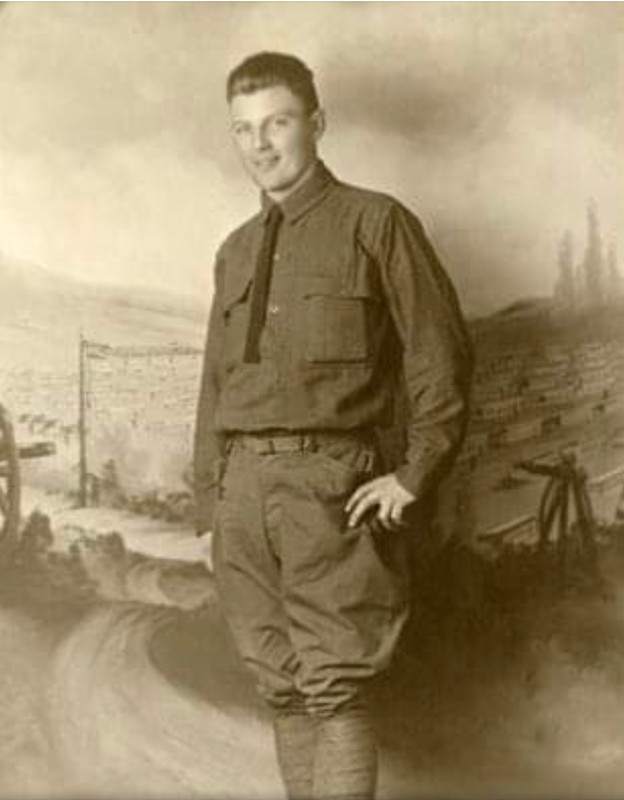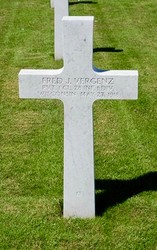 Frederick's father Obituary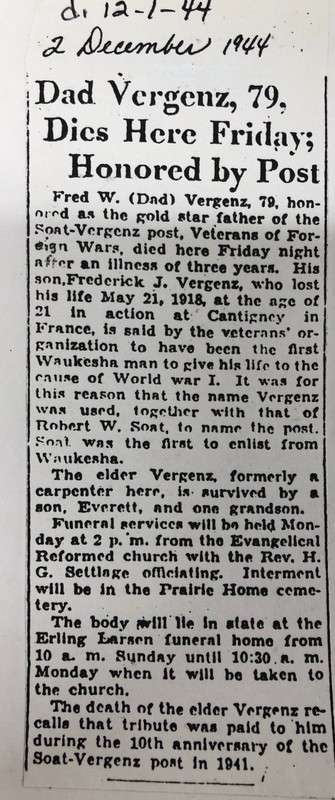 Frederick Memorialized in the newspaper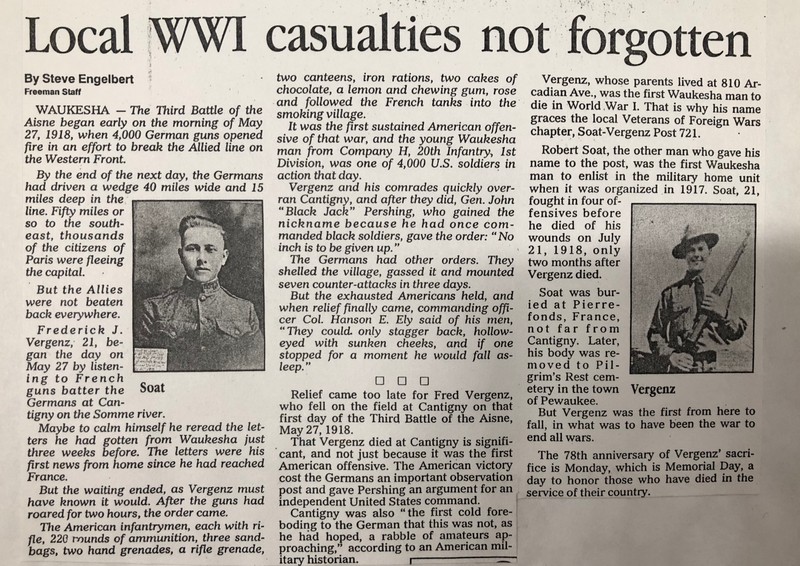 Backstory and Context
Nicknamed the "Keystone Division" for its blood red keystone insignia patch, the 28th Infantry was known to the Germans as the "bloody bucket" for the shape, color and bravery in battle. Frederick Vergenz was one member of this highly decorated division, climbing to Private 1st Class. Along with his many comrades, he helped uphold the Western Front lines in France before the rest of the American Expeditionary Forces (AEF) arrived in 1918. The division held the second line of defense on the Marne River and the Chateau Thierry when the Germans heavily advanced during the 3rd battle of the Aisne to 30 miles of Paris.
May 27th, 1918 was a bloodbath- the third battle of the Aisne-River. Frederick and the 28th Infantry were present to hold off the German offensive of 17 divisions, with the help of British and French Infantry divisions. The morning started out with the ground shaking and the noises of machine gun fire, tanks and shelling. The Germans would fire over 2 million shells in the first four hours and shatter the allied lines in one of the biggest advancements on the front. This battlefield became the location that would be Frederick's last day alive. He was sadly shot and killed at 20 years old. The Waukesha Freeman narrates "The day began on May 27 by listening to French guns batter the Germans at Cantigny on the Somme River. Maybe to calm himself he reread the letters he had gotten from Waukesha just three weeks before. The letters were his first news from home since he had reached France. But the waiting ended, as Vergenz must have known it would. After the guns had roared for two hours, the order came. The American Infantrymen, each with a rifle, 220 rounds of ammunition, three sand bags, two hand grenades, a rifle grenade, two canteens, iron rations, two cakes of chocolate, a lemon and chewing gum, rose and followed French tanks into the smoking village". The devastation left over 200,000 men dead. Despite heavy losses, luck was on the side of the 28th as the Germans ran out of supplies and troop reinforcements. General John J Pershing, leader of the division famously said the men were made of iron. On May 28th, the 28th Infantry held off 7 German offenses on Cantigny, a German held French village, and captured an important outpost on the front which would further protect Paris and push the Germans out to the end of the war. Fredrick's body was buried at the Somme American Cemetery and his gravestone is located in plot C, row 10 stone #13. He was awarded the purple heart and a citation of bravery followed in his death notice home. He left behind a mother, father and an older brother.
Frederick was German American and had an occupation as a machinist before he enlisted at the age of 20. German Americans were well known in the field of trades that included machinists and carpenters. He was sent and trained at Camp Douglas and Waco, Texas where he was assigned to Company L 4th Regiment Wisconsin National Guard. He sailed out to Europe in February of 1918 and arrived in early March. During his time in the service, he earned the rank of Private First Class and he would be transferred twice to Company E 128th Infantry then to Company H 28th infantry 1st Division. He is remembered in the Waukesha Freeman for being the first Waukesha resident to die during the war. He used to live in the Waukesha area with his mother and father. They lived with their children at 810 Arcadian Avenue here in Waukesha with their other child, a brother by the name of Everett and unlike Frederick, Everett married and died at the young age of 48. Frederick's family are buried together at Prairie Home Cemetery off of south Prairie Avenue here in Waukesha. Frederick's father was a carpenter and he worked in the area. He is recorded in the Wright's Waukesha Directory to have worked in the Ray Biggs Company, D.F. Akins Plumbing and Carl H Sawyer Agency. Frederick's father is one of 10 children and his mother is one of 8. His father died at the age of 79 in December of 1944 of an illness not specified which he had for over three years.His mother Bertha died younger at 57, cause of death is not known.
Over time, the 28th Infantry continued their legacy of bravery, from storming the beaches of Normandy to dispatching to Afghanistan. Through it all, Waukesha is one out of thousands of places that house its own stories of hero's. Frederick is one of many hundreds that loved his home and country so much that even of German heritage, fought bravely for the allies. He laid down his life at such a young age to protect the world from fear and tyranny, and his story continues to echo around us.
Sources
Find A Grave, database and images (https://www.findagrave.com : accessed 05 March 2020), memorial page for PVT 1CL Frederick John Vergenz (Aug 1897–27 May 1918), Find A Grave Memorial no. 56100061, citing Somme American Cemetery and Memorial, Bony, Departement de l'Aisne, Picardie, France ; Maintained by War Graves (contributor 6) .
Daniels , Rodger. Coming to America: A History of Immigrants and Ethnicity in American Life . Edition 1st. Princeton , New Jersey . Visual Education Corporation, 1990.
Elgelbert, Steve . Local WWI Casualties Not Forgotten (Waukesha) . .
J, Rickard. Third Battle of the Aisne 27 May-3 June 1918, historyofwar.org. August 10th 2007. Accessed March 7th 2020. http://www.historyofwar.org/articles/battles_aisne3.html.
Waukesha County Military Service Record of Frederick J Vergenz. Waukesha County Archives
Waukesha Freeman, "Dad Vergenz, 79, Dies Here Friday; Honored by Post" (1944) Obituary
Wright's Waukesha Directory . Volume XI. Waukesha, Wisconsin. Wright's Corporation, 1915-1916.
Wright's Waukesha Directory . Volume XIII. Waukesha, Wisconsin. Wright's Corporation , 1921.
Image Sources
Wisconsin Veteran's Museum

findagrave.com/memorial

Waukesha Freeman 1944

Waukesha Freeman

Additional Information