Orchard Lane on Panoramic Hill
Introduction
Author-Uploaded Audio
The Orchard Lane steps offer formal pedestrian access to the scenic Panoramic Hill neighborhood in Berkeley. This pedestrian entryway is adjacent to the University of California campus. Orchard Lane was designed by Henry Atkins in 1909. Atkins' traditional design features a grand, classical staircase with concrete balustrades, columns, and benches. This design is partially shaded in some places by a gently overhanging canopy of native trees. Orchard Lane was officially designated as a City of Berkeley Landmark in 1992.
Images
Beginning of Orchard Lane, the pedestrian entryway to Panoramic Hill in Berkeley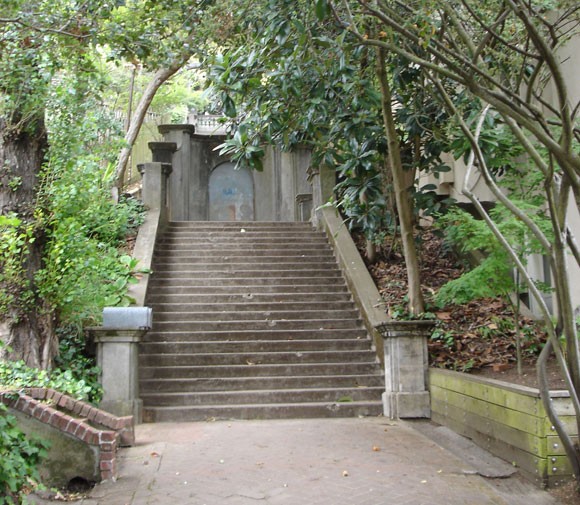 A clear view of the Bay from Panoramic Hill at the highest elevation of Orchard Lane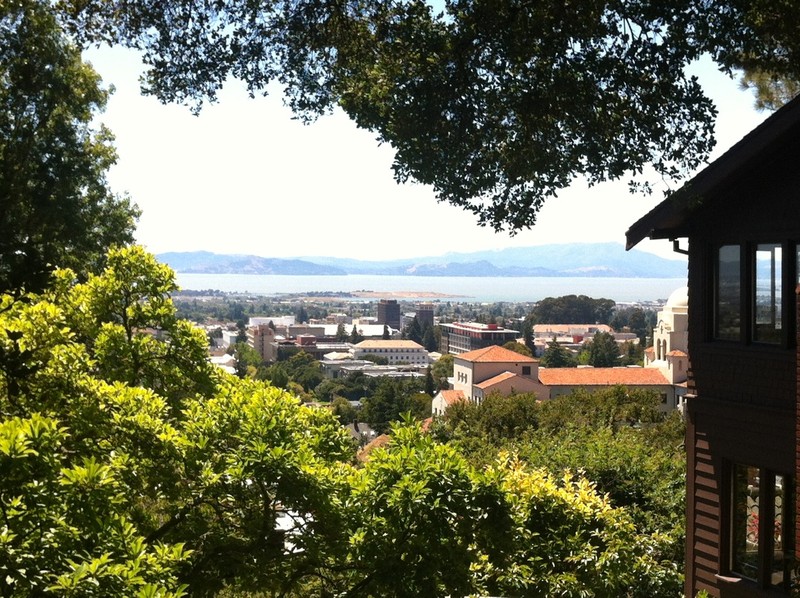 The first 33 steps on Orchard Lane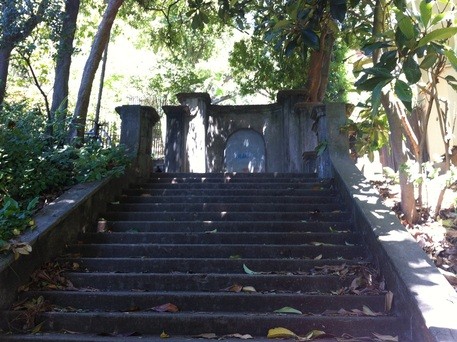 The next 77 steps on Orchard Lane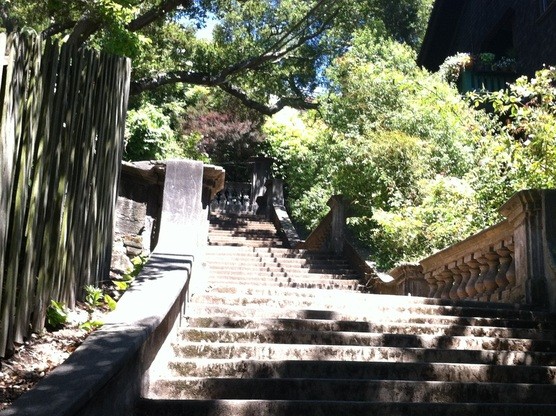 Backstory and Context
Author-Uploaded Audio
In 1904, Warren Cheney purchased the land that became known as Panoramic Hill. Cheney had previously served as the editor of a literary magazine, The Californian. A few years after purchasing this parcel of land, Cheney hired the architect Henry Atkins to design a pedestrian staircase and point of access, which would connect Berkeley and the campus of the University of California with the emerging residential neighborhood of Panoramic Hill. This residential area was already home to several university professors as well as members of the Sierra Club, the non-profit environmental organization founded in 1982.
While one part of the Panoramic Hill neighborhood is located in Berkeley, the other part is located in Oakland. On the Berkeley side, the large portion of Panoramic Hill is situated within the scenic Claremont Canyon Regional Preserve. Although Panoramic Hill was first developed for residential use in 1888, most of the homes that were built within this hilly landscape were constructed between 1900 and 1940. These homes are primarily associated with the Arts and Crafts Movement. Many of the residences were built by esteemed architects including Bernard Maybeck, Julia Morgan, Walter Steilberg, Walter Ratcliff, and Frank Lloyd Wright. The Panoramic Hill neighborhood is included in the National Register of Historic Places as a National Historic District.
At some of the higher elevations, Panoramic Hill overlooks the Bay and provides stunning, unobstructed views of the Golden Gate Bridge. In addition, there are miles of hiking, biking, and walking trails that wind through this area, along with equestrian trails. As the first pedestrian point of access to Panoramic Hill, the Orchard Lane steps offer a beautifully elevated walkway, accented by hanging trees and moss-covered benches. The steps along Orchard Lane number approximately one hundred in total. These steps also connect with other elevated walkways on Panoramic Hill, some of which feature more steeply-pitched steps at higher elevations. The Orchard Lane steps were designated as a City of Berkeley Landmark in 1992.
Sources
"Berkeley-Oakland Stairs", Stairway Freedom. Accessed March 7th 2020. https://stairwayfreedom.weebly.com/berkeley--oakland-stairs/a-truly-marvelous-and-steep-berkeley-stairway-climb.
"Orchard Lane", Berkeley Historical Plaque Project. Accessed March 7th 2020. https://berkeleyplaques.org/plaque/orchard-lane/?cat=28.
Thompson, Daniella. "Orchard Lane", Berkeley Landmarks. Accessed March 7th 2020. http://berkeleyheritage.com/berkeley_landmarks/orchard_lane.html.
Image Sources
R. Kelmann (2010), Berkeley Historical Plaque Project

https://stairwayfreedom.weebly.com/

https://stairwayfreedom.weebly.com/

https://stairwayfreedom.weebly.com/

Additional Information