Monument for Cincinnati's Historic Fort Washington
Introduction
This small Cincinnati monument commemorates the historic site of Fort Washington, one of the most important forts of the late 18th century to be constructed in the Northwest Territories. Erected in 1789, the fort was used by traders and troops and was an important center for diplomacy and trade with area tribes. The fort also served as a way for the United States to stake a claim to this land and as a military installation to support troops and traders who both fought with and against several tribes in the area, particularly the Wabash and Miami. Used by Governor Arthur St. Clair and General Josiah Harmar as their base of operations, Fort Washington was critical in the western expansion of the United States until its decline and finally abandonment in 1804. A monument stands in its place just south of E. 4th St. on Arch St.
Images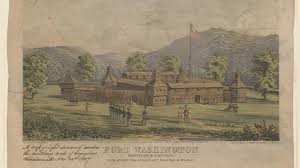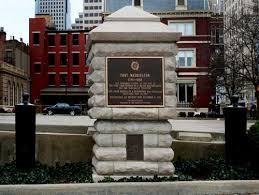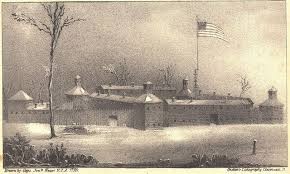 Ft. Washington Monument at 3rd and Broadway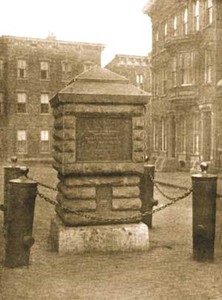 Backstory and Context
Ft. Washington was a major military base from the years of 1789-1804 in the Northwest Territories. Sitting in what is now downtown Cincinnati, the fortified stockade served as a major area of settlement for troops, settlers, and supplies during the claiming of the Northwest Territories. It was named in honor of President George Washington and served as a defense against Indian attacks on settlers, most notable the Wabash and Miami villages in Indiana and Ohio. Gen. Josiah Harmar described the fort as "one of the most solid substantial wooden fortresses…of any in the Western Territory."
The origins of the fort began when the land started to be inhabited largely by pioneers. One in particular, Judge John Cleves Symmes, was a Continental congressman as well as New Jersey Supreme Court Justice. He and 60 other settlers established the community of North Bend on the Great Miami River in January 1789. In addition, there were two other small settlements established in the locality – Colombia and Losantiville (later to be renamed Cincinnati). Benjamin Stites was the founder of Colombia, and he was the reason many other settlers wanted to come to the area. Losantiville was founded by Mathias Denman and Colonel John Patterson. The reason this becomes important is because many of the Indians who lived in the area were in theory supposed to let white settlers inhabit the southern Ohio country area, as it was part of the agreements signed at Fort Stanwix, Fort Mcintosh, and Fort Finney. Issues arise, however, when it is taken into account that many were bribed or intimidated into signing. In addition, many of those who signed held no real power over the tribes in the area being inhabited. This led to increased resistance from Indians towards white settlers.
To deal with this after many long months and years of conflict erupting between Indians and encroaching settlers, President George Washington had Governor Arthur St. Clair and General Josiah Harmar organize an expedition into Indian territory to deal with them for good. Though they were told to respect Indians under tribal authority and seek peace, the two sought other means of reconciliation, instead opting to wipe out the problem completely. Efforts for peace began to falter, and the Kentucky militia was called to join the 1st Regiment at Ft. Washington for a campaign against Wabash and Miami tribes. After little success, a second campaign was commanded by St. Clair, this time with orders to keep constant communication between Ft. Washington and Philadelphia, capitol of the US at the time. Disaster struck, however, after being overrun by an Indian leader named Little Turtle and his warriors, and it came to be known as St. Clair's defeat.
Fort Washington was like other western frontier forts in that they were increasingly abandoned by their inhabitants as the frontier line moved farther and farther west. By 1802 it only contained half a company, around 35 men. With the expansion of Cincinnati able to take place now that it was far enough in settled territory, the fort was in the way and ineffective, and was sold at auction after being abandoned on 1804. On June 14, 1901, a 9' tall stone Ohio memorial was placed where the fort was thought to have stood – near the corners of 3rd and Broadway. During construction in 1952, workers found the remains of the forts powder magazine not far from Taft Museum and Fourth Street. After archaeologists researched the area, they found that it was the true location of the fort, and the monument was moved there in 1998, where it stands today just south of E. 4th St. on Arch St.           
Sources
Fort Washington, Touring Ohio. Accessed March 5th 2020. http://touringohio.com/history/fort-washington.html.
Westheider, James E. . The History of Fort Washington at Cincinnati, Ohio: A case study, Accessed March 5th 2020. http://npshistory.com/series/symposia/george_rogers_clark/1989-1990/sec4.htm.
Fort Washington (Cincinnati, Ohio), Military History . Accessed March 5th 2020. https://military.wikia.org/wiki/Fort_Washington_(Cincinnati,_Ohio).
Image Sources
https://www.cincinnati.com/story/news/2019/02/20/how-we-found-out-real-site-fort-washington/2922624002/

http://touringohio.com/history/fort-washington.html

https://www.pinterest.de/pin/824932856724959902/

http://touringohio.com/history/fort-washington.html

Additional Information