Main Street Furnishings Building
Introduction
The Main Street Furnishings Building, at 1015 Main Avenue in Durango, was once the location of the Balthasar Kern Saloon. The building is considered one of the most historic within the Main Avenue National Register of Historic Places Historic District, covering the southern seven blocks of the street. The building until recently housed the Animas Trading Company store on the first floor.
Images
2015 photo of Main Street Furnishings Building, with Animas Trading Co. shop on first floor (Hightower)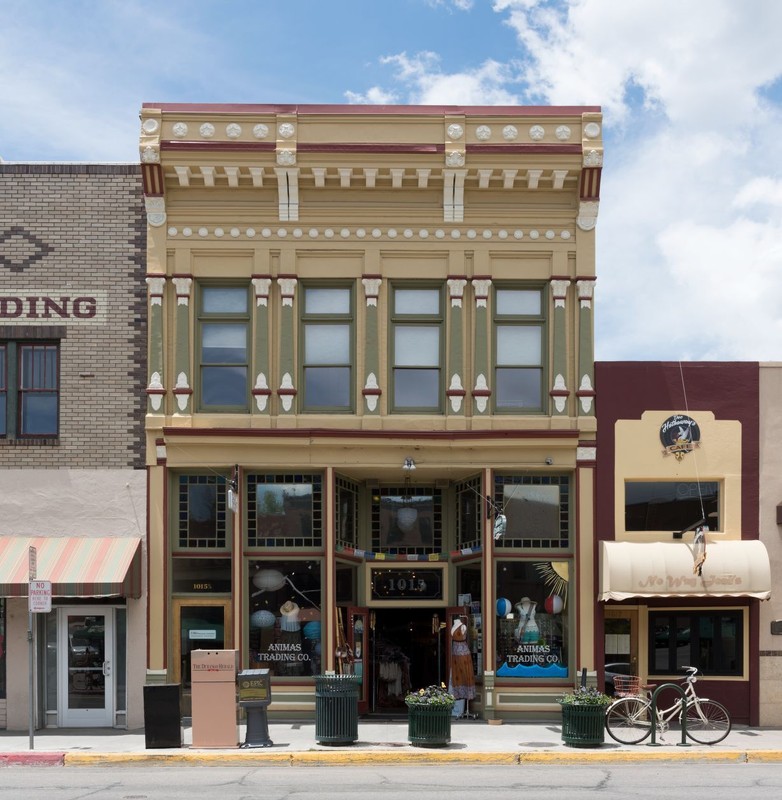 1904 Sanborn map, Saloon ("Sal.") at Main Street Furnishings Bldg, 2nd building N of 10th St. (Sanborn Map Co. p. 4)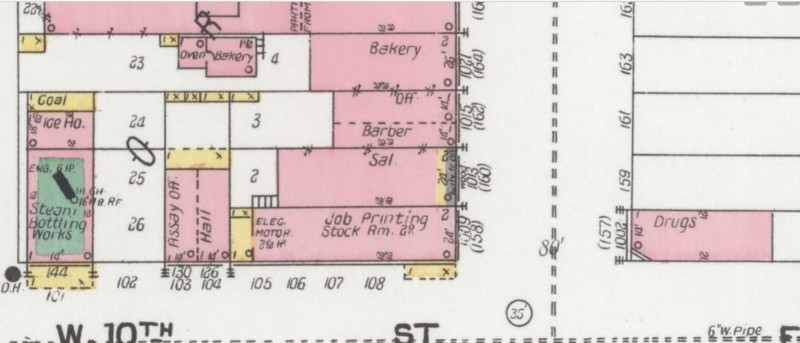 Backstory and Context
The Main Street Furnishings Building has decorated Main Avenue since 1889. The building is more elaborate than many of the structures on the street, with a cast iron and glass façade on the first story topped with clerestory windows, some of which are stained glass. The central entrance door is recessed about five feet from the sidewalk. Pairs of pilaster with Corinthian capitals frame the second-story windows. Above is a decorated entablature topped by a very elaborate bracketed cornice with dentil detailing.
One year after construction, the building was a liquor warehouse with the second story vacant, as seen on the town's Sanborn Fire Insurance map. The building was vacant in 1898, and contained a saloon by 1904, according to the insurance maps. Balthasar "Balsey" Kern has been named as one of the early owners of this building. His saloon lasted until about 1912; the 1910 insurance map depicts a saloon in the building. A German immigrant named Balthasar Kern settled in Erie, Pennsylvania, in the 1850s, where he operated a saloon and restaurant in the mid-1880s. He and his wife, Alvina Brown, had seven children, none of whom were named Balthasar, so there is no "junior" who mav have headed west; this leaves the father as the likely candidate.
The 1919 Sanborn fire insurance map places a grocery warehouse in the building.
The Animas Trading Company shop has moved out of the first-floor commercial space. The locally-owned clothing shop has relocated a few blocks south. The Main Street Furnishings Building is available to lease in 2020. The space occupies nearly 3,000 square feet, including a basement storage area and a mezzanine level for office space. The building underwent interior renovations recently and boasts an interior with refinished oak wood flooring, exposed brick walls, and 14-foot high ceilings on the first floor.
Sources
Sanborn Map Company. Sanborn Fire Insurance Map for Durango, La Plata County, Colorado. 1890, 1898, 1904, 1910, 1919.
Warner, Beers & Company. History of Erie County, Pennsylvania. Chicago, IL. Warner, Beers & Company, 1884.
Wells, Marjorie J. . NRHP Nomination Form for Main Avenue Historic District, Durango. National Register. Washington, DC. National Park Service, 1980.
Wildfang, Frederic B.. San Juan Skyway. Images of America. Mount Pleasant, SC. Arcadia Publishing, 2010.
Image Sources
Gates Frontiers Fund Colorado Collection in the Carol M. Hightower Archive, LOC (https://www.loc.gov/resource/highsm.32876/?r=-0.854,0.344,2.709,1.023,0)

https://www.loc.gov/item/sanborn00987_006/

Additional Information