General Palmer Hotel
Introduction
The General Palmer Hotel was built in Durango in 1898. The hotel is named for its founder, William Jackson Palmer. Palmer was the engineer and Civil War general who founded Colorado Springs in 1870 and began the Denver and Rio Grande Railroad Company. The building and many of the rooms in the main portion of the hotel are furnished with antiques from the late Victorian era. The fanciest room contains a red rocking chair that Teddy Roosevelt supposedly favored on his visits to Durango for business or for hunting and fishing.
Images
General Palmer Hotel Building in 1904 with three businesses (Sanborn Map Company p. 8)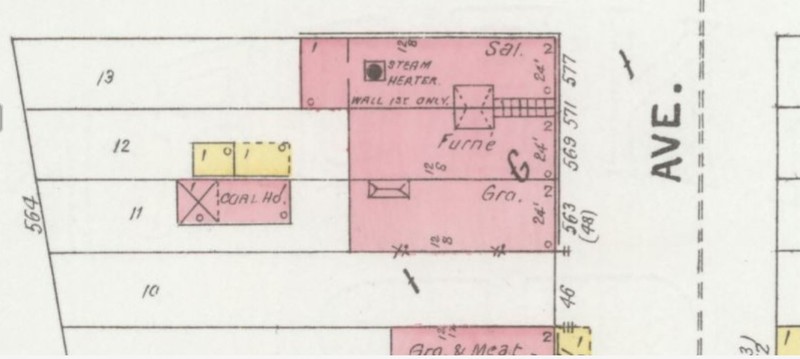 Hotel Savoy and two other businesses in General Palmer Hotel building in 1910 (Sanborn Map Company p.8)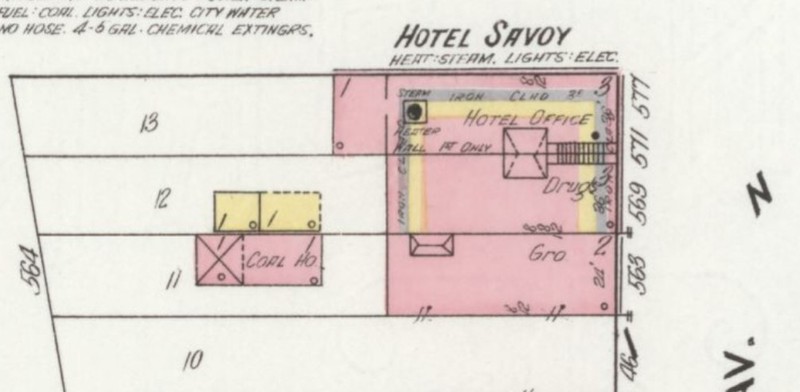 Backstory and Context
The General Palmer Hotel has been entertaining guests to Durango since it was constructed in 1898. The hotel is within the Main Avenue Historic District, covering the lower seven blocks of the street. The exterior is brick and is subdivided at the second floor line.
The building seems to have held - at least on its first floor - three businesses by 1904. The northernmost third of the building was a saloon, the middle third was a furniture store, and the southern third was a grocery store, based on the town's Sanborn Fire Insurance map. By 1910, the hotel occupied the north third of the ground floor but was called the Hotel Savoy. The middle third tenant was a drugstore, and the south third was still a grocery store. In 1980, the hotel lobby was in the north third and the Solid Muldoon Saloon was to the south.
The second-story windows are plain with flat stone lintels and sills. The northern section has a third story with a bracketed decorated entablature parapet with dentil work.
The patio balconies on the second and third floors of the main portion of the historic hotel overlook the Durango & Silverton Railroad depot, just one block away, with its restored steam engines that still take passengers on the historic scenic route to Silverton. The building is a contributing element of the Main Avenue Historic District, listed in the National Register in 1980.
Sources
General Palmer Hotel. The General Palmer Hotel, Durango's Premier Victorian Downtown Hotel, General Palmer Hotel. January 1st 2020. Accessed March 5th 2020. http://generalpalmerhotel.com/.
Wells, Marjorie J. . NRHP Nomination Form for Main Avenue Historic district, Durango. National Register. Washington, DC. National Park Service, 1980.
Image Sources
Sanborn Fire Insurance Map of Durango, La Plata County, Colorado (https://www.loc.gov/item/sanborn00987_006/)

Sanborn Fire Insurance Map of Durango, La Plata County, Colorado (https://www.loc.gov/item/sanborn00987_007/)

Additional Information