The Stella King Building
Introduction
Author-Uploaded Audio
In the early decades of the twentieth century, Mrs. E.P. (Stella) King once had a dry goods corner store in this location. The store sold everything from baled hay for farm animals to sewing kits and food supplies. At Stella King's request, the building was designed by local architect Albert Dodge Coplin in 1901, and King's dry goods store remained in operation until 1923. The building was designated as a City of Berkeley Landmark in 2005, with a plaque placed at the site. Businessman John Gordon fully restored the building in 2006.
Images
Mrs. E.P. (Stella) King Building, formerly a dry goods store under her ownership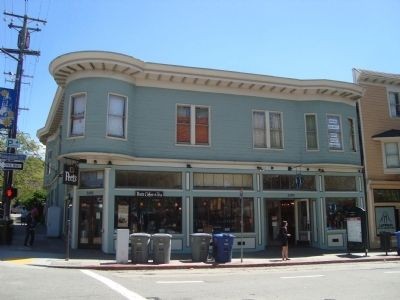 Mrs. E.P. (Stella) King Building, declared a City of Berkeley Landmark in 2004 and fully restored by Berkeley businessman John Gordon in 2006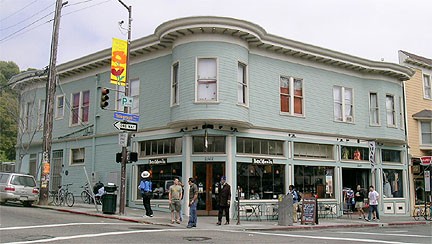 Mrs. E.P. (Stella) King Historical Marker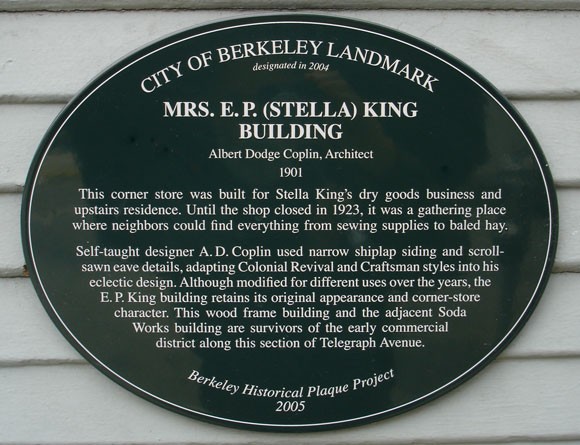 The "Stella King Building" (2010)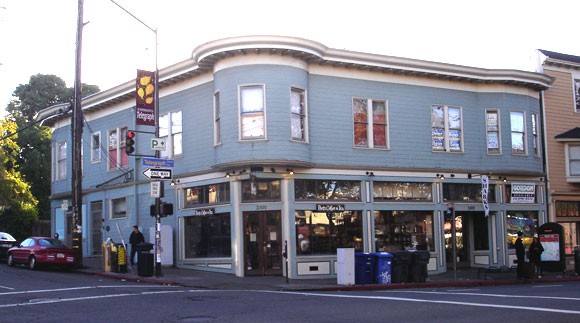 Backstory and Context
Author-Uploaded Audio
Mrs. Stella King was also known as Mrs. Edmund P. King, or as Mrs. E.P. King, since it was the custom of the time for a woman to be known by her husband's name. King ran a successful dry goods corner store for several decades at the intersection of Telegraph Avenue with Dwight Way. After her first decade of running the store, she commissioned the self-taught local architect Albert Dodge Coplin to design a new, mixed-use building at this intersection so that she could upgrade her store.
In his design for the building, Coplin adapted the Colonial Revival style and the Craftsman style into an integrated design aesthetic. Important architectural details include narrow shiplap siding and scroll-sawn eaves. In addition to its architectural details, the building also holds the distinction of being one of the few remaining commercial buildings in Berkeley designed by a local architect in the early twentieth century. Next door to the notable wood-frame building is the Soda Works building, another similar example of turn of the century commercial architecture in downtown Berkeley.
Although Mrs. King closed her shop in 1923, the building remains well preserved and continues to reflect the architecture of the period in which it was constructed. The building was designated as a City of Berkeley Landmark in 2005. In addition, a historical marker was placed on the side of the building by the Berkeley Historical Plaque Project, which tells the history of the building during the ownership of Stella King.
In 2006, Berkeley businessman John Gordon purchased the building and restored it, giving meticulous attention to the original architectural details. At the time, there was also extensive termite damage, as well as water damage and winter leaks ,which needed to be addressed. The restoration also included engineering considerations as the building had become structurally unsound. Steel beams were installed, as well as new slab flooring. An all new electrical wiring system was also added. There was even a discovery of pigeons roosting in the upper stories, which necessitated relocating the birds. The lower-level storefront as well as the four upstairs level apartments were each carefully restored. The building currently houses a popular Peet's Coffee in the street-level storefront.
Sources
"BAHA Preservation Awards 2007", Berkeley Architectural Heritage Association. Accessed March 4th 2020. http://berkeleyheritage.com/awards/awards2007.1.html.
"Berkeley Landmarks designated in 2004", Berkeley Landmarks. Accessed March 4th 2020. http://berkeleyheritage.com/berkeley_landmarks/2004_landmarks.html.
Swackhammer, Barry. "Mrs. E.P. (Stella) King Building", Hmdb. April 22nd 2012. Accessed March 4th 2020. https://www.hmdb.org/m.asp?m=54722.
Image Sources
Barry Swackhammer, The Historical Marker Database

Daniella Thompson (2007), Berkeley Landmarks

City of Berkeley Landmarks

R. Kelmann, Berkeley Historical Plaque Project

Additional Information