Paul Howland Sherman Jr. Memorial Stone
Introduction
This memorial honors Paul Howland Sherman Jr., an American veteran, who shares a common undeniable goal with all American veterans to protect our country's freedoms. Forever a symbol of heroism, sacrifice, loyalty and freedom. "America loves a winner, and will not tolerate a loser, this is why America has never, and will never, lose a war."-General George S. Patton
Images
26th Infantry Division Insignia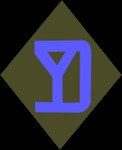 Backstory and Context
Born on October 16, 1895 in Hyannis, MA to Paul Howland Sherman and Rosella E. Sherman, he was one of ten siblings. He enlisted in the United States Army on September 8th, 1917 and by September 25th he was sent overseas to serve in France. He was assigned to Company B 101st Supply Train 26th Division which he served until October 26, 1918.
He later went on to serve in the Headquarters Company of the 101st Supply Train. Paul H. Sherman Jr. served in Chemis Des Dames, Toul, Seicheprey, Chateau-Thierry, Aisne-Marne, St. Mihiel Salient, Troyon and Rupt Sectors, Verdun Sector and Meuse-Argonne. By the time of his death Sherman achieved the rank of Corporal. He died on April 2, 1919 in a hospital of typhoid fever in Brest, France. He was the first native of Barnstable to lose his life in the First World War.
Paul Howland Sherman Jr's memorial is located at the intersection of Main Street and South Street in Hyannis, Massachusetts.
Sources
Accessed March 3rd 2020. https://www.findagrave.com/memorial/125803858/paul-howland-sherman .
"Militia of Old ." The Barnstable Patriot July 3rd 1941. .
"Sherman Square." The Barnstable Patriot July 9th 1992. .
"Main Street Mile Tradition." The Barnstable Patriot October 26th 1995. .
Image Sources
https://en.wikipedia.org/wiki/26th_Infantry_Division_(United_States)