Hugh Mercer Apothecary Shop
Introduction
Hugh Mercer, an immigrant from Scotland and survivor of the Battle of Culloden, lived and practiced medicine in Fredericksburg for over 15 years. His most famous patient was Mary Washington. When the Revolutionary War began, he chose to join the American forces and was killed in the Battle of Princeton. The Hugh Mercer Apothecary Shop, inside a restored 18th century building, is a museum of medicine, pharmacy, and military and political affairs. Located at 1020 Caroline Street, the Hugh Mercer Apothecary Shop is now owned by Washington Heritage Museums. Tours are given daily.
Images
The Apothecary Shop as it looks today.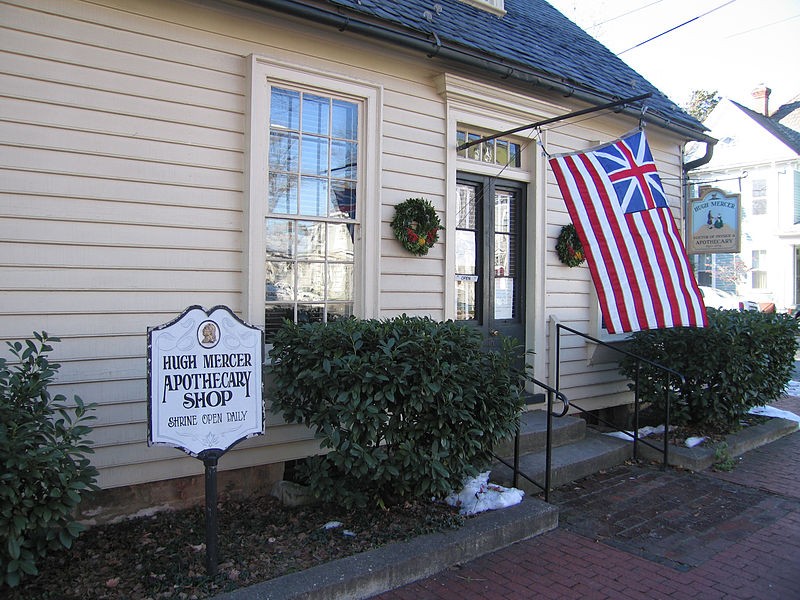 An undated sketch of Hugh Mercer by John Trumball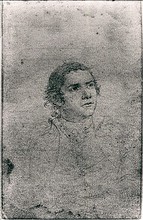 Inside the Apothecary Shop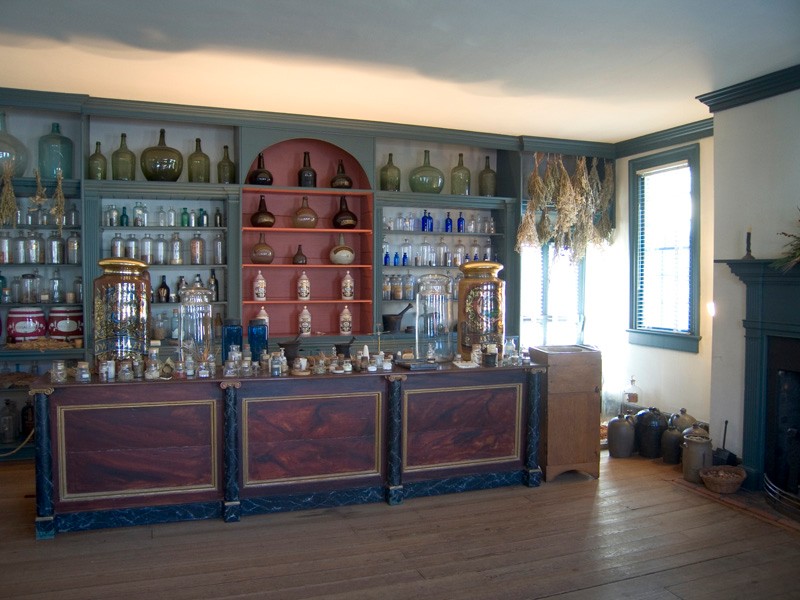 A painting based off of Trumbull's sketch that hangs inside the Apothecary Shop.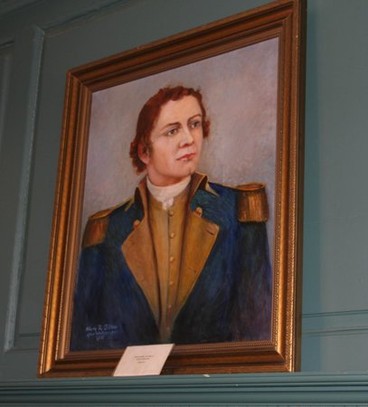 Hugh Mercer Apothecary Shop museum (image from Smithsonian Magazine)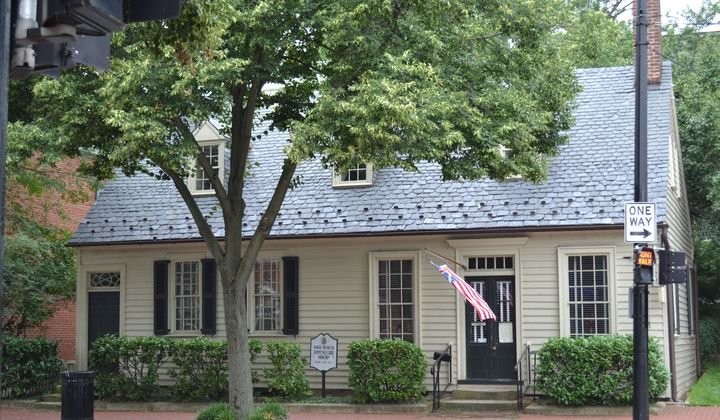 Hugh Mercer's ledger book (image from Duke University)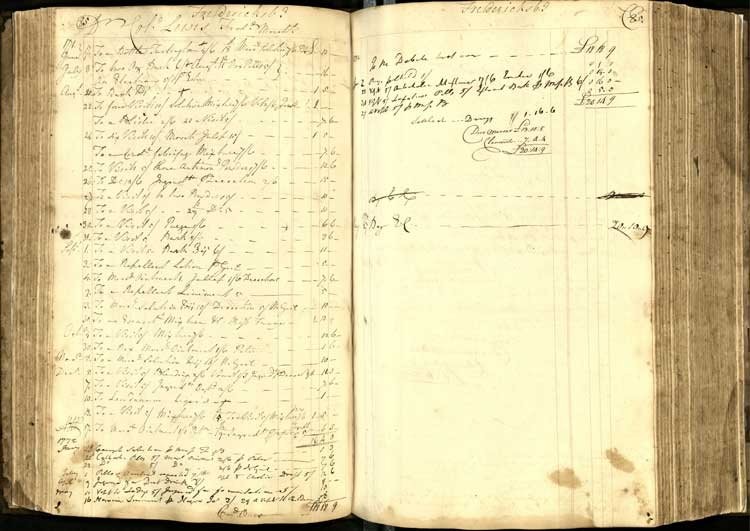 Backstory and Context
Hugh Mercer
Born in Aberdeen, Scotland in 1726, Hugh Mercer trained in medicine at Marischal College and became an assistant surgeon in the army of Charles Edward Stuart, also known as Bonnie Prince Charlie. For his participation in the Jacobite Rebellion of 1745 and as a survivor of the Battle of Culloden, Mercer was hunted by the British as a rebel and was forced to flee to America in 1747. Settling near Philadelphia, Mercer practiced medicine for the next eight years. During the French and Indian War, Mercer joined the military as a captain, earning a silver medal and the title of Colonel after he was wounded in 1756 and made his way alone on foot back to Philadelphia. Either through the military or by their mutual participation in the local Masonic lodge, Colonels Hugh Mercer and George Washington met and became friends. Washington convinced Mercer to move his medical practice to Fredericksburg in 1761.
From 1771 to 1775, Mercer and another physician, Ewen Clements, operated an apothecary shop and medical office together. Mercer's patients ranged from the Washington family and prestigious merchants to tradesmen, actors, and slaves. Medicine in the eighteenth and early nineteenth centuries centered around balancing the "four humors" or bodily fluids, and like other physicians of the time, Mercer's treatments included bleeding and purging in order to achieve this equilibrium. Some of the medicines dispensed in the apothecary include purging pills, laudanum, magnesia, snakeroot, crab claws, stomach elixirs, and saline mixtures, as well as herbal remedies. Mercer and his partner also pulled teeth, set broken bones, and performed amputations.
Along with George Washington, Patrick Henry, and James Monroe, Hugh Mercer attended gatherings in the Rising Sun Tavern to discuss American Independence. When the Revolution began, Mercer became a Brigadier General in the Continental Army, playing a key role in both battles of Trenton. In 1777, during the Battle of Princeton, he was mistaken by the British for General Washington and stabbed multiple times. Mercer survived for several days in a field hospital, under the care of Dr. Benjamin Rush.
The Museum

The Hugh Mercer Apothecary Shop museum is not in Mercer's original building, though it does sit catty-cornered to the original shop location. The restored museum building was constructed around 1772, and housed Henry Mitchell's tobacco shop, where Mercer was a customer. In addition to the displays, there are guided tours in period costume, and a garden behind the museum where medicinal herbs used in Mercer's time are grown.

Sources
1. Atlas Obscura. "Hugh Mercer Apothecary Shop." Accessed October 9, 2017. http://www.atlasobscura.com/places/hugh-mercer-apothecary-shop.
2. Gillan, Thomas. "The Apothecary Ledger of Hugh Mercer." Duke University Libraries. November 7, 2016. Accessed October 9, 2017. https://blogs.library.duke.edu/rubenstein/2016/11/07/apothecary-ledger-hugh-mercer/.
3. Goolrick, John Tackett. The life of General Hugh Mercer: with brief sketches of General George Washington, … New York: Neale Pub. Co., 1906.
4. Visit Fredericksburg. "Hugh Mercer Apothecary an Entertaining Window on History." March 3, 2016. Accessed October 9, 2017. http://www.visitfred.com/blog/hugh-mercer-apothecary-entertaining-window-history.
5. Washington Heritage Museum. Official website. Accessed October 9, 2017. https://www.washingtonheritagemuseums.org/museums.
Additional Information