Statue of Johan Cruyff
Introduction
When you are a great player and you had a lot of influence within a club, this is the case of Johan Cruyff. Johannes Cruijff was a soccer player, was born in Amsterdam, Netherlands on April 25, 1947. His first team was Ajax, debuted in 1964 where he played until 1974. During this period in Ajax he was known as "Johan Cruyff". He won 7 national leagues and 4 national cups. He also Won 3 Champions League (1971,1972,1973), and the golden ball 3 times. his influence as a coach and player was fundamental in the history of the Catalan team. In 2019 the club made a statue of Johan in front of the Camp Nou stadium as thanks for your work in the club. The statue was made by Corry Ammerlaan van Niekerk, measures 3.5 meters and is made of broze. At the bottom have written salid y disfruta (go out and enjoy) phrase that became famous because Johan told his players before the final of the champions league in 1992.
Images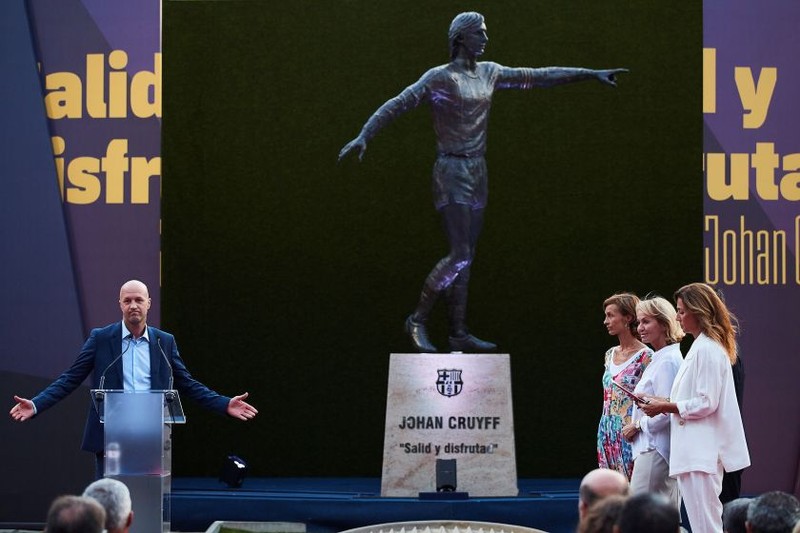 Staue of Johan Cruyff nexto to the statue of Kubala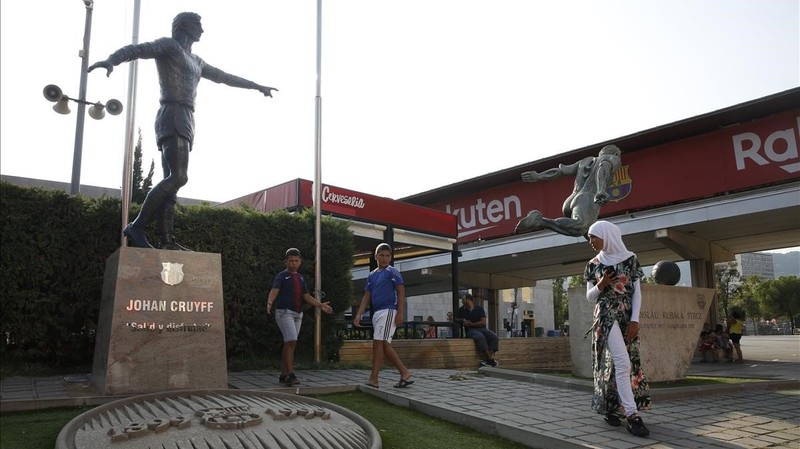 Johan Cruyff at the Barcelona stadium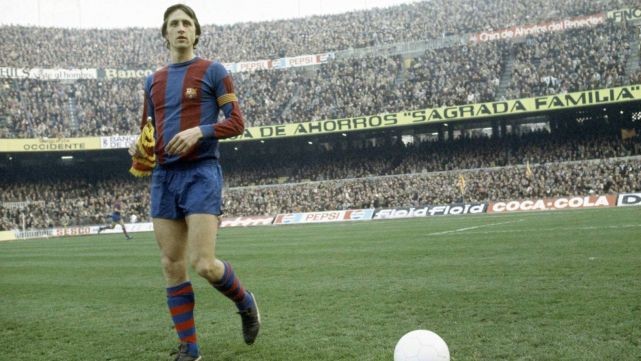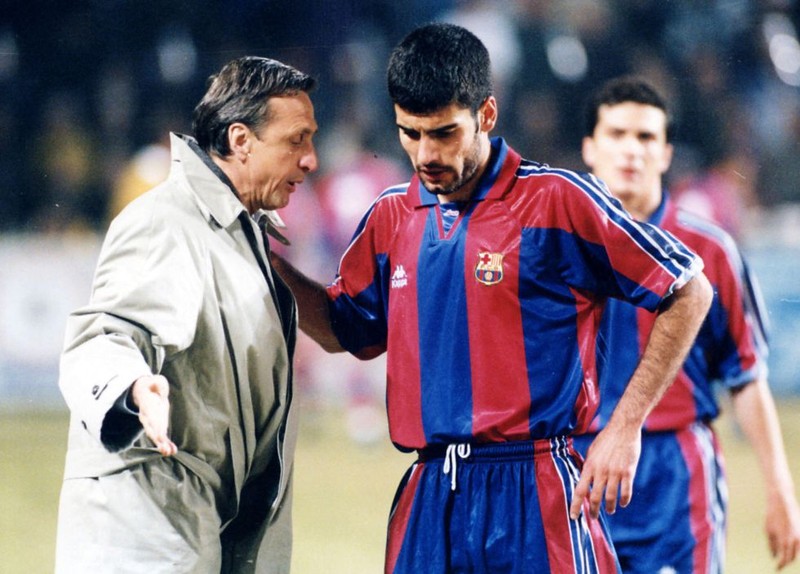 Backstory and Context
Johan has two periods in Barcelona the first as a player that was from 1973 to 1978 "Captained by Cruyff, Barcelona won the Spanish League championship in 1974 and was runner-up in 1976 and 1977" (The Editors of Encyclopedia Britannica, 2019). In his second stage as coach the Flaco (skinny) which was his nickname in Spain, he made great achievements "the Club began one of the most successful stages of its history, winning four LaLiga titles in a row between 1990 and 1994, something never achieved before. In May 1992, at the famous Wembley Stadium, Barça won their first ever European Cup with the so-called 'Dream Team' thrilling the world with their extraordinary football" (Barcelona FC). Johan's influence is very great because he helped to form a game philosophy within Barcelona and is an implement in the training school, in addition to having implemented the "total football" has nowadays Barcelona as one of the best teams of the world and its training school continues to form great players with the values ​​of its philosophy and style of play.
He was so great as a player that in his debut with the Catalan team he scored 2 goals, that game was played against Granda in which Barcelona won 4-0. Also during his time as a player in Barcelona, ​​he helped the team to be to become respected international and national level since the internal context in Spain of the 70s is very marked by the Franco dictatorship and its support for Real Madrid, when Juan played Barcelona, ​​he did it in a way that he was not afraid to fight against ideology and this for the Catalans became very important, so much so that Jordi gave his son a name that was forbidden for the time.
When this coach was one of the best times in the history of Barcelona, ​​they won 4 national leagues in a row and gave him the first cup of champions, but this team showed heart and strength when it came to playing and that is why they are so grateful to Cruyff for returning the glory to the club. The players who coached johan were "Zubizarreta, Bakero, Begiristain, Laudrup, Koeman, Stoichkov, Romario, Eusebio, Navidad, Guardiola, Amor, Juan Carlos, Ferrer, Nando, Julio Salinas, Serna, Alexanco y Goikoetxea" (Barcelona FC). But Guardiola was the best learned, when he ran the club between 2007 and 2012 he is known as the best Barcelona in history, because he used the whole philosophy of "total football"
Sources
The Editors of Encyclopaedia Britannica. (2019, October 18). Johan Cruyff. Retrieved February 18, 2020, from https://www.britannica.com/biography/Johan-Cruyff
Fc Barcelona. Johan Cruyff (1988-96) Retrieved from https://www.fcbarcelona.com/en/card/648508/johan-cruyff-1988-96#
Image Sources
https://www.latimes.com/espanol/deportes/articulo/2019-08-26/la-estatua-de-johan-cruyff-ya-luce-en-la-explanada-del-camp-nou

https://www.elperiodico.com/es/ocio-y-cultura/20190828/cruyff-se-suma-estirpe-deportistas-con-estatua-7610171

https://www.fcbarcelonanoticias.com/fc-barcelona/recuerdas-el-magico-debut-de-johan-cruyff-con-el-barca_53977_102.html

https://as.com/futbol/2016/03/25/primera/1458910736_509493.html

Additional Information