Chester Elmer Coggeshall Jr. Memorial Stone
Introduction
This memorial honors Chester Elmer Coggeshall Jr., an American veteran, who shares a common undeniable goal with all American veterans to protect our country's freedoms. Forever a symbol of heroism, sacrifice, loyalty and freedom. "All of the real heroes are not storybook combat fighters, either. Every single man in this Army plays a vital role. Don't ever let up. Don't ever think that your job is unimportant. Every man has a job to do and he must do it. Every man is a vital link in the great chain." -General George Smith Patton, Jr.
Images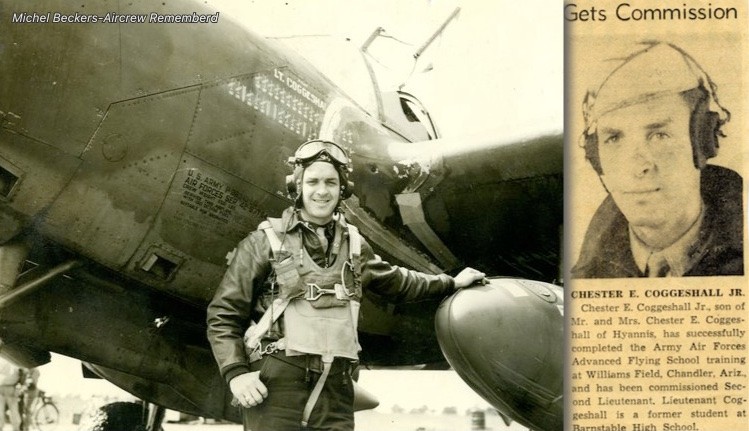 Emblem of the 55th Fighter Group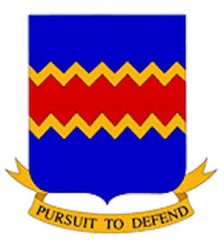 Backstory and Context
Born in Hyannis in 1920 to Chester E Coggeshall and Cora Olive Coggeshall, he was one of 12 children. Class of 1938 from Barnstable High school Chester "Chet" Coggeshall was an all-star athlete in baseball, basketball, football and track and field receiving varsity letterman 11 times. Inducted Into the BHS Athletic Hall of Fame on November 27, 2010. 
On February 24, 1942 Chester E. Coggeshall enlisted in the United States Army at Fort Devens. In 1943 he completed his pilot training at Williams Air Force Base in Arizona. Private Coggeshall joined the 343rd Fighter Squadron, 55th Fighter Group in January 1944. He was promoted to 2nd Lieutenant in March 1944, and was awarded Air Medal with 2 oak leaf clusters, the Distinguished Flying Cross with 1 oak leaf cluster as a Fighter Pilot and ended his first tour of duty on August 30, 1944 and promoted to Captain.
On April 16, 1945 Captain Coggeshall was scheduled which would end up to be his last mission on his second tour. His plane was shot down in Salzburg, Austria surviving the crash he was captured by a village policeman and denied medical attention. He was brought to Freilassing, Germany and Burgermeister August Korbus who was part of the National Socialist German Workers' Party (NSDAP) took him to a wooded area and shot Captain Coggeshall twice in the head. During the Dachau Trials Korbus was found guilty sentenced to death by hanging at Lansberg Prison by a U.S. Military Court on March 15, 1946.
His Memorial stands on West Main Street across from Barnstable High School.
Sources
"Obituaries." The Barnstable Patriot September 24th 2016. .
Accessed February 26th 2020. http://www.redraiderpride.com/chester_coggeshall.htm .
Accessed February 26th 2020. https://aad.archives.gov/aad/display-partial-records.jsp?f=3475&mtch=1&q=Chester+E+Coggeshall&cat=all&dt=893&tf=F .
"Hyannis." The Yarmouth Register September 24th 1943. .
"News From our Armed Forces Serving Overseas." The Yarmouth Register May 11th 1945. .
Accessed February 26th 2020. http://www.americanairmuseum.com/person/30903 .
Shoemaker, Nancy. "A Sacrifice Remembered." The Barnstable Patriot August 15th 2014. .
Accessed February 26th 2020. https://de.wikipedia.org/wiki/August_Kobus .
Accessed February 26th 2020. http://aircrewremembered.com/coggeshall-chester-e.html .
Image Sources
http://aircrewremembered.com/coggeshall-chester-e.html

http://aircrewremembered.com/coggeshall-chester-e.html

https://en.wikipedia.org/wiki/55th_Operations_Group