Edward King House
Introduction
Completed in 1847, the Edward King House is one of the earliest examples of the Italian villa or Italianate architectural style in the United States. Designed by famous American architect, Richard Upjohn, for wealthy China trade merchant, Edward King, it was one of the largest homes in Newport at the time. Its asymmetrical outline, square towers, round-arched windows, balconies and verandas influenced other architects throughout the country. It remained in the King family until 1912 when it was donated to the city and converted into a public library. It served that purpose until 1968 when it became a popular senior center which it remains today. The Edward King House has been a National Historic Landmark since 1970.
Images
The Edward King House is one of the earliest examples of Italianate architecture in the United States.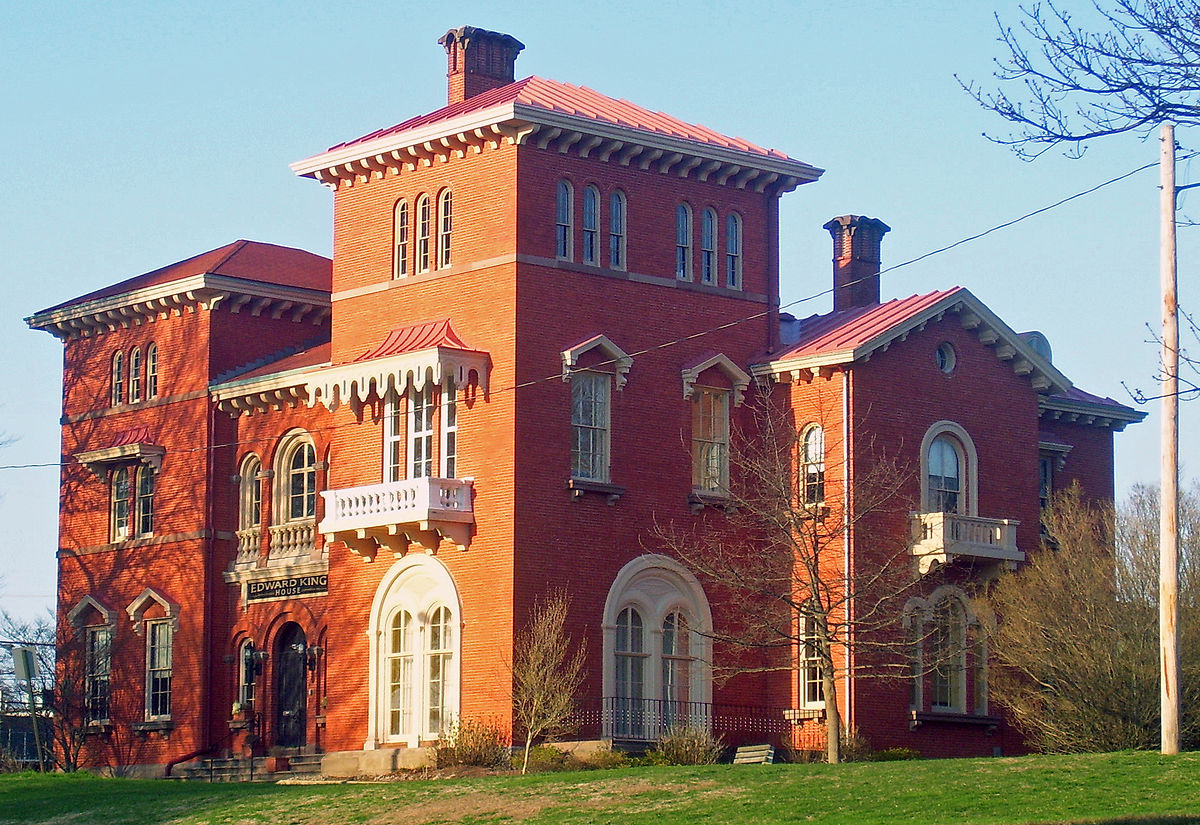 This aerial shot reveals the large size of the Edward King House.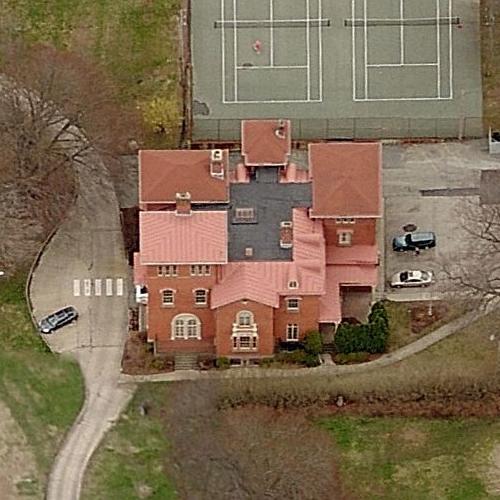 The central hall of the house features a parquet floor and grand staircase.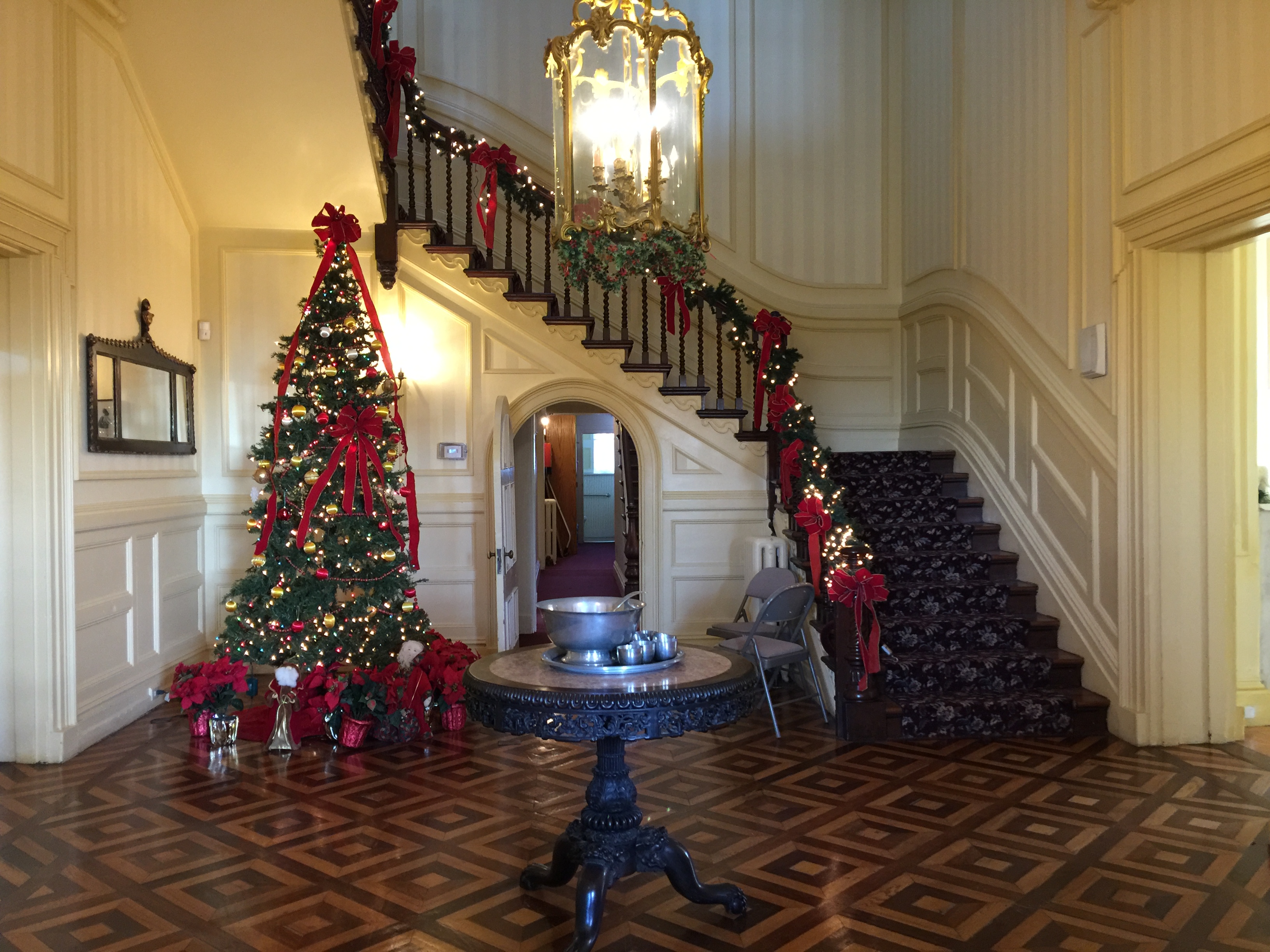 A former parlor within the Edward King House Senior Center.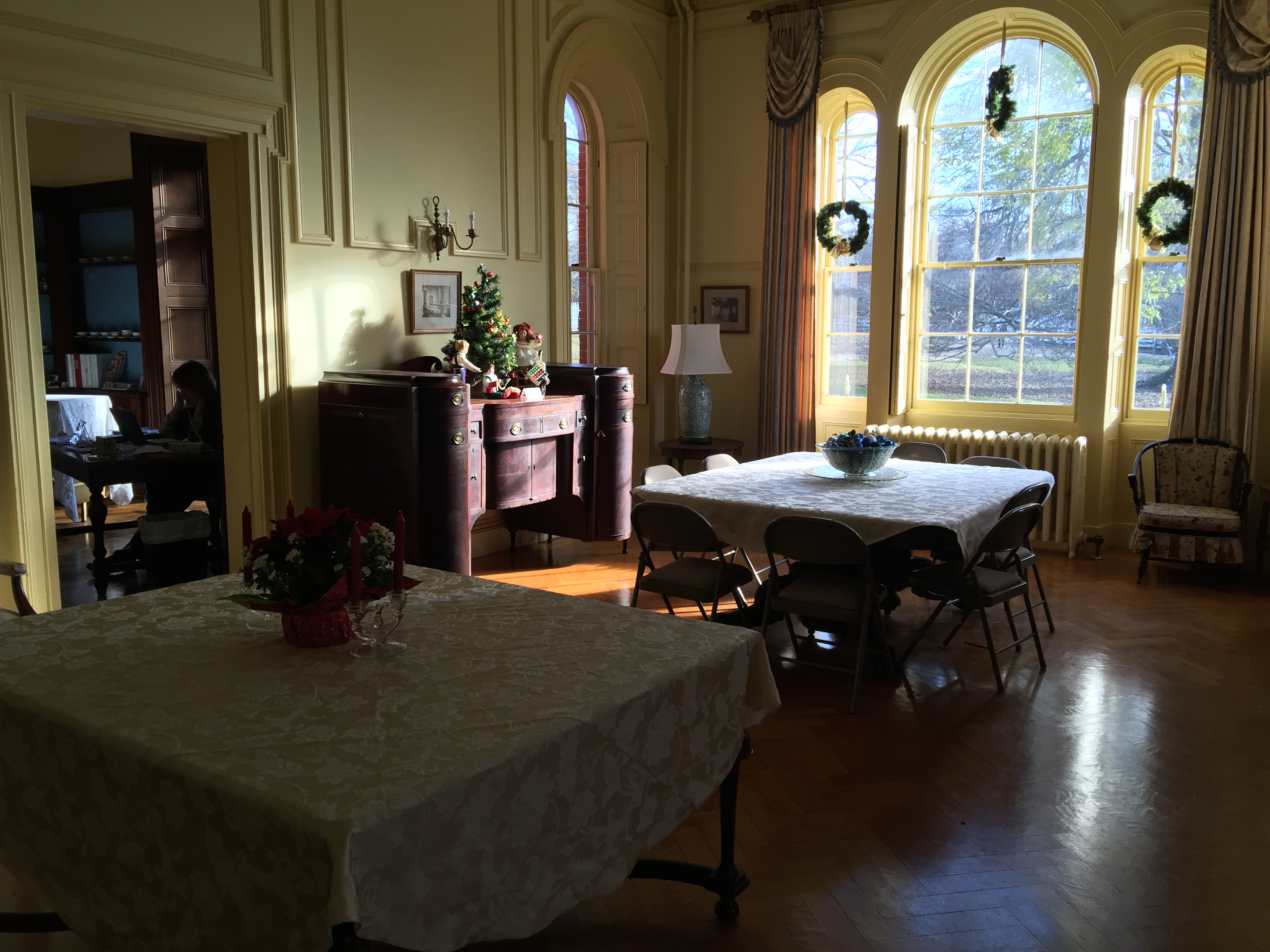 The architect of the Edward King House, Richard Upjohn.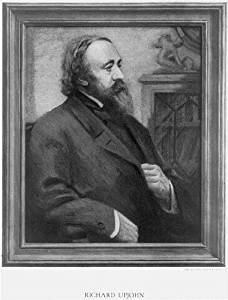 Backstory and Context
Edward King, the third of four sons born to Dr. David King Sr and his wife whose maiden name was Gordon, made his fortune as a China trader in the employ of Russell & Company. The eldest King, George, a lawyer and a member of the U.S. House of representatives, was the only one of the four who did not have his fortune tied to China while his brothers David Jr. and William joined Edward at Russell & Company. William would go on to purchase Kingscote Mansion in Newport in 1864 but lived there only a few years as his brothers had him committed to an insane asylum in 1866. Kingscote was later leased to David King Jr. in 1876.
Back in 1845, after returning from a trip to China, Edward King contracted with the architect who designed Kingscote in 1839, Richard Upjohn, to design a similarly unique mansion for his family. The British born Upjohn arrived with his family in America in 1829 after being apprenticed to a builder and cabinet maker and becoming a master mechanic back in England. After settling in New Bedford, Massachusetts, he eventually made his way to Boston where he became a U.S. citizen in 1836 and designed the entrances to Boston Common in 1839. That same year he moved to New York City where he designed the third version of Trinity Church in Manhattan in 1846. Thus, began his long architectural association with churches, especially Gothic Revival ones, the structures he his best known for. Upjohn went on to design numerous structures throughout the United States, to include Pennsylvania, Texas, Alabama, and Wisconsin prior to passing away in 1878.
As for King's request, Upjohn designed one of the first examples of an Italianate mansion in the United States. The brick structure features a pair of three-story towers of different heights that flank a central recessed main entrance. Upjohn's outline of the mansion is intentionally varied with both gabled and hipped roofs and its windows are of varying shapes and sizes, most of which are round-arched while others feature pedimented flat arches. The exterior walls are also broken up by balconies, verandas and overhangs. 
Inside, the first floor is built around a long central entrance and stair hall with diamond-shaped parquet floor. Also located on the first floor were a parlor, drawing room, dining room, library, butler's pantry, and kitchen with attached laundry room. The second-floor housed bedrooms while the third floor was home to the servant's quarters accessed by a set of rear service stairs. Upjohn designed parquet floors throughout the mansion while the woodwork is heavy rather than ornate. In 1850, King's house was featured in Andrew Jackson Downing's "The Architecture of Country Houses," to include several engravings. The property also contained a gatehouse and stables surrounded by a rusticated brick wall, all of which have since been removed.   
In 1912, the house and property were donated to the city of Newport by Edward King's son and became the Newport Public Library in 1914 while the land surrounding became known as Aquidneck Park. The former mansion served as a library until a new, more modern one was completed in 1968. After some minor renovations, the house began its new life as the Edward King House Senior Center. It still serves as a facility that provides information, referrals, health and wellness, social interaction, performances, artistic expression and movement to Newport's senior citizens. In 2019 it was closed for a time for a sewer realignment project and the second-floor ballroom was converted into theater space.  
Sources
Harrington, Richard. "National Register of Historic Places Nomination Form: Edward King House." United States Department of the Interior/National Park Service. April 11, 1970. Accessed February 26, 2020. http://www.preservation.ri.gov/pdfs_zips_downloads/national_pdfs/newport/newp_spring-street_edward-king-house.pdf
"King Family Papers (1844-1901, bulk 1844-1895." University of Michigan. Accessed February 26, 2020. https://quod.lib.umich.edu/c/clementsead/umich-wcl-M-3277.4kin?view=text
"The Picturesque Style: Italianate Architecture: The Edward King House, Newport, RI - the Double Tower Plan." Picturesque Italianate Architecture. March 24, 2016. Accessed February 26, 2020. http://picturesqueitalianatearchitecture.blogspot.com/2016/03/the-edward-king-house-newport-ri-double.html
Belmore, Ryan. "The Edward King House announces expansion of theater program with new production." WhatsupNewport. April 3, 2019. Accessed February 26, 2020. https://whatsupnewp.com/2019/04/the-edward-king-house-announces-expansion-of-theater-program-with-new-production/
Additional Information