The Basilica of the National Shrine of the Assumption of the Blessed Virgin Mary
Introduction
The historic Baltimore Basilica, known informally as "America's First Cathedral," was designed by Benjamin Henry Latrobe and built from 1806-1821. It was the first great metropolitan cathedral constructed in the United States after the adoption of the Constitution. The Basilica is open for free public tours and its museum displays numerous artifacts dating back to its 17th century origin. Items in the museum include the tabernacle once kept by the family of John Carroll, Cardinal Gibbons' vestments, letters between American Presidents and Catholic leaders, and altar vessels used during the Basilica's earliest days.
Images
Every year, more than 100,000 people visit the Basilica, making it one of Baltimore's top tourist destinations.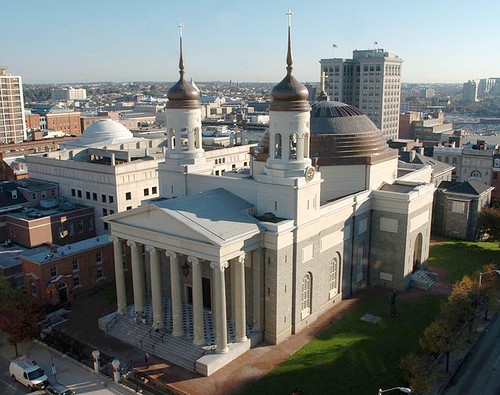 Backstory and Context
When choosing an architectural style for this basilica, Bishop Carroll rejected Gothic Revival, which hearkens back to Europe's medieval past, in favor of Neoclassical, which echoes the buildings in nearby Washington. Architect Benjamin Henry Latrobe, who had come to the U.S. from England in the late eighteenth century, took on the job of designing it. President Thomas Jefferson had previously hired Latrobe as Surveyor of Public Buildings, and in this role he contributed to the design of the U.S. Capitol. His work on the Capitol, as well as his visit to the Pantheon in Rome, influenced his design for the Baltimore Basilica.

Latrobe donated his designs for the basilica, but his involvement with it was at times turbulent. As Architecture professor Mary Woods explains, "his pro bono work for the cathedral proved very costly, in terms of Latrobe's time and peace of mind," in part because the builders were apt to tweak his designs. After a lengthy process, and seven revisions to the design, the Baltimore Basilica was at last completed in 1821.



Sources
"A Brief History of the Basilica." The Baltimore Basilica: America's First Cathedral. Accessed February 09, 2017. http://americasfirstcathedral.org/history.

Fazio, Michael and Patrick Snadon. The Domestic Architecture of Benjamin Henry Latrobe. Baltimore, MD: Johns Hopkins University Press, 2006. Especially p. 8 and 266.

Woods, Mary. "The First Professional: Benjamin Henry Latrobe." In American Architectural History: A Contemporary Reader. Edited by Keith Eggener. New York: Routledge, 2004. p. 112-131. Quoted text from p. 121.


Additional Information