Sanders House And Farmstead
Introduction
This Greek Revival house is decorated to represent the period after the Civil War. It was home for Simon T. Sanders, a man so well respected he served as County Clerk with very little opposition for thirty years. The house is surrounded by an urban farmstead, as seen with a kitchen in back, vinery in front, a barn, and space for horses and poultry. This house is available regularly on guided tours
Images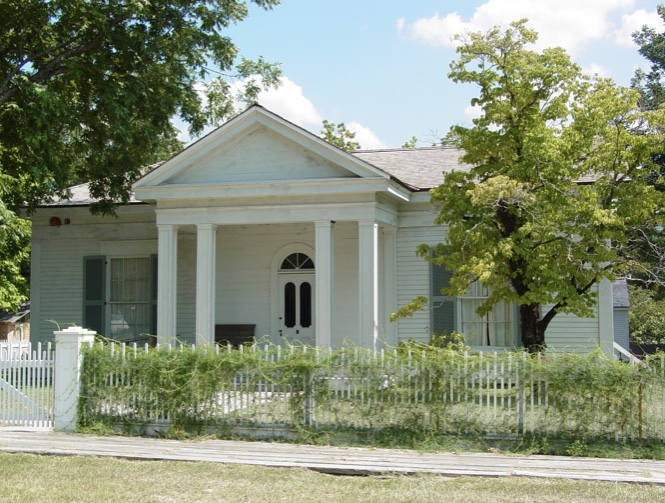 Backstory and Context
Born in North Carolina before the turn of the 19th century, Simon T. Sanders married Zenobia Meredith of Virginia and moved to Columbus, Arkansas in 1834. After a brief term as Secretary of the Territorial Council, he returned to Hempstead County in 1836 and settled in Washington. In 1838, he began his thirty-year service as County Clerk; he then served as postmaster for the next eleven years. He also served as secretary to the board of the Washington Male and Female Academies and was heavily involved in the Mt. Horeb Lodge. He was so revered in the community that Grandison Royston nominated him to run his affairs while away in the Mexican-American War, and he was appointed commissioner to find a caretaker for James Black (settling with Dr. Isaac Newton Jones for $10.00 a month). Sanders' first wife Zenobia passed away in the 1840s, leaving him and his three daughters; Sarah Virginia, Isabella W., and Zenobia H. Sarah would go on to marry future governor and US Attorney General Augustus Garland. In his last few years, Sanders left Washington to live with Zenobia and her husband, John Bull, in St. Louis, where he passed away in 1882.
Notable for having two entrances on separate streets, the "L"-shaped building is decorated to the styles of 1860-1880. While both large hallways were still social spaces, separate parlors came into parlance after the Civil War, as seen in the corner room. One notable feature is the dining room, which is only accessible from the large rear porch. Along the far street is the kitchen, reconstructed in 1995, where slaves like Betsy Carey (who would stay on as a servant following emancipation) would live and work in cluttered spaces with furniture either handmade or second-hand. Near the front of the house is a vinery, and near the back is a vegetable garden. Domesticated fowl such as chickens or turkeys would be housed in the chicken coop along the western fence, and smaller birds like pigeons and doves would be housed in the dovecote in the small pasture. One or two horses would live in the pasture, with the Sanders's vehicles and other husbandry equipment housed in the large barn.
Sometime before the turn of the 20th century, an addition was added to the western side, giving the house an almost square shape. By the time the Pioneer Washington Restoration Foundation opened it to touring in 1957, the addition had been removed, but the building was named The Garland House to reflect Sarah Sanders's marriage to Augustus Garland even though he never lived in it. The state park renamed it the Garland-Sanders House before simply calling it the Sanders House. In the 1990s, the entire block was restored to its farmstead past, with fencing, a kitchen, and animal housing.