Crouch House
Introduction
This Greek Revival House, originally located west of town on Arkansas Highway 195, was the home of local jeweler, musician, and freemason Augustus Crouch. Crouch had this home built in 1957, and then sold it to his daughter, Elizabeth, in 1874. It was moved to Washington in 1986, on the same site as a similar house that burned in 1903, then later restored with a focus on 19th century building construction and architecture. This building is available regularly on guided tours.
Images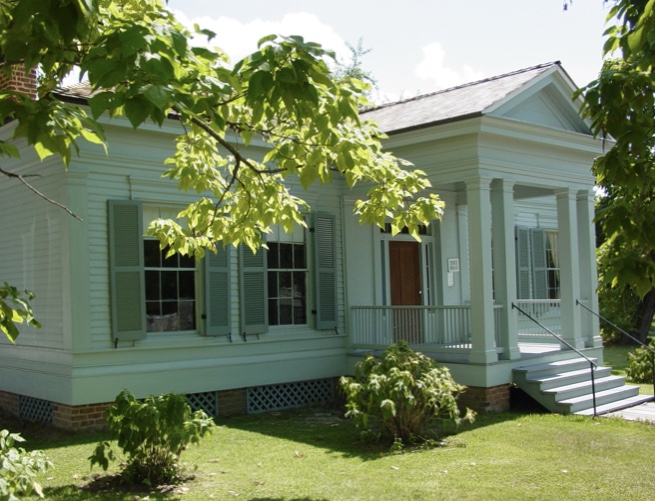 Backstory and Context
Born sometime around 1820, a twentysomething Augustus M. Crouch came to Arkansas from Georgia and settled in Washington in 1842. He volunteered for the Mexican-American War, serving in Captain Albert Pike's Arkansas Mounted Volunteers as bugler, and fighting in the Battle of Buena Vista where former governor Archibald Yell was killed. After the war, he started his career as a watchmaker, living out of Alsey B. High's hotel. In 1850, he married Sophia Holt and purchased his first store property in Washington's business district. In 1856, he purchased from Dr. Charles B. Mitchel 12½ acres "on the Fulton road" where he would build his house.
Crouch was well-respected as a watchmaker, even though he didn't make a fortune doing it. He was a member of Mt. Horeb Lodge #4 and designed the lodge's coin-silver jewels. Crouch was also a well-regarded musician, touted as "an expert piccolo player" for the town's brass band. Augustus and Sophia Crouch had two sons and two daughters: Elizabeth, William, Augustus, and Nellie. Elizabeth married Canadian-born handyman W.F. Phelps, and then purchased the house and two surrounding acres from her father. It's believed Augustus Crouch passed away in 1884, as the sale of the remaining 10½ acres mentioned his "survivors." In 1910, the house passed from the family to Ode and Gertrude Johnson.
After being moved to town in 1986, the building exterior was restored. The main hallway was also restored to a 19th century style. The rest of the building is a dedicated exhibit of 19th century construction styles, with one room halfway restored and the other half showing the house as it was pre-restoration.