Kismet Temple (Kismet Mosque) Friendship Baptist Church
Introduction
Construction of this Freemason Shrine began in 1909 under a fraternal organization known as the Ancient Arabic Order of the Nobles of the Mystic Shrine. It is believed to be the oldest Shriners' mosque still in existence and was the first of its kind in New York. The building was designed in a Moorish Revival style with murals and architectural details mirroring that style throughout the interior. The Friendship Baptist Church has owned the building since 1966. The building was added to the National Register of Historic Places in 2013.
Images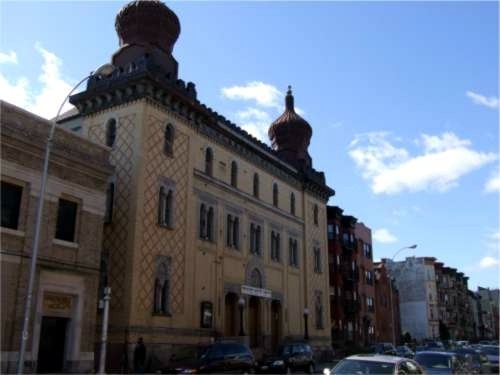 Shriners from the Kismet Temple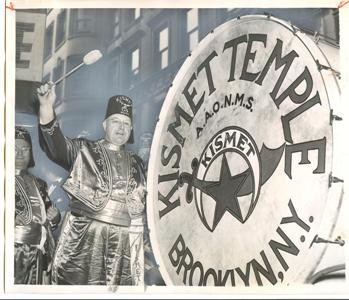 Detail of the building's Moorish elements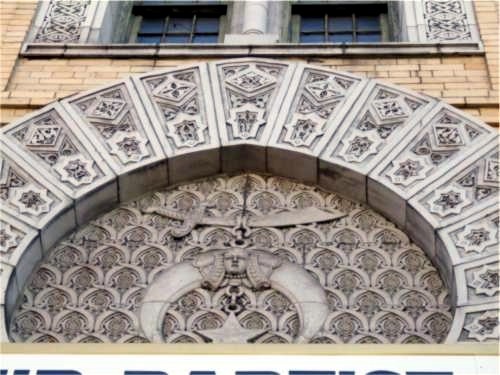 Backstory and Context
The late nineteenth century was a period of substantial growth for the Shriners in Brooklyn. In 1888, the Kismet Temple was chartered as the 37th Shriners temple. By 1910, the temple had more than 2,000 members. The site was purchased in 1909 and construction of the temple began later that year.
The building was designed by architect Richard Thomas Short, a Brooklynite and a Kismet Noble. It was built in the Moorish Revival style, which was common among Shriners temples at the time. The Shriners envisioned the temple as a venue for public events as well as their own gatherings and it was built with an auditorium that could seat 2,326 people. At the time, it was a state-of-the-art facility, with border lights, footlights, and switchboards, as well as fireproofing and ventilation. In keeping with its Moorish theme, the temple features minarets, intricate tile work, and arches.
In the early twentieth century, the temple hosted numerous public events, including a speaking engagement by Theodore Roosevelt. Roosevelt's son, Theodore, Jr., was a member of the Kismet Shriners. The temple continued to be used by the Shriners for a number of years, although it was listed as a movie theater in 1932.
By the 1960s, the demographics of Brooklyn were changing. African Americans and immigrants began moving into the borough and many of the white residents opted to leave. Many of Brooklyn's white residents moved, and by the 1970s, Brooklyn was home to the largest African American community in the city. With white flight in full swing, the Shriners decided to sell the temple. In 1966, the building was sold to the Friendship Baptist Church, which still occupies the building today. The Kismet Temple is also still active, with headquarters in Hicksville, New York.
The Kismet Temple is listed on the National Register of Historic Places.
Sources
Kismet Temple , National Park Service . Accessed February 23rd 2020. https://www.nps.gov/nr/feature/places/pdfs/13000909.pdf.
Spellen, Suzanne . Building of the Day: 92 Herkimer Street , The Brownstoner. September 18th 2012. Accessed February 23rd 2020. https://www.brownstoner.com/architecture/building-of-the-day-92-herkimer-street/.