Druid Hill Tennis Protest
Introduction
The 1940's was a period that represented the hard work by activists who stood up for their civil rights, equality, and desegregation. It was a time that foreshadowed the Civil Rights Movement and the essential plan of action for advocates to demonstrate equality and justice among all Americans. July 11, 1948 was just that; it was a moment that demanded attention to the continual mistreatment and injustice of African Americans. This date marks the interracial protests and arrests of white and Black activists at Druid Hill Park. A group named the Young Progressives of Maryland planned to manifest an interracial tennis match that would represent the unfair domination that segregation played in their lives.
Images
In Druid Hill Park as the match began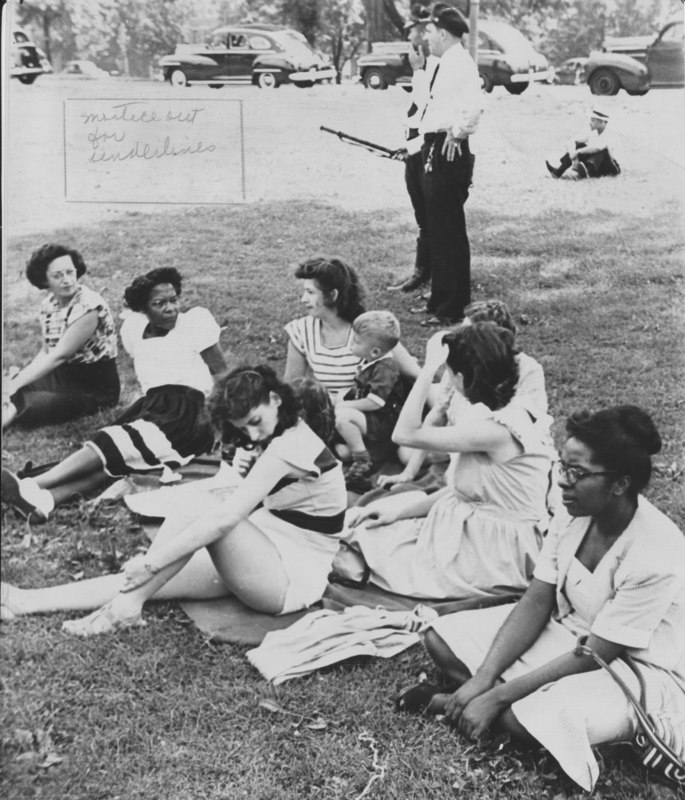 Local newspaper article regarding the interracial match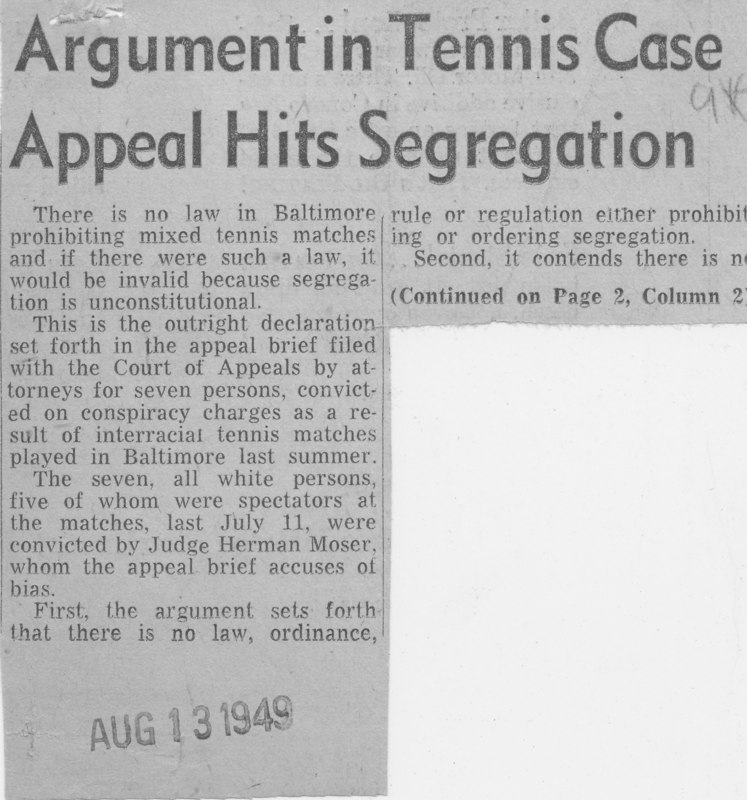 Backstory and Context
Throughout the 40's inequality, discrimination, hatred, racism, maltreatment, and injustice were day-to-day characteristics; these deeply-rooted essences encompassed the lives of African Americans. Disgusted and dissatisfied, the Young Progressives of Maryland decided to call to action a plan that would set the tone for the degree of uncontainable anger they felt. They staged an interracial tennis match that was to be held at Druid Hill Park in Baltimore, Maryland. "When the Park first opened in 1860, recreation facilities such as pools and tennis courts were racially segregated. This practice was finally challenged on July 11, 1948, when 24 Black tennis players, protesting the City's discriminatory policies, were arrested for playing on the park's "white-only" tennis courts."
Royal Weaver and his fellow tennis players decided to play this match with aspirations to bring segregation to a halt; for they believed that they should have equal treatment to be able to play on integrated courts. "Any number of events in which African-Americans pressed for equal treatment after slavery could be called the beginning of the civil rights movement." The actions of the tennis players exemplify one of numerous endeavors to finally reach racial equality. Bravery along with ceaseless efforts played a huge role leading into the Civil Rights Movement.
The change that Weaver and his associates desired wouldn't come until after the Brown decision; however, the efforts of every event that demanded equality managed a step toward justice.
24 of the players were arrested during this tennis match protest; 4 African Americans were charged with disorderly conduct; and 7 white activists were charged with conspiracy. "In response, an interracial group of Marylanders sued demanding an end to racial segregation in city sponsored sports and recreation. This case followed the important victory in the case Shelley v. Kraemer (1948) in which the Supreme Court ruled that racially restrictive housing covenants were unenforceable under the law." Baltimore's tennis revolt demonstrates that the advocates were already fully-engaged in the journey to end segregation.
Sources
http://morgue.afro.com/AfroOmeka/exhibits/show/west-baltimore-memories/activism http://en.wikipedia.org/wiki/Druid_Hill_Park http://articles.baltimoresun.com/1995-05-15/features/1995135099_1_weaver-tennis-court-druid-hill-park
Additional Information