Civil War Skirmish at Ravenswood
Introduction
The town of Ravenswood is located on the Ohio River. It was held by Union forces in September of 1862. Colonel Frost, commander of the forces in Ravenswood, had marched to the town of Spencer to support a fight there but returned after news of surrender had reached them. They were then ordered to take all valuable supplies across the river to keep them out of the hands of the advancing Confederates. On September 3rd the forward unit of Confederate General Albert Jenkins that consisted of 800 or so cavalry reached the town of Ravenswood and captured it easily from Colonel Frost. Frost, federal joins, and pro-Union townspeople crossed the river to escape the arrival of Jenkins and his infantry. A cross river skirmish occurred the next day.
Images
Marker is left of middle building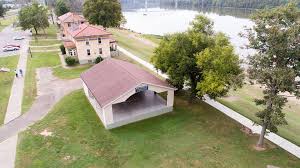 Backstory and Context
Upon the arrival of Confederate General Albert Jenkins and his troops, the pro-Confederate sympathizers that hadn't left town celebrated their arrival. The article from which information about this raid is derived says that a woman of the town noted, "I may, as well add here that these are the (only) soldiers that I have had the good fortune to meet, since the war began. These gentlemen are so entirely, different from the low hireling Hessians who have been polluting our soil for the last fifteen months. It seems almost like home to have them with us again. We had no time to say half what we wished or to have ask the very questions we wished to have answered. We were in such a hurry getting dinner, setting the table, etc. and now they have gone we can think of a thousand things we could have said and done. They came in town about 11 o'clock and left at 2 p.m...."
It seemed the remaining townspeople were happy to accommodate the Confederates, again illustrating the divisions in the border states, especially WV. During breakfast, Union fire began to rain upon the Confederate forces from across the river. Colonel Frost noted his men fired on Jenkins and his troops for two hours but did not note a victory. Jenkins and his forces left the town on the evening of the 4th but not before destroying Colonel Frost's printing press in town. Colonel Frost eventually returned to Ravenswood a few days later and rode out in search of Jenkins but took a different route than he did and was unsuccessful.
There is no marker commemorating this skirmish as it was largely meaningless. Today a marker exists for Colonel Daniel Frost, the federal officer stationed there, at the Riverfront Park in Ravenswood, WV. It was part of an effort by the Jackson County Historical Society to mark Civil War history in Jackson county in 2011.
Sources
https://jchswv.org/ - Jackson County Historical Society
https://jchswv.org/upload/files/23_Jenkin's_Raiders.pdf - Jackson Herald news article Oct 14 & 21 1977
Historical Marker Database. Daniel Frost, October 7th 2018. Accessed February 23rd 2020. https://www.hmdb.org/m.asp?m=124351.
Image Sources
Facebook Aerial Photo Craftmanship Group