John Tyler Morgan's Home In 1838
Introduction
This is where the home of John Tyler Morgan set in 1838. Morgan started his career as a lawyer, and was very active in politics. He was also a big part of the Alabama session convention of 1861. Morgan fought in the Confederate army until the end of the Civil War. After the Civil War was over Morgan became a U.S. senator. As a senator he gave many speeches and was very opinionated. He tried to force African Americans to leave the south at one his senate carrier.
Images
John Tyler Morgan in his uniform.
Marker of John Tyler Morgan's home in 1838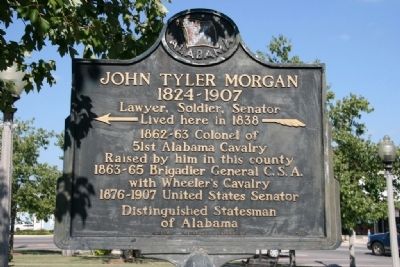 Backstory and Context
John Tyler Morgan was born on June 20 1824 in Athens Tennessee. He was the son of George Washington and Mary Frances Morgan.  Morgan's family moved to Calhoun County, Alabama in 1833. He studied law at a law office of William P. Clinton, and passed the bar without any college education. He was then permitted to practice law in 1845, and established a practice in Talladega. Morgan and his family moved to Selma in 1846. He was very active in politics, and was even an aid to William Lowndes Yancey. Yancey was an extreme supporter of the session. Morgan also was an extreme supporter the session, and even had a main part in the Alabama session convention.
When the Civil War started Morgan enlisted in the Confederate Army as a private in Company I, and not long after that he became lieutenant-colonel. Morgan was first sent to Virginia to fight in the war. Morgan was then reassigned Alabama where he was to recruit 51st Alabama cavalry regiment. He was then promoted in 1863 to brigadier general, and in 1864 he fought in the defense of Tennessee and Georgia.
Even after the war Morgan held on to the grudge for those that was his enemies in the war just like most southerners. In the 1870s Morgan and the white Democrats tried to take back the state from the Republicans. It wasn't until 1875 before the Democrats was able to take back power. The Democrats was so happy with what had happened and with everything Morgan had done they appointed him as U.S. senator in 1876. A senior senator, George E. Spencer, tried to block his confirmation, but was unsuccessful. In Washington they were looking for reconciliation and decided to confirm Morgan any way. In 1877 Morgan took his seat on the senate.
Morgan was a very opinionated man, and he made sure his voice was heard. While in the Senate he served on four committees: Rule, Foreign Relation, Interoceanic Canals, and Public Health. Morgan was also a great speaker and could speak on a subject for long periods of time. When he made his speeches he was not always concerned with changing votes but to also change opinions. The Federal Elections Bill of 1890 became one of Morgan's best speeches when he didn't change the senates' votes but hoped to have change the mind of many Americans of the inadvisability of the bill.
While Morgan was on the Foreign Relations Committee he campaigned for the fore or voluntary removal of African Americans from America. He looked into the possibilities of relocation of them to the Congo or the Philippines. Morgan was not the only supporter of this plan but was the most determined. He's colleagues did not think much of his idea, and dismissed him when he asked for support. Morgan spent most of his life in Washington, D.C. and he later died in 1907.
Sources
Carr, Timothy. "John Tyler Morgan Historical Marker." Historical Marker, 31 Oct. 2019, www.hmdb.org/m.asp?m=36468.
Causey, Donna R. "Biography: John Tyler Morgan Born June 20, 1824." Alabama Pioneers, 8 May 2019, www.alabamapioneers.com/biography-john-tyler-morgan-born-1824/.
"John Tyler Morgan." Encyclopedia of Alabama, 7 Apr. 2008, www.encyclopediaofalabama.org/article/h-1508.
Image Sources
http://www.encyclopediaofalabama.org/article/m-5247

https://www.hmdb.org/m.asp?m=36468

Additional Information