Osceola Arts
Introduction
Footlight Theatre Guild, now known as Osceola Arts was first founded in Osceola County in 1961. The Center can be found at 2411 East Irlo Bronson Highway in Kissimmee Florida (34744). It is only minutes away from the Orlando International Airport and the major tourist destinations, such as Disneyworld. This center holds the purpose of encouraging self expression through multiple mediums of art such as: live theater, music, art, and more.
Images
Full View of Main Building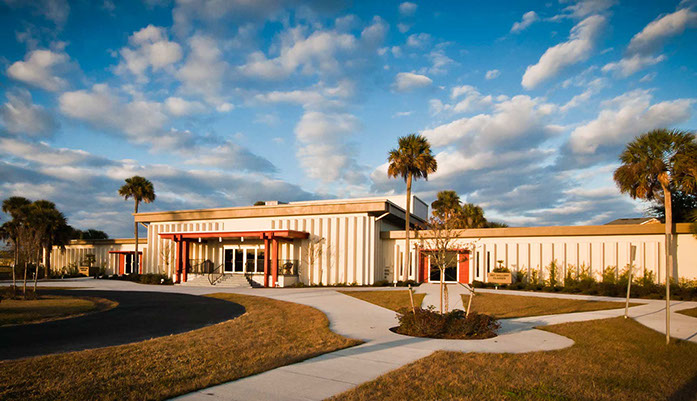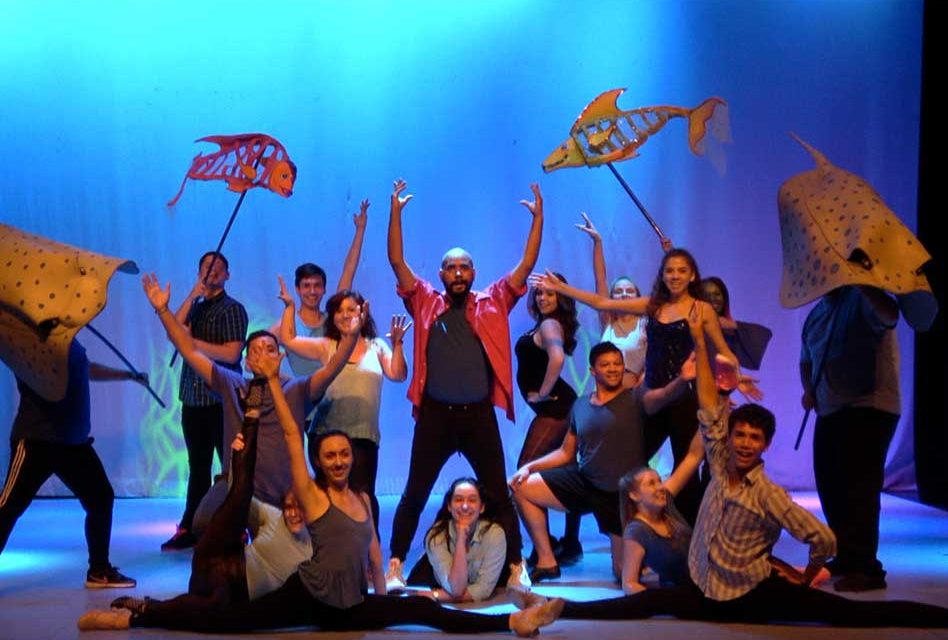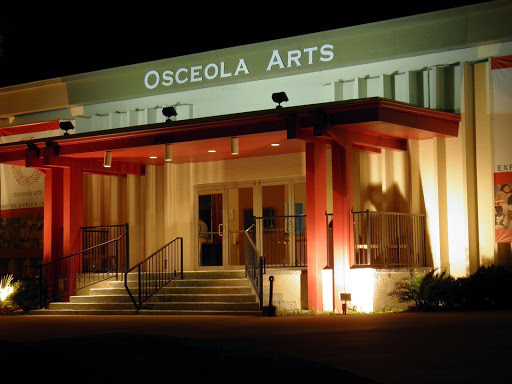 Backstory and Context
 Osceola Arts held their first productions in the auditorium of the Osceola High School. After one of their productions Margarat Bast generously donated $1,000 to the organization to get their own building to host their events. With her help they were able to create an outlet to express creativity and talent. Today Osceola Arts has a 2000 seat theater with a 22,000 square foot exhibit hall, and multiple meeting venues.
During the time that Oscoela Arts was coming up many Cubans came from Cuba and moved over to Florida. Also during this time Florida public schools desegregated and universities and colleges were created. This didn't affect the facility but the growth of the community was going to call for changes in the later years.1962 Osceola Arts was recognized as a non-profit Florida corporation. A year later in 1963 Kissimmee's First National Bank president, John E. Carroll provided a three year lease for a temporary building in Kissimmee. Soon after on November 20, 1963 they held their first meeting. The founders decided they wanted to move the facility to a more central location, because they soon became a county-wide organization. In 1968 they became a permanent facility in between St. Cloud and Kissimmee after being given enough land by John J. Johnston. Osceola Arts rebranded themselves multiple times. The first name they thought of for the facility was the Osceola Arts & Culture Center, with these three other local companies: a theater known as The Osceola Players, Osceola Art Association, and the Historical Association of Osceola County. In 1985 there was exponential growth in the population. Residents from Puerto Rico and the other unincorporated territories were migrating to Florida. With the rapid growth of the community Osceola arts decided to expand their facility and invested in a 5,100 square foot annex . Again in the 1990's the center focused on the creative arts and renamed themselves as the Osceola Center for the Arts.
Osceola arts has made a name for themselves in the community and by Kissimmee for the amazing events that they host such as the Big Band Fall Concert. The Big Band Fall Concert is a concert presented by the Osceola Arts Big Band, which consists of 18 of their talented musicians. Other than The Big Band Concert, Osceola Arts also hosts Center Singers Country Music Concert, and various others in the Osceola Arts Theater. This facility is also rented for meetings, banquets dinners, training sessions, and professional seminars. The center also has an art exhibit in their facility where the host art shows. The gallery hours are 10am-5pm, Tuesday through Friday. There is no cost to rent the space as the Galleries and Exhibits are free and open to the public. 
Other than hosting events, they also hold classes in their facility. They have a variety of classes such as: youth classes, adult classes, camp, and their Youth Actors Company.
Osceola Arts, despite the many changes that they went through, today the organization is known as the Local Arts Agency for Osceola County. The significance of the facility has broadened throughout the years, and has done many great things for the community. Osceola isn't the only county that is welcome, but they have opened their doors to Seminole, Orange, Polk, Volusa, and whomever wants to volunteer, audition, or support their facility. 
Sources
"About Us," Osceola Arts, osceolaarts.org/about-us.html.
"Big Band Fall Concert 2019." UAArtsEd.com, www.uaartsed.com/event/big-band-fall-concert-2019/.
Ferguson, Joe. "Florida History Timeline." Florida History Timeline: Florida Important Dates and Events, www.ereferencedesk.com/resources/state-history-timeline/florida.html.
Long, Katherine. "GROWTH SPURS ARTS CENTER TO EXPAND." THE ORLANDO SENTINEL, 2 STAR ed., sec. OSCEOLA SENTINEL, 24 May 1985, p. 1. NewsBank: Access World News, infoweb.newsbank.com/apps/news/document-view?p=AWNB&docref=news/0EB6BE6574942E45. Accessed 10 Apr. 2020.
"The Osceola Performing Arts Center." Experience Kissimmee, 26 Mar. 2020, www.experiencekissimmee.com/meetings/facilities-venues/osceola-performing-arts-center
"Unofficial Page for Osceola Arts in Kissimmee Florida." The Osceola Center for the Arts in Kissimmee, Florida, www.ocfta.com/.
Image Sources
http://osceolaarts.org/about-us.html

https://www.facebook.com/TheOsceolaPerformingArtsCenter/

https://www.positivelyosceola.com/osceola-arts-closes-the-season-in-kissimmee-with-disneys-the-little-mermaid/

http://amusements-parks.com/Florida/Kissimmee/Osceola_Arts

Additional Information