Josephine Baker Home
Introduction
Lost to the demolition of Mill Creek Valley neighborhood in the 1960s, this is the approximate location of Josephine Baker's childhood home on Gratiot Street in Midtown St. Louis. Josephine Baker was born in St. Louis in 1906 as Freda Josephine McDonald to her parents, Carrie McDonald and Eddie Carson. Josephine Baker created the foundations for her career in show business as a premier dancer, singer, as well as starring in multiple movies. Her love of the spotlight was sparked in St. Louis through her performances in clubs and in front of local theaters, before she relocated permanently in the 1920s to skyrocket her fame. After her move from St. Louis, Josephine Baker grew to be one of the most successful female performers in the world known for her famous banana dance in which she donned an outfit made of artificial bananas, as well as her performances in the films "Siren of the Tropics," "Zouzou," and "Princess Tam Tam."
Images
Photograph of one of Josephine Baker's iconic dances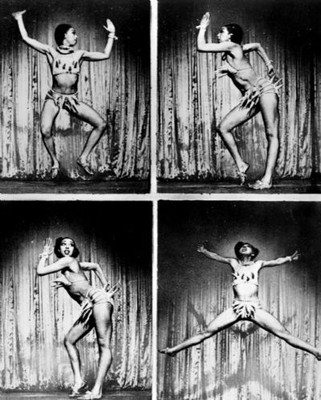 Josephine Baker Singing at Kiel Auditorium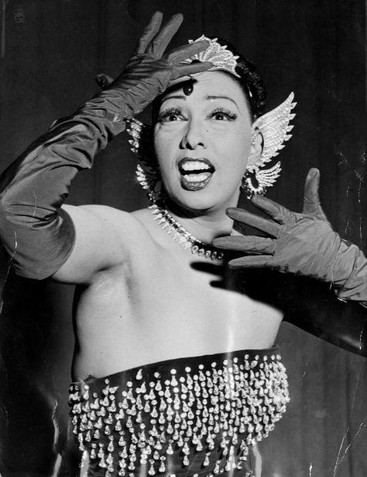 The block where Josephine Baker and her family lived in Mill Creek Valley is outlined in blue.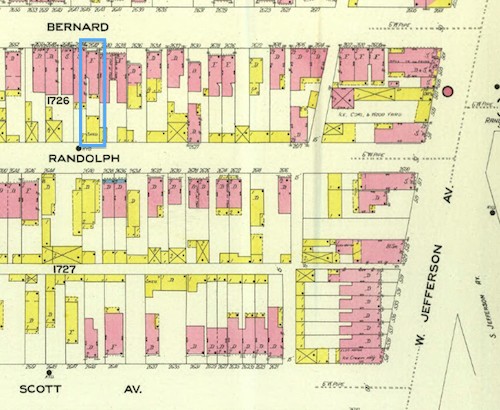 Backstory and Context
Josephine Baker's early life in St. Louis was burdened by poverty and hard work. The specifics of her difficult time in Missouri were often fuzzy because Baker preferred not to discuss her bad childhood. Baker's biological father abandoned the family after the birth of Josephine's younger brother, leaving her mother Carrie to provide for her family on her own. Although Carrie married Arthur Martin shortly after, the family still struggled to make ends meet. The home on Gratiot Street was a three bedroom apartment with a stable that cost $6.50 a month in the early 1910s, which eventually became too expensive to keep. After moving from Gratiot Street when Josephine was eight years old, the family moved at least ten more times due to evictions.
In order to help her family, Baker stopped attending school to work and bring in extra money. Josephine suffered many instances of abuse while working for various affluent families throughout the city, which stirred up a desire in her to leave St. Louis at a young age. To combat her misery when not working, Josephine would frequently perform on the street in front of theaters to make some extra money. Eventually her talent caught the attention of the Jones Family Band and the Dixie Steppers, with whom she toured throughout the country performing vaudeville acts. During this time Baker met her first husband, Willie Baker, whom she married and permanently changed her name to Josephine Baker. Baker was particularly successful in vaudeville at a young age and hoped to continue this success by leaving St. Louis permanently and moving to New York City. Soon after Baker booked a gig in the show Chocolate Dandies which made her an instant favorite with the crowd.
Her magnetic presence on stage sparked the interest of a white wealthy socialite named Caroline Dudley Reagan who hoped to create an all-Black show in Paris, where segregation would not hold them back. After moving to Paris and starring in a few shows, Baker's stardom took off. Known for her comedic acts and dance routines, her success in Paris led her to tour all over Europe. She quickly became one of the most recognizable and highest paid performers in Europe, which allowed her to finally purchase her own home and move her family in with her from St. Louis.
Despite Baker's success in Europe, she frequently felt the affects of segregation and prejudice while performing. Although she had left St. Louis in order to remove herself from the poverty and injustice of the Midwest, performing as a Black woman continued to be a struggle throughout her time in New York and the remainder of her life in France. Her struggle was a motivating factor in her work as a civil rights activist beginning in the 1930s. Baker frequently spoke out against negative race relations during her shows and began to refuse shows in segregated theaters. In February 1952, Josephine Baker finally returned to St. Louis for one performance at Kiel Auditorium, formerly on Clark Avenue. During her show, Baker explained how her move to Europe freed her from the setbacks she faced while in the United States and compelled the audience to take action against the civil injustices that surrounded them. During the March on Washington in 1963, Baker was one of two women to speak, in which she explained her experience with racism in the United States and Europe.
Up until her death, Baker continued to perform in Paris as a 50th anniversary celebration for her arrival to the city. On April 12, 1975 Baker died of a cerebral hemorrhage in Paris i at the age of 68. Her funeral was attended by over 20,000 in Paris and she was honored with a 21-gun salute, making her the first woman buried in France with military honors.
Sources
"Josephine Baker," Biography.com. January 19th 2018. Accessed February 18th 2020. https://www.biography.com/performer/josephine-baker.
Baker, Jean-Claude and Chase, Chris. Josephine Baker: The Hungry Heart . New York , NY. Cooper Square Press , 2001.
Caravantes, Peggy. The Many Faces of Josephine Baker: Dancer, Singer, Activist, Spy. Chicago , IL . Chicago Review Press, 2015.
"Feb. 3, 1952: The day Josephine Baker returned to St. Louis," St. Louis Post-Dispatch. February 3rd 2020. Accessed March 20th 2020. https://www.stltoday.com/news/archives/feb-the-day-josephine-baker-returned-to-st-louis/collection_f060fc11-a0df-5c59-931b-391e4fdbfe62.html#1.
"Josephine Baker Remember's St. Louis ." St. Louis Post-Dispatch (St. Louis ) February 7th 1952. , 2B-2B.
"Here and There St. Louis ." St. Louis Post-Dispatch (St. Louis) February 4th 1952. , The Everyday Magazine sec, 1C-1C.
Baker , Josephine . Speech at the March on Washington , Black Past. November 3rd 2011. Accessed March 25th 2020. https://www.Blackpast.org/african-american-history/1963-josephine-baker-speech-march-washington/.
Image Sources
New York Public Library

St. Louis Post-Dispatch

Urban Review STL

Additional Information