City Hospital No. 2
Introduction
Opened to the public and starting to see patients in 1919, City Hospital No. 2 was a health care center for Black city residents. When it opened it was also one of five institutions in the United States that trained Black physicians as well as started a nursing school that became accredited a year later. As the Black community in St. Louis grew, the hospital quickly became overcrowded and rundown leading to a push for a better public hospital that served St. Louis' Black community.
Images
City Hospital No. 2 in 1938, a year after it was shut down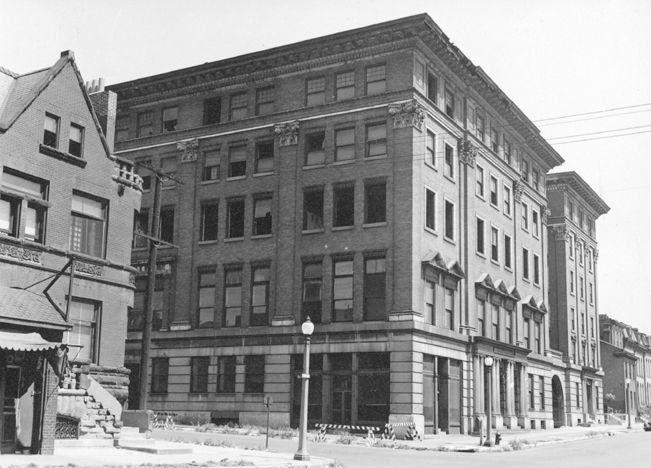 Inside City Hospital No. 2 in 1923
Backstory and Context
St. Louis in the early 20th century did not have a hospital for the Black community, City Hospital No. 2 was created to serve that community and give Black physicians a place to practice. The City Hospital No. 1 did serve both Black and white patients but Black patients were put in a separate ward. Before the City Hospital No. 2 existed, there was no place that allowed the training of professional Black doctors. Acknowledging the need in the community for access to health-care and medical, a committee of 17 Black physicians led by Christopher K. Robinson managed to convince city officials that the old and vacant Barnes Medical College building should be used as a health-care center for the city's Black residents.
While City Hospital No. 2 became a medical education center it also faced political interference in leadership. The hospital opened on January 1, 1919 with 177 beds and 56 nurses. It was also one of five institutions in the United States at the time it opened to allow for Black physicians to learn and practice. In the same year it opened, a nursing school was also established and was accredited in 1920. The first superintendent was Dr. Roscoe Haskell who was kicked out of the position in 1925. He accused the Republican party of firing him because of how he voted in the recent election, showing the political interference in the operations of the hospital in comparison to the political resistance of allowing Black doctors in other public hospitals.
With a growth in population attributed to the Great Migration of the early 1900s, it became quickly clear that City Hospital No. 2 was inadequate and overcrowded for its position. While intending to serve 177 patients, it usually served over a hundred more patients than that and two beds were often tied together at night in order to fit 3 or more patients.With a larger community population that City Hospital No. 2 had to care for the building was typically over capacity and conditions within the building grew worse. As an already rundown building, it was often referred to by many local St. Louis papers as a firetrap that further jeopardized the lives of the patients. A Black attorney, David M Grant, along with a doctor and a St Louis Star reporter exposed the conditions of the hospital by secretly taking photographs of the hospital and comparing them to photographs of the St. Louis Zoo, showing that the conditions were not much different. The turning point in a push for a new hospital was when a doctor, Dr. Bernice A. Yancey, was electrocuted by a defective X-ray machine. Attorney Homer G. Phillips led the push to create a new hospital and fought hard against the state and government officials to secure a Bond to cover the costs of a new hospital, which was in turn named after him and built in the Ville neighborhood in 1937. The building that was the City Hospital No. 2 was eventually demolished in the 1960s and the street, Lawton, was also removed.
Sources
Gray, Shonda D. "City Hospital No. 2: Origins, Evolution, Regression, and Remembrance." Decoding the City. Washington University, 2017. http://www.decodingstl.org/city-hospital-
no-2-origins-evolution-regression-and-remembrance/.
"Inside City Hospital No. 2, 1923." St Louis Post Dispatch. St Louis Post Dispatch, October 31, 2014. https://www.stltoday.com/news/multimedia/inside-city-hospital-no/image_d72e
83ff-2e94-5f9c-ab25-22f5f9dbc028.html.
Joiner, Robert. "'Take Me to the G': Black St. Louisans' Struggle for Access to Quality Health Care." St. Louis Public Radio, November 4, 2009.
https://news.stlpublicradio.org/post/take-me-g-Black-st-louisans-struggle-access-quality-health-care#stream/0.
Missouri Women in the Health Science Professions Images. Accessed March 20, 2020. http://beckerexhibits.wustl.edu/mowihsp/win/Timeline/CityHospNo2.htm.
Naffziger, Chris. "Centers of Community That Were Destroyed in the Mill Creek Valley." St.Louis Magazine, September 26, 2019. https://www.stlmag.com/history/architecture 
/centers-of-community-that-were-destroyed-in-the-mill-creek-v/.
Washington University School of Medicine. "City Hospital No. 2." St Louis Post Dispatch. St Louis Post Dispatch, October 31, 2014. https://www.stltoday.com/news/multimedia/
city -hospital-no/image_b2b1cdf5-c092-549d-8894-a5e847eff299.html.
Image Sources
St. Louis Post Dispatch - Washington University School of Medicine

St. Louis Post Dispatch