Anacortes Museum
Introduction
Housed in the historic Carnegie Library building, the Anacortes Museum is a small museum dedicated to local history. It houses a collection of artifacts and historic objects, maps, charts, and many photographs (more than 50,000). Many of these items have been digitized and are available to see on the museum's website. As for the building, which was built in 1909, it is historically significant in a few ways. It was the city's first purpose-built library facility and its construction was funded in part by steel magnate and philanthropist, Andrew Carnegie, who donated money to communities all over the country to build libraries. Furthermore, the library was was the only public library in Anacortes until the late 1960s.
Images
Housed in the historic Carnegie Library, the Anarcortes Museum preserves and promotes local history.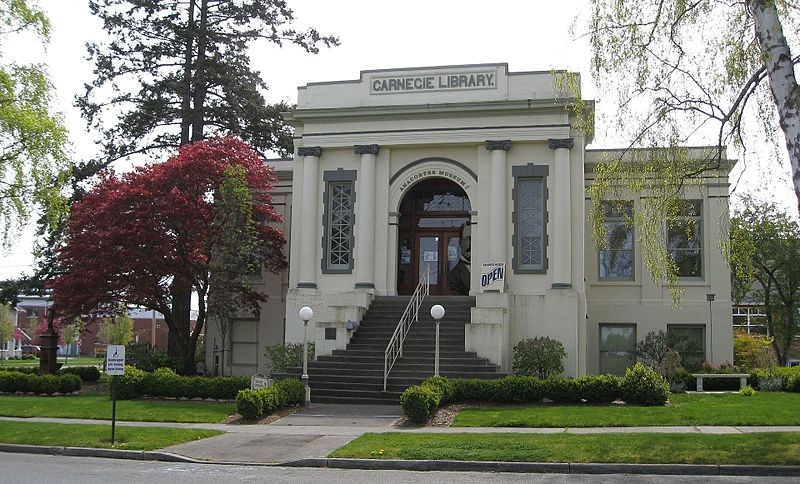 Backstory and Context
In the early 1900s, Anacortes was a thriving community whose economy was based on fishing and lumbering. The Great Northern Railroad had also arrived, allowing passenger and train traffic to reach the town. This activity attracted more people and the town grew and became more established. It was in this context that the Anacortes Public Library Association, whose members were women, developed plans to build the library in 1908. They contacted Andrew Carnegie who responded saying he would donate $10,000 if the town agreed to acquire a site and set aside $1,000 per year for books and maintenance. Construction got underway in September 1909 and the library appears to have been built fairly quickly.
In terms of architecture, the building takes the shape of a Greek cross and incorporates Renaissance and Neoclassical elements into its design. Notable features include a grand stairway leading up to the main entrance, which has four Ionic columns and an arch, and the words "Carnegie Library" above the entrance. It became the museum sometime in the late 1960s or 1970s.
Sources
Hapeman, Marie. "Anacortes Public Library." National Park Service - National Register of Historic Places Nomination Form. October 21, 1977. https://npgallery.nps.gov/GetAsset/67b05a47-4f53-44f0-9c6a-a19d2609238b.
Image Sources
Wikimedia Commons: https://commons.wikimedia.org/wiki/Category:Anacortes_Public_Library

Additional Information