Museum of Northwest Art
Introduction
The Museum of Northwest Art (MoNA) is dedicated to promoting the arts, cultures, and environments of the Northwest. It collects and exhibits contemporary art from California, Idaho, Montana, Oregon, Washington, and British Columbia. It houses a permanent collection and accepts a wide range of art including paintings, prints, glass, sculpture, ceramics, photographs, and new media. MoNA offers changing and traveling exhibitions throughout the year as well as a number of educational programs.
Images
The Museum of Northwest Art was founded in 1981 and showcases art from the Northwest region.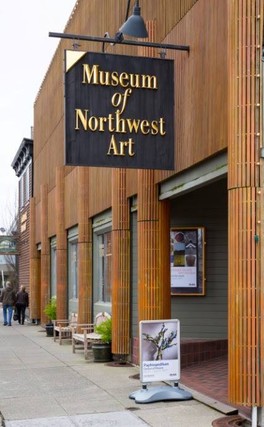 Backstory and Context
The Museum of Northwest Art was founded by photographer Art Hupy in 1981. Originally called The Valley Museum of Northwest Art, the museum was first located on the second floor of the Gaches Mansion—a historic 1891 residence that is now home to the Pacific Northwest Quilt & Fiber Arts Museum—for fourteen years. The museum began making plans to move to a bigger location in 1982 but that didn't happen until the early 1990s when the current building became available. During that period the museum acquired art and held many exhibitions showcasing artists from the Northwest. After a few of years of negotiation and renovation, MoNA moved in and has remained here ever since.
Sources
"About MoNA." Museum of Northwest Art. Accessed February 11, 2020. http://www.monamuseum.org/about-mona.
Additional Information