Lake Erie College
Introduction
One of the oldest institutions for higher learning in the Western Reserve, Lake Erie College is a private liberal arts college located in Painesville, OH. Like its predecessors, the Willoughby Female Seminary (1847-1856) and Lake Erie Female Seminary (1856-1898), the college can trace its roots to the seminary movement. Over time, the institution transitioned from a single-sex seminary to a coeducational college, undergoing multiple name changes and adjustments to its curricula in the process. In 1908, the state of Ohio granted the charter to establish the institution of Lake Erie College, as it is known today.
Images
College Hall, Lake Erie College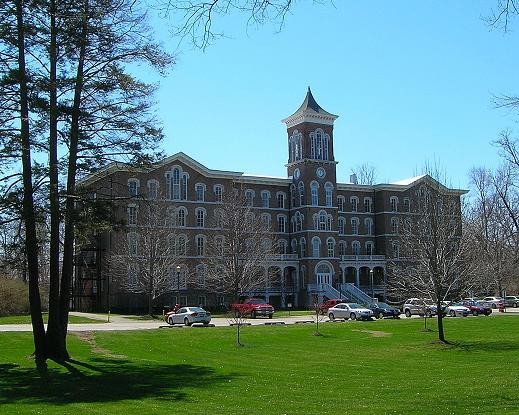 Administration Building, College Hall, Lake Erie College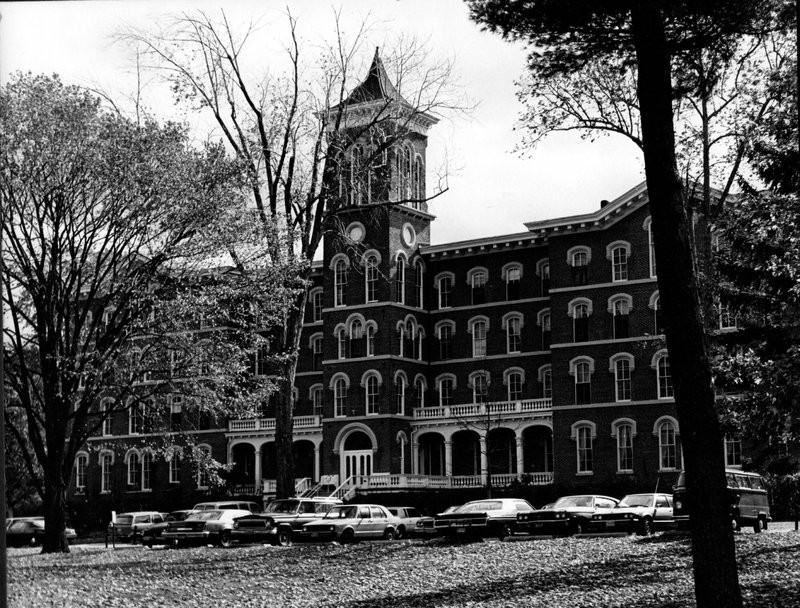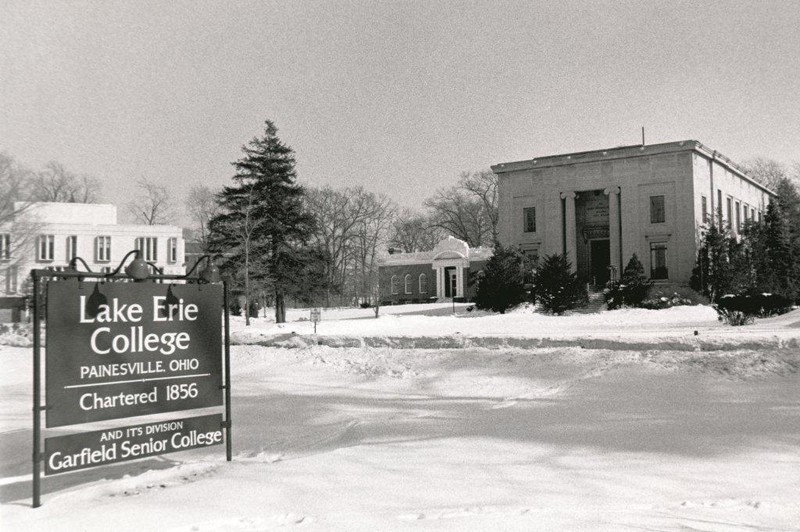 Library at Lake Erie College, ca. 1888-1892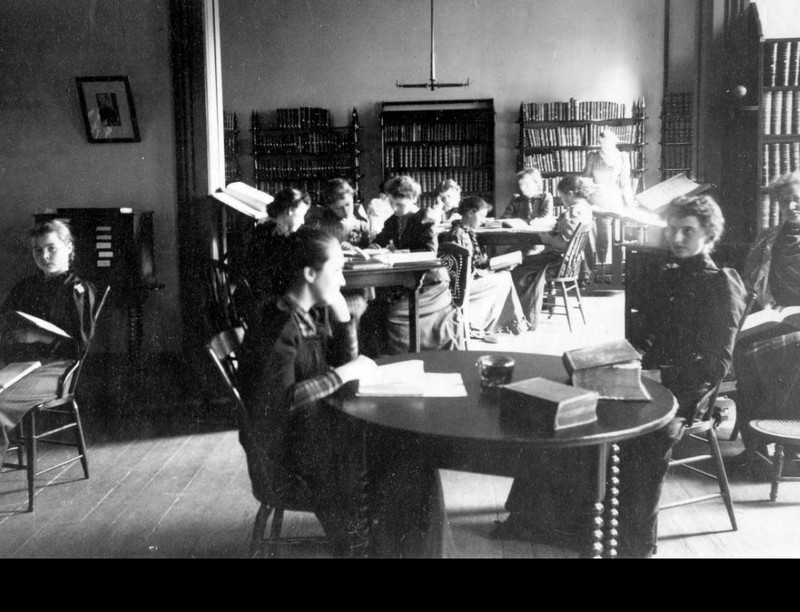 Backstory and Context
Lake Erie College's roots are in the seminary movement (1820-1860) that focused on providing advanced education for women to become wives, mothers, missionaries, and educators. Early Midwest seminaries were heavily informed by the female seminary movement in New England, which primarily focused training on manners, decorum, domesticity, and discipline. As the movement evolved, seminaries were part of a growing trend toward women's equality, as they provided the means for women to become the intellectual equals of men. Founded in 1847, Willoughby Female Seminary, a predecessor to Lake Erie College, was the only exclusively female institution of higher education in the Western Reserve. The institution was housed in a building originally constructed for a medical college, and was modeled after Mount Holyoke Female Seminary in South Hadley, MA.
In 1856, just nine years after its founding, the Willoughby Female Seminary was destroyed by a fire. A few months following the misfortune, six Painesville businessmen founded the Lake Erie Female Seminary on Mentor Avenue, about 15 miles to the east in Painesville, OH. The founders, who would become the first trustees of Lake Erie Female Seminary, were Timothy Rockwell (1798-1881), Silas Trumbull Ladd (1810-1879), Reuben Hitchcock (1806-1883), Aaron Wilcox (1814-1881), William Lee Perkins (1799-1882), and Charles Austin Avery (1816-1909). Architect Charles Wallace Heard, of the Cleveland firm Heard & Porter, was hired to construct the first building of the Seminary and laid the cornerstone on July 4, 1857. In 1859, the Seminary opened for instruction under Principal Lydia Sessions prior to the completion of its first building, College Hall. The Seminary curriculum mirrored that of Mount Holyoke's, including options in liberal arts studies, but with a primary focus on domestic affairs.
Several women associated with the seminaries became active proponents of women's suffrage, as the movement gained notoriety in the 1840s. Frances Jennings Casement (1840-1928) graduated from Willoughby Female Seminary in 1856, Elizabeth Bartlett Grannis (1840-1926) attended Lake Erie Female Seminary until 1862, Emma Gillett (1852-1927) and Ellen Spencer Mussey (1850-1936) met at Lake Erie Female Seminary in 1870, and Mary Evans (1860-1921) was a former principal of Lake Erie Female Seminary and became the first President of Lake Erie College. The Seminary also hosted various renowned suffrage orators, including Susan B. Anthony (1820-1906) and Jane Addams (1860-1935).
Later additions to the Seminary campus included wings to College Hall and the construction of Memorial Hall. Completed in 1890, Memorial Hall included an auditorium, chapel, and dormitory. Over the years, the Seminary curricula and charter underwent various changes, and in 1898, the coursework was modified to qualify graduates for a college degree, rather than a seminary diploma. This change was accompanied by a change in name to Lake Erie Seminary and College, until it took on the official name of Lake Erie College in 1908, when a charter was passed by the state of Ohio.
The institution made history in 1954 as the first college in the United States to require students to spend an academic term abroad, as administrators began to establish international partnerships. The Garfield Center was dedicated in 1972 on the campus as a co-educational senior college, named after James R. Garfield. The Garfield Senior College offered baccalaureate degrees to male junior college graduates. In 1985, the college became a co-educational institution, where males were admitted as full-time, traditional degree-seeking students, with the merger of the Garfield Senior College and women's college.
Memorial Hall was destroyed by fire in April of 1957, but the adjacent College Hall sustained only minor smoke damage. The original stone placard for Memorial Hall remains on the grounds at College Hall, in the place where it hung over the entrance. College Hall, also known as the Administration Building, was listed to the National Register of Historic Places on March 20, 1973 for its Italianate style architecture and historic significance to the college and Western Reserve. From its humble beginnings as a seminary and later a college that graduated two students in its first degree-seeking class, the institution has grown over the century with over 1,000 enrolled students; three-quarters represented by women. 35 undergraduate programs of study are offered, with programs in business, education, and equestrian studies at the forefront of the institution. The campus encompasses 48 acres in Painesville, OH and 85 acres at the George M. Humphrey Equestrian Center in Concord Township.
Sources
Coon, Sharon A. Lake Erie College: The First 150 Years, 1856-2006. Supplement to Lake Erie Magazine. 2006. 4 - 13.
Fazio, Michael. Ohio SP Administration Building, Lake Erie College. Textual Record. Mentor: Old Mentor Foundation, March 1973. From Department of the Interior, National Park Service, National Register of Historic Places and National Historic Landmarks Program Records: Ohio, 1964-2013. Accessed April 17, 2020. https://catalog.archives.gov/id/71989581
Garfield Senior College, Lake Erie College. Accessed April 17th 2020. https://www.lec.edu/gsc
Norton, Gretchen. Lake Erie College, Encyclopedia of Cleveland History. n.d. Accessed April 23rd 2020. https://case.edu/ech/articles/l/lake-erie-college.
Melder, Keith. Aspects of the Changing Status of New England Women, 1790-1840, Teach US History. Accessed May 5th 2020. http://www.teachushistory.org/detocqueville-visit-united-states/articles/aspects-changing-status-new-england-women.
Sweet, Leonard I. The Female Seminary Movement and Woman's Mission in Antebellum America. Church History: Studies in Christianity and Culture, vol. 54, no. 1. pp 41 - 55. Published March 1st 1985. JSTOR.
Image Sources
Remarkable Ohio

Lake County Historical Society

Lake Erie College

Ohio History Connection via ohiomemory.org

Additional Information