Joshua R. Giddings Law Office
Introduction
Joshua Reed Giddings was a notable attorney, Congressman, and Abolitionist in Northeast Ohio. After serving in the War of 1812, he passed the bar examination and established his own law practice in Ashtabula County. He constructed a small structure beside his home to serve as his law office and library with partner Benjamin F. Wade. A successful attorney, later in life he embarked on a political career and was elected to the Ohio General Assembly and later the U.S. House of Representatives. Throughout his 20 year tenure in politics, he utilized his status to effect change in slavery legislation.
Images
Joshua R. Giddings Law Office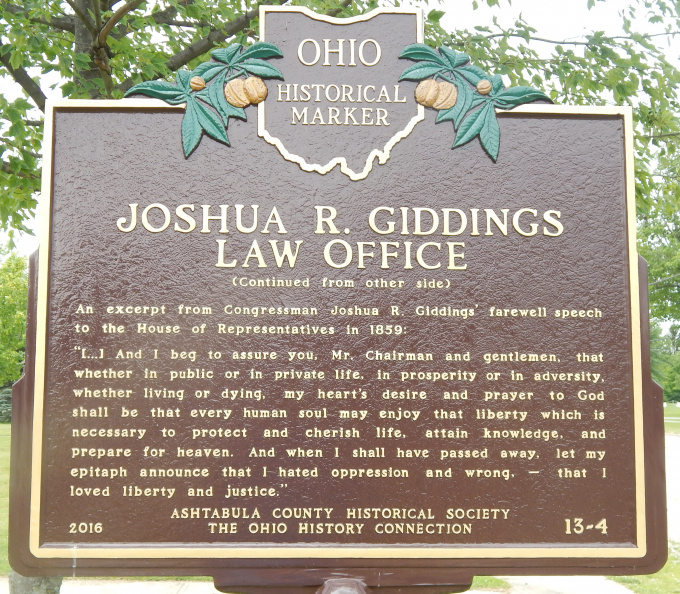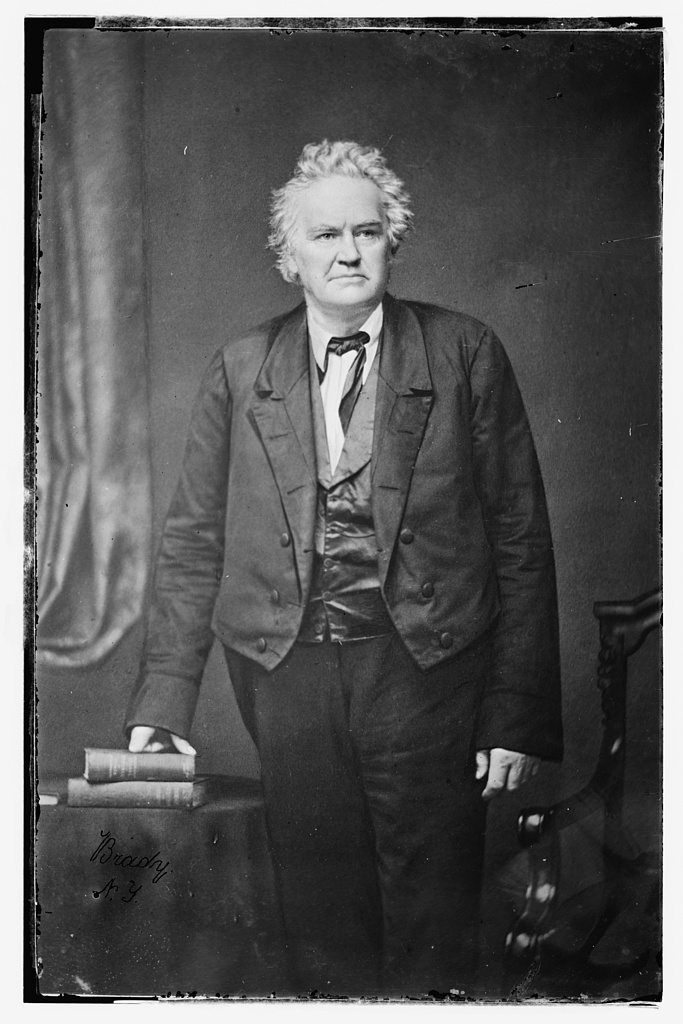 Joshua R. Giddings Law Office Interior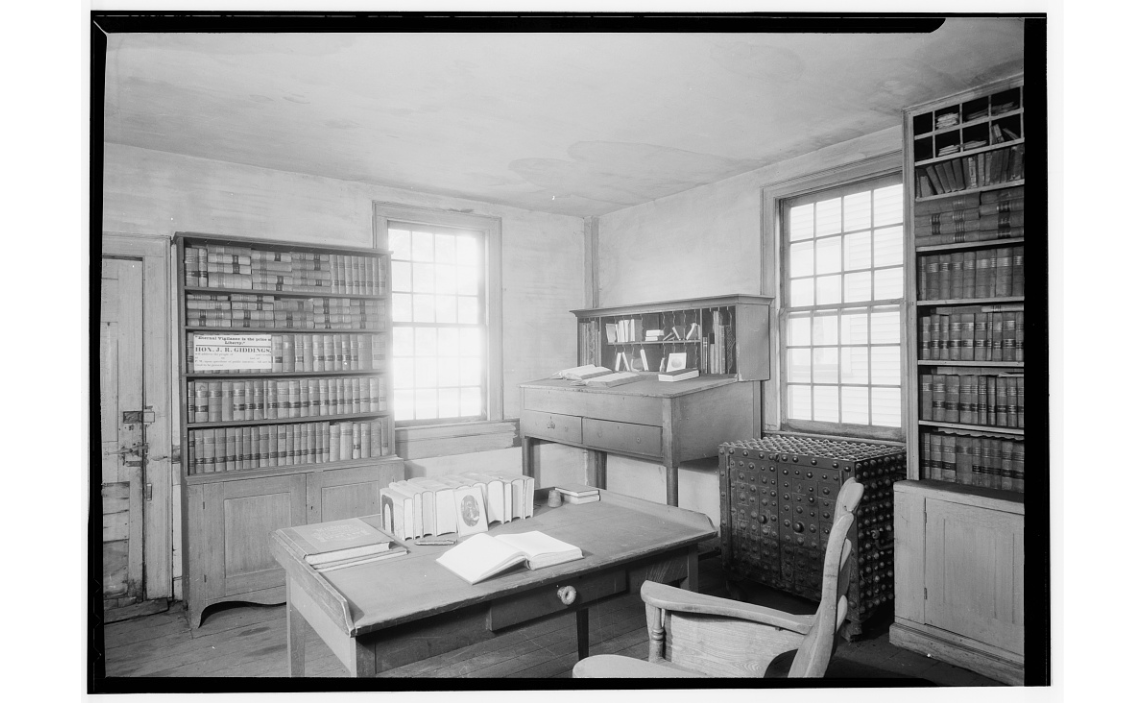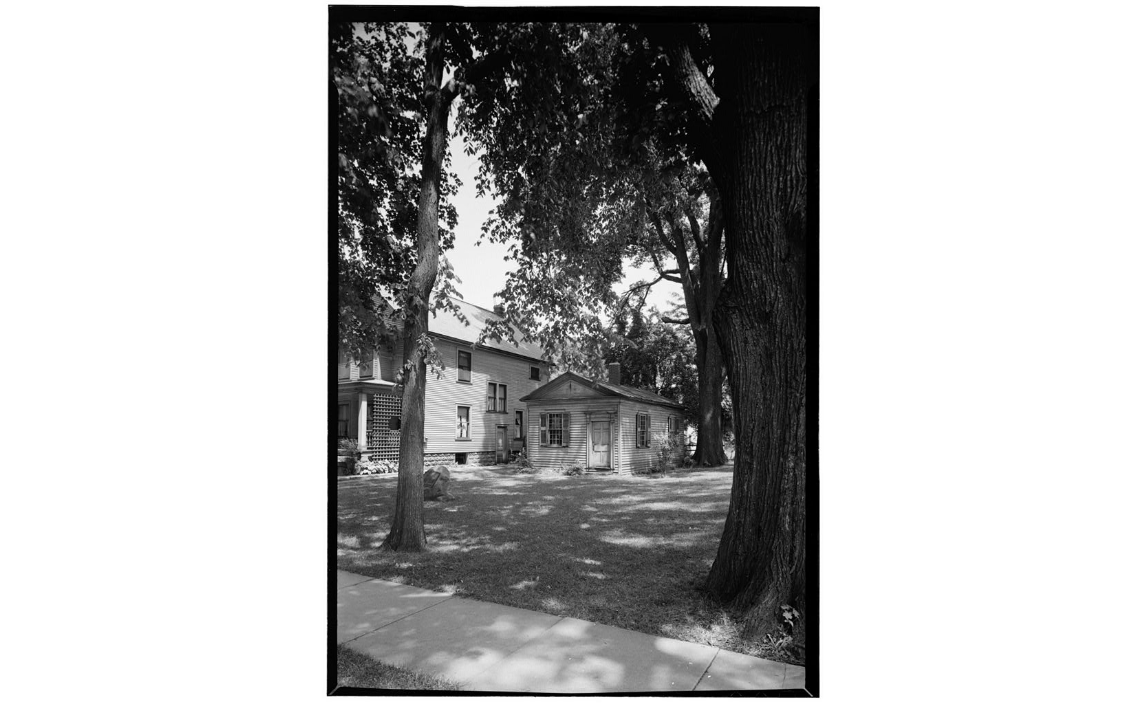 Backstory and Context
Joshua Reed Giddings was born in Tioga Point (later Athens), PA, on October 6, 1795 and moved to Canandaigua, NY in infancy. In 1806, the Giddings family moved to Ashtabula County, OH. Much of Giddings' youth was spent laboring on the family farm, and he would later serve in the War of 1812. Giddings completed his common-school education, and in 1821 was admitted to and passed the bar examination to practice law. He worked as a school teacher before establishing his own firm in Jefferson, OH where he earned a living as an attorney. In 1831, Giddings formed a partnership with Benjamin Wade, and the two would become leading figures in the Abolitionist Movement.
Giddings shifted into a political career with his election to the Ohio General Assembly from 1826-1828. In 1838, Giddings returned to politics, being elected into the Whig Party of the U.S. House of Representatives. Giddings established himself as a staunch opponent of slavery, and utilized his influence in Congress during his 20 years of service to oppose issues like the Mexican War, the Fugitive Slave Law, and the Kansas-Nebraska Act of 1854. Giddings was censured by the House in 1842 for his motions to defend the slaves involved in the Creole slave ship rebellion, leading to his resignation. His constituents re-elected Giddings to the House in 1847, where he served until 1859. Giddings joined the Free Soil Party in 1848 after consideration of the strong Southern ties the Whigs and Democrats held, and sponsored national Free Soil conventions in Cleveland, OH. In 1854, following the Kansas-Nebraska Act, Giddings was a founding member of the Republican Party, in which he occupied the radical wing in support of abolition. In 1861, President Abraham Lincoln appointed Giddings as the United States Consul General to Canada, a post he served until his death in 1864.
The Joshua R. Giddings Law Office was built in 1823; a small, Federal style, single-story wood structure with a metal standing-seam gabled roof. The weatherboarded structure of the two rooms is 16 feet by 28 feet. The building represents the tradition of early nineteenth-century professionals who built their offices near their homes, as it was originally located next to Giddings' house on North Chesnut Street, but was relocated to its current location on Jefferson Street in 2013. The office still contains Giddings' desk, law library, and the first ever safe brought to Ashtabula County.
The Joshua R. Giddings Law Office was acquired from the Dunham family (descendants of the Giddings family) in 1950 by the Ashtabula County Historical Society, which organized in 1838. The building was listed on the National Register of Historic Places on May 30, 1974. In 2016, the Ohio History Connection (formerly Ohio Historical Society) dedicated an Ohio Historical Marker on the property, citing an excerpt from Giddings' farewell speech to the House of Representatives in 1859.
Sources
National Historic Landmark Nomination for Joshua Reed Giddings Law Office. National Park Service. <https://npgallery.nps.gov/NRHP/GetAsset/NHLS/74001396_text>
Joshua R. Giddings. Ohio History Central, Ohio History Connection. <https://ohiohistorycentral.org/w/Joshua_R._Giddings>
Steward, James Brewer. Joshua R. Giddings and the Tactics of Radical Politics (1970).
Julia, George W. The Life of Joshua R. Giddings. Chicago: A. C. McClurg and Company, 1892.
Tassel, David, John J. Grabowski, and Cleveland Bicentennial Commission. The Encyclopedia of Cleveland History. Bloomington: Indiana University Press in association with Case Western Reserve University and the Western Reserve Historical Society, 1996.
Ashtabula County Historical Society.
Blue, Frederick J. The Ohio Free Soilers and Problems of Factionalism. Ohio History Journal, Ohio History Connection. pp. 18-32. <https://resources.ohiohistory.org/ohj/search/display.phppage=5&ipp=20&searchterm=crawford&vol=76&pages=17-32,89-93>
Image Sources
Remarkable Ohio

Library of Congress

Library of Congress

Library of Congress

Additional Information