Pioneer Village at Shingle Creek
Introduction
Pioneer Village at Shingle Creek consists of many structures located in many parts of Osceola County. It is a historical site where individuals can view the artifacts from the first settlers on the area of land. The establishments scattered include the Seminole Village, Lanier cracker house, Tyson House, Cadman Complex, Mary Kendell Steffee Nature Preserve and Caretaker's House. The listed information about these specific establishments can be found on http://www.floridaleisure.com/pioneer-village/.
Images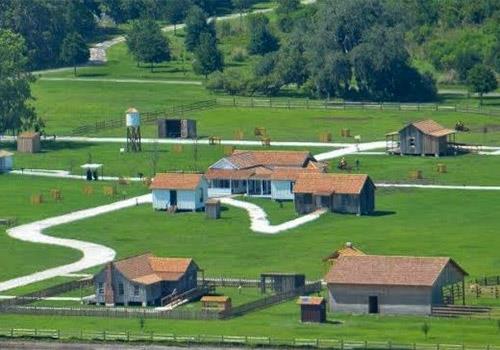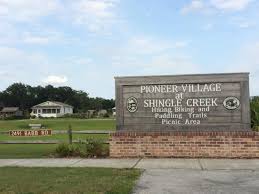 Backstory and Context
Descriptions of the different structures on the site:
The "Seminole Village" was home to the Seminole and Miccosukee Indians. They lived under Chickees. The roofs consisted of palmetto leaves. The benefits of using this plant as a roofing material was the durability, watertight, and wind resistance. The palmetto was also used to hold the leaves up. Specifically, the logs acted as a support to the leaves with a three feet platform off the ground. 
The "Cracker House" was built in 1889 by the Lanier family. Built as a form of early-American architecture, it contains a wash house, smokehouse, and gardens. The "Tyson House' was a one-bedroom residence that roomed 11 people from James C. Tyson's family. It is a smaller house that is fenced in. This establishment holds the history of James C. Tyson and his family as farmers who were not very wealthy. 
The "Cadman Complex" was owned by a wealthy family originating from New York. Hopping on the investor trend, they were attracted to many of Florida's traits. These traits include but are not limited to the climate, commercial opportunities, and natural charm. Not only did they purchase a home in Narcoossee, but they remodeled it to accommodate to their desires, too. The exterior could be described as a large. White house with a separate Bachelors' Quarters that lodged the three boys of the family.
 "The Mary Kendell Steffee Nature Preserve" is a 7.8 acre preserve that grows vegetation. It is used for dyes, clothing, medicine, and many other needed products. Modern day activities that people perform are hiking, biking, paddling trails, and picnics. This land quarters a diversity of trees and animals. Trees that are present on these acres of land are pine flatwoods, wet and dry prairies, oak hammocks and hardwood wetlands. Some species include the American bald eagle, sandhill crane, and eastern bluebird. On these trails, visitors will see these important creatures and understand that they are rare. 
The "Caretaker's House" is the entrance building that is said to have been built in 1932. This addition is owned by the Partin Family. Specifically, Henry O. Partin introduced Brahman cattle to Florida's cattle industry. Currently, it holds the position as the historical site's gift shop. It is the first building visitors enter during their historical trip to Pioneer Village. It looks like a medium sized wooden residence.(Pioneer Day Comes to the New Pioneer Village in Kissimmee)
The Osceola County Historical Society holds "Pioneer Day" as an option for families to come together and appreciate the live music, delicious variety of foods, and learn the historical facts about the ancient land. This society is a non-profit organization that came together as a successful attempt to preserve a piece of Florida's history. According to https://osceolahistory.org/who-we-are/, more than 17,000 people a year seek information about the Pioneer Village in Kissimmee. They measure this by the number of people that enter the welcome center. As an attempt to capture student's attention, the Osceola County Historical Society welcomes schools for field trips and educational programs. Not only do they try to interest students, but they hold events and fairs as an attraction to people of all enjoyments. They hold "The Fall Country Jamboree" which is a large craft show for individuals to retain history through food, live history demonstrations, and music. Corn boil and 
sugarcane boil is served as an appeal to the visitors. Seeing delightful food they normally do not see in their daily life opens their curiosity to ask more questions about the establishment's history. 
Overall, the Pioneer Village at Shingle Creek provides people with the knowledge and experience most historical sites lack. This specific location makes learning about the land's history fun. They use food and music to appeal to the typical American as a way to grasp people's attention.
Sources
Who We Are." Osceola History, osceolahistory.org/who-we-are/
Solodev. "Shingle Creek Regional Park – Pioneer Village at Shingle Creek." www.osceola.org/agencies-departments/parks/parks-facilities/shingle-creek-babb-landing.stml.
"Pioneer Day Comes to the New Pioneer Village in Kissimmee." Florida Leisure, www.floridaleisure.com/pioneer-village/.
Ketcham, Sandra. "Stroll Through History in Osceola County." TripSavvy, www.tripsavvy.com/pioneer-village-shingle-creek-regional-park-2545407.
Espinal, Jannely. "This Pioneer Village In Florida Will Take You Back To The 1800s." Narcity, www.narcity.com/us/fl/orlando/things-to-do/this-pioneer-village-in-florida-will-take-you-back-to-the-1800s.
"Historic Osceola County." Google Books, Google, 
Books.google.com/books? id=XyrVQ8sYcwEC&pg=PA113&lpg=PA113&dq=lanier+cracker+house&source=bl&ots=Tw4kFOGXk3&sig=ACfU3U1WrI81Q3W_AJHYB8fi0WvZzxKOlA&hl=en&sa=X&ved=2ahUKEwiJ9ryX8O_nAhXOVN8KHb-pAlo4ChDoATAAegQIChAB#v=onepage&q=lanier cracker house&f=false.