Floral Clock
Introduction
This historical site is one of a kind. Its found in North Orlando which isn't far in my geographical area and seems to be a nature filled experience. Enjoying the intricate flowers and plants and the appreciation of the artwork it took to create this clock is something pretty marvelous.
Images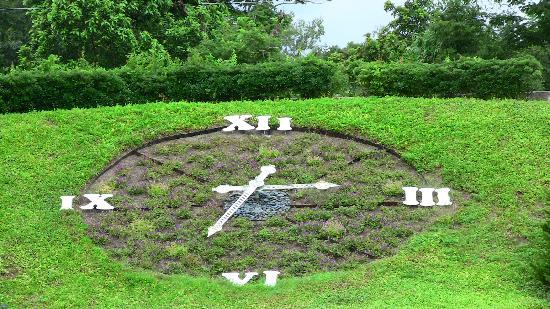 Backstory and Context
The Harry P. Leu Gardens are semi-tropical and tropical gardens in Orlando, Florida, United States. The gardens contain nearly 50 acres of landscaped grounds and lakes, with meandering trails shaded by 200-year-old oaks.The Leu Gardens were started by Mr. and Mrs. Harry P. Leu, who in 1936 purchased Leu House and 40 acres of land. They traveled all over the world and brought back many exotic plants and many varieties of camellias for their gardens. In 1961, the Leus deeded the house and the gardens to the city of Orlando.A 15-acre section of the park is a U.S. historic district.
Sources
Miller, Mike. Leu Gardens, Accessed February 28th 2020. https://www.florida-backroads-travel.com/leu-gardens.html.
In this article the author Mike Miller describes the Floral Clock to be a rather great tourist spot full of history. He beings to explain the reasoning behind the owner and founder, Mr Leu's cultivation of this land."He was a native who built a successful industrial supply company, and the business seemed to be doing very well." He also talks about how "The Floral Clock was inspired by the famous clock of that kind in Edinburgh, Scotland."
Hambelton, Stevie. Accessed February 28th 2020. http://klaverweiden.com/harry-p-leu-gardens-orlando/fca40/md/orlando-florida-harry-p-leu-gardens-floral-clock-flowers.aspx.
Hambelton views this site as very complex in that each room of this area has a different role. If they aren't armed together the activities of the Harry Leu garden will not work exactly as desired. This is to symbolize how the Floral Clock flowers are important. He stresses the importance of focusing on how the "touch of decorations and also the aesthetic value in the plan or model will offer a huge overall properly used interior design."