Aberdeen Proving Ground
Introduction
First officially used on October 20 1917, Aberdeen Proving Ground is the United States Army's oldest active ordinance and tactics testing facility. A large amount of equipment and materials ubiquitous to the United States military in World War Two and beyond first underwent testing by the Army at the proving ground before its general adoption.
Images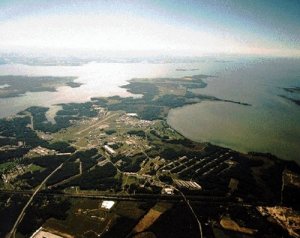 Sources
Bates, Bill. Aberdeen Proving Ground. Arcadia Pub., 2007.
This is an detailed overview of history of the proving grounds. The text covers the history of the site from around its inception until the end of World War II. The authors Bill Bates and retired Major General John Doesburg are suited to retelling the history of Aberdeen. Mr. Bates in particular compiled the series Images of America, which covers numerous different topics of United States history, and Major General Doesburg's authority on the topic is clear. The information in the book remains accurate, but does not cover more recent history.
"History." History :: U.S. Army Aberdeen Proving Ground, United States Army, home.army.mil/apg/index.php/about/history.
The United States Army website published this article. The page details history of the Aberdeen Proving Ground from across its existence. The archivists and writers formatted the site so that it serves as a casual source of some facts and information, so anyone could make use of it. Since the Army itself published this website its authority is clear.