Joseph John Kielbasa
Introduction
Joseph John Kielbasa was an immigrant from Poland in 1929. He left his family in Poland at the age of 28 to live in America as a car mechanic. He boarded the boat called the Miracle which docked in Ellis Island. From there he started his life working in a country with an entire family in Poland.
Images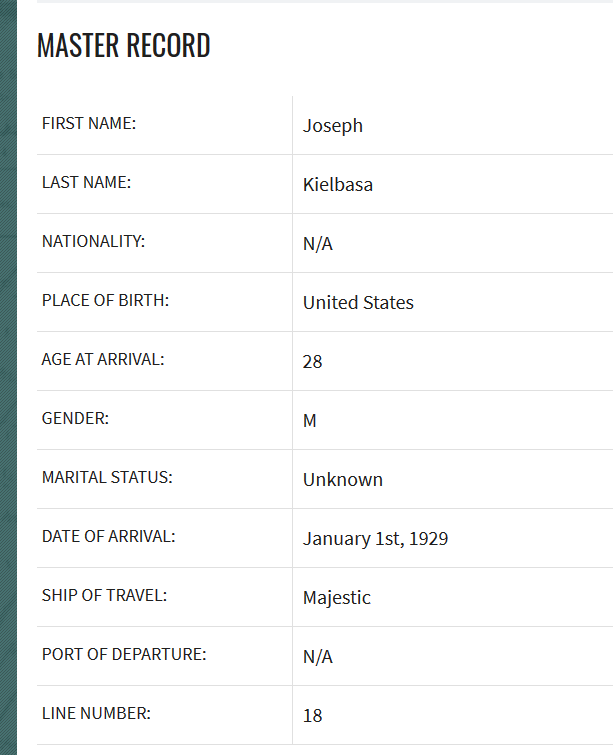 Ellis Island Immigration sheet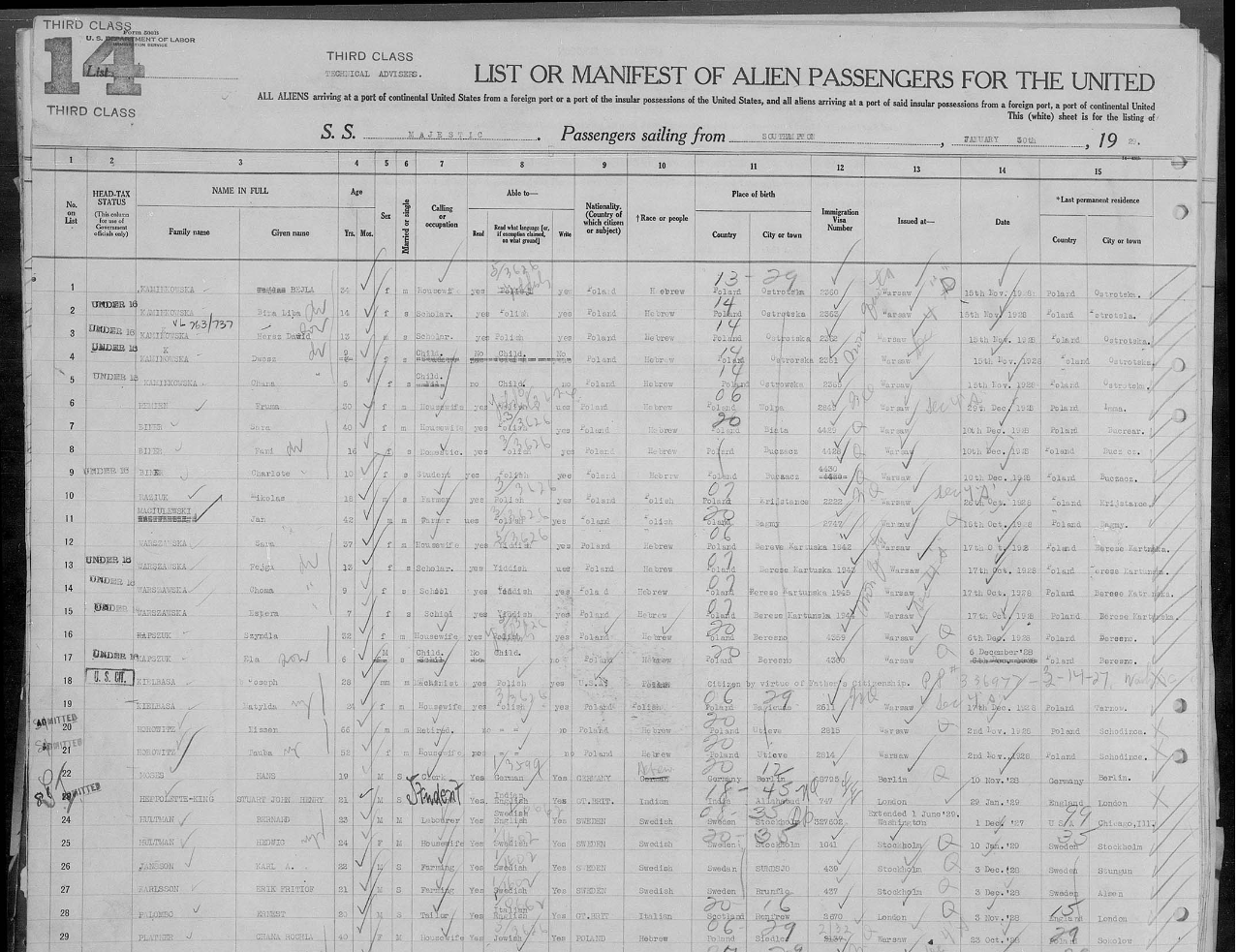 Backstory and Context
Joseph John was born and raised in Poland with a strong Roman Catholic upbringing. His family's wish was for one of their children to move to the United States and live the American Dream they've heard so much about. Their child Joseph John was the one chosen to move their legacy into the United States. This was a huge deal to his family and it meant a brighter future spreading their bloodline and religion into the United States.
Once immigrated into the U.S. Joseph worked full time as a mechanic. He was the first in his family to do anything of the sort and had always been intrigued by machines. The hardest part for him and his journey was learning English. After living in America for a year or so he met a woman who, like himself, was Polish American. They together grew to learn English better and carve their own path out.They were quick to get married and have a family of their own, which was fulfilling his family's wishes.
Sources
Joseph John Kielbasa, Sr. (n.d.). Retrieved from https://www.myheritage.com/matchingresult-5f594170ea52797b8deea8e00c365e66?auth=cb7f28a2bc882a852427ab929b6ff533&trn=partner_Geni&trp=match_button_profile#record_matches
This source is from a heritage website that shows the profiles of people from all over the world. Along with this it shows the family trees of the people within their records. This citation shows Joseph John Kielbasa's profile including, date of birth, parents, marriage, and death information. From this source Joseph John Kielbasa was born in Mazaenica Poland on March 15th 1894.
"Joseph Kielbasa." The Statue of Liberty & Ellis Island, www.libertyellisfoundation.org/passenger-details/czoxMzoiOTAxMTk4MzM3NTkxMyI7/czo5OiJwYXNzZW5nZXIiOw==.
This source is from the National Archives for immigrants into the United States. In this citation it shows the records, ship, and information about Joseph John Kielbasa. He entered the United States in 1929 via Ellis Island on the ship Majestic. He was the first from his family to travel to the U.S. and was sent alone to be a mechanic.
Image Sources
https://www.libertyellisfoundation.org/

https://www.libertyellisfoundation.org/

https://www.libertyellisfoundation.org/