The site of Tony Pastor's Vaudeville shows
Introduction
In 1881, Tony Pastor bought out a theatre on 14th street to host a new style of entertainment called Vaudeville. Due to the popularity of his shows, Pastor became the leading variety manager in New York City. Although Pastor had many other accomplishments, his variety shows on 14th street was where he peaked in his career, discovering new celebrity stars to put in his "hit" shows.
Images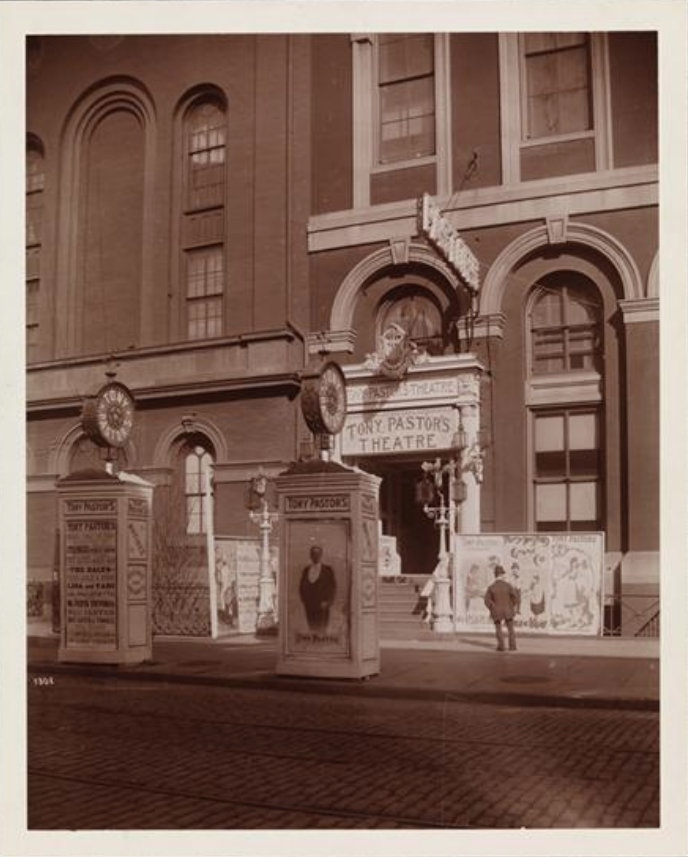 Backstory and Context
Towards the end of the 1800's people started to distinguish between time spent at work and their personal lives. In turn, leisure time became more popular in the daily American lifestyle. During this time period, various types of entertainment fought for the attention of the Americans, which ultimately gave way to new forms of entertainment. Live entertainment shows being one of them, a term called "Vaudeville" rose in popularity.
Vaudeville is a term to describe a variety show filled with jugglers, musicians, singers, acrobats, animals, comedians, and other "odd-balls". With the wide variety of acts, there was something in the show for everyone.
Tony Pastor transformed the Vaudeville scene as it was first known as a "lower-class, bawdy form of entertainment" to a "respectable, wholesome show".
Sources
Fields, Armond. Tony Pastor, Father of Vaudeville. McFarland, 2007. EBSCOhost, search.ebscohost.com/login.aspx?direct=true&db=rih&AN=A564224&site=eds-live&scope=site.
This source is a book on Tony Pastor, who brought vaudeville entertainment to New York City. The source is valuable because it describes the historical series of events that occurred to start the trend of popular vaudeville shows. This was a key to the introduction of leisure time spent indulging in arts and entertainment during the time period.