UCF Recreation and Wellness Center
Introduction
The UCF Recreation and Wellness Center is a place of fitness and activities offered at the University of Central Florida. Offering a variety of amenities such as a weight room, lap pool, basketball court, indoor track, and rock climbing amenity. Feeling tired or worn out after a long and hardworking workout? Than stop by the "smoothie king" inside the building that is open to any student or visitor.
Images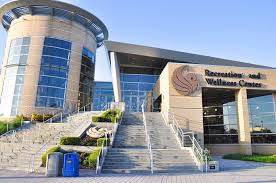 Backstory and Context
Opening back in 2002, the UCF Recreation and Wellness Center was created to provide students with the opportunity to live a healthy and happy life. The Recreation and Wellness Center offers a vast variety of amenities within its walls. Looking to gain some muscle or slim down for the summer? Than check out the cardio and weight room. Looking to decrease your mile time or play a pick up basketball game? Than visit the indoor basketball court which also offers an indoor track right above the courts on the centers 2nd floor. Or do you just want to relax by the pool or swim some laps? Than visit the lap pool located right outside the weight room.
UCF's Recreation and Wellness Center also offers a variety of employment opportunities across it's amenities. Whether you want to be a lifeguard, gym worker, or even make a variety of smoothies, the recreation and wellness center offers it. Also offering a vast majority of internship opportunities. Students looking to pursue graduate school in careers such as physical therapy or persona training can gain internship and shadowing hours needed to pursue to the next step in their lives.
Sources
Recreation and Wellness Center, University of Central Florida . Accessed February 28th 2020. https://www.ucf.edu/services/s/ucf-recreation-and-wellness-center/.
The UCF Recreation and Wellness Center was created and established to offer the students attending UCF a positive environment for getting fit and staying healthy. UCF has been nationally recognized for it's comprehensive year-round programming in Aquatics, Adaptive and Inclusive Recreation, Fitness, Intramural Sports, Outdoor Adventure and Sports Clubs. At the UCF RWC, they believe in the importance of exercise and physical activity in regards to performing well in school. At the RWC, they believe in accessibility for everyone and have set past national trends for in inclusive programming for students with disabilities.
Trost, Stewart. Active Education: Physical Education, Physical Activity, and Academic Performance , Accessed February 28th 2020. https://folio.iupui.edu/handle/10244/587.
Across the United States, schools are becoming more unaware of the importance of physical activity for their students. Studies have indicates that only 36% of high schools students meet the current recommended levels of physical activity. With this percentage decreasing even more in the college level. A variety of test have indicated more times in physical education leads to improved grades and standardized test scores. As well as students with a high level of physical activity tend to have better academic achievement. An interesting finding as well was that activity breaks can improve cognitive performance and classroom behavior.