UCF Army ROTC
Introduction
UCF Army ROTC is a program offered at the University of Central Florida. College students who pursue this program are in seek of becoming a Second Lieutenant in the United States Army. This may include active duty, reserve, or national guard service. Throughout their respected years in the program, students are tasked with the basis of learning what it means to be an officer in the United States Army. While doing so, students participate in a variety of leadership building classes and events that will benefit the students in their college and future career fields.
Images
Performed during a Commissioning ceremony, UCF Army ROTC cadets show their respect for the graduating seniors who will become Second Lieutenants in the United States Army and begin their respective field of work.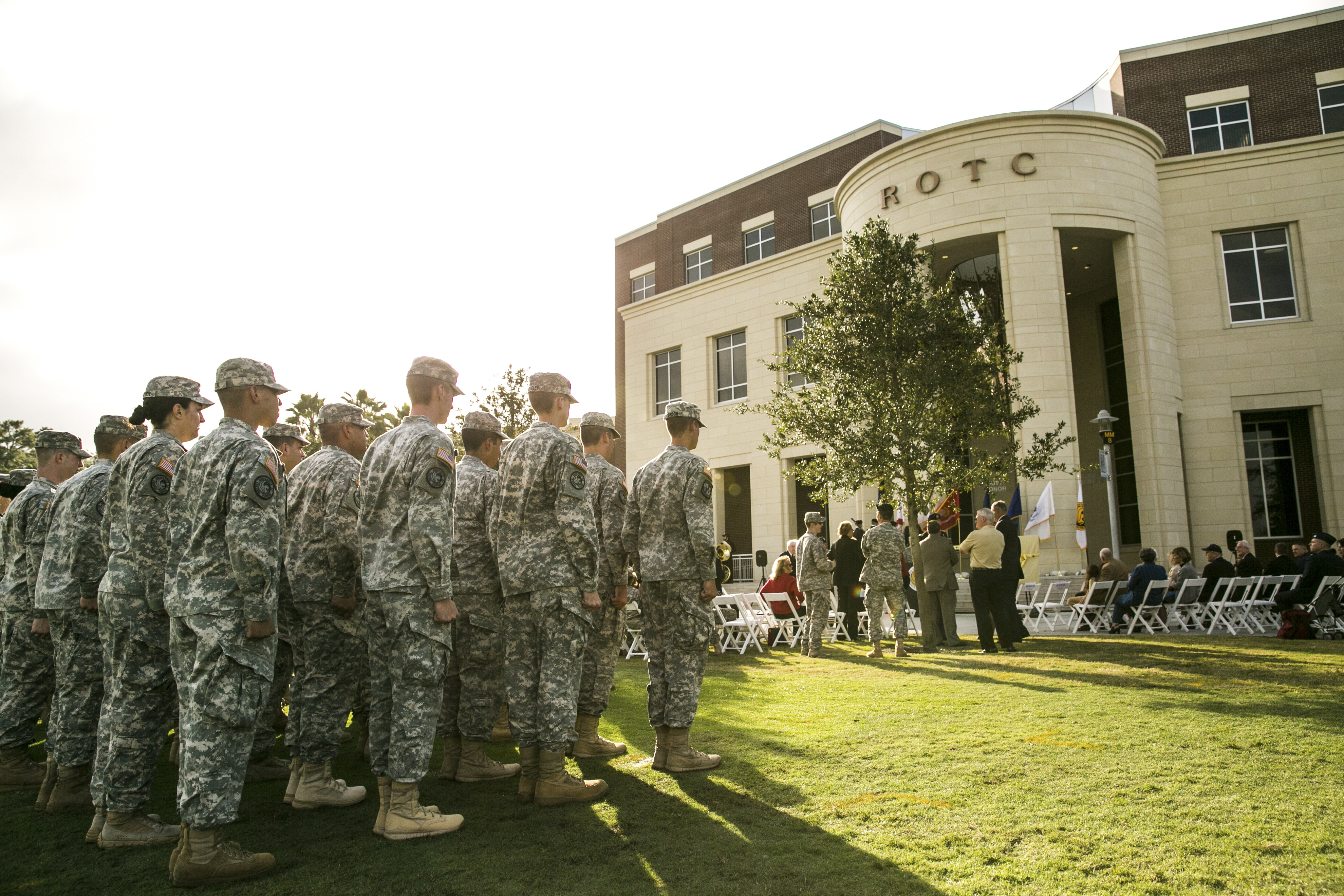 Each semester UCF's Army ROTC program participates in FTX exercises. Performed over a weekend, participating cadets practice and showcase the knowledge they have learned over the course of the semester.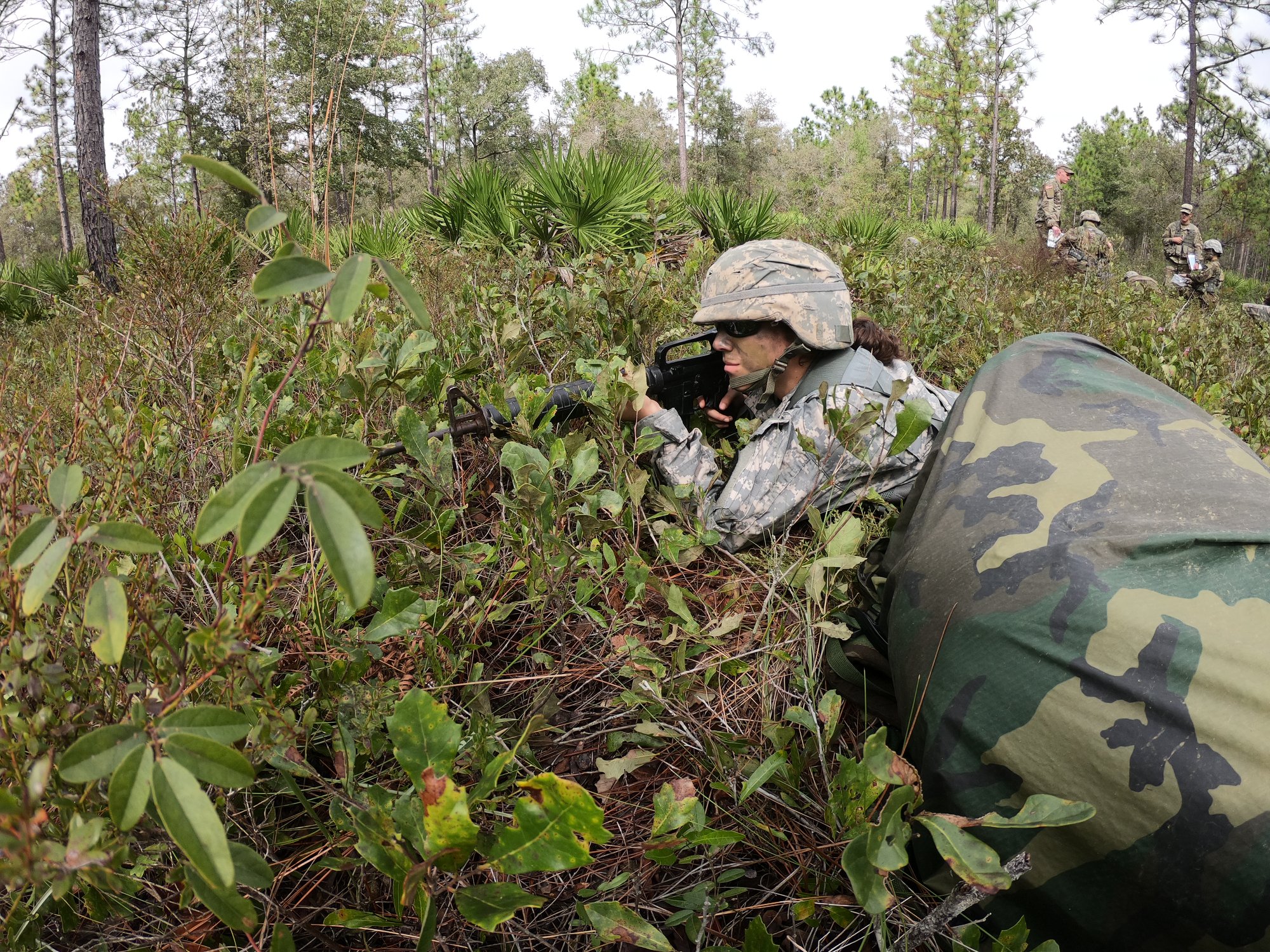 Each week cadets are tasked to perform a receptive lab. The lab's consist of tactics that have been taught in the classroom by cadre earlier in the week. Labs help showcase the cadets knowledge of the week's lesson.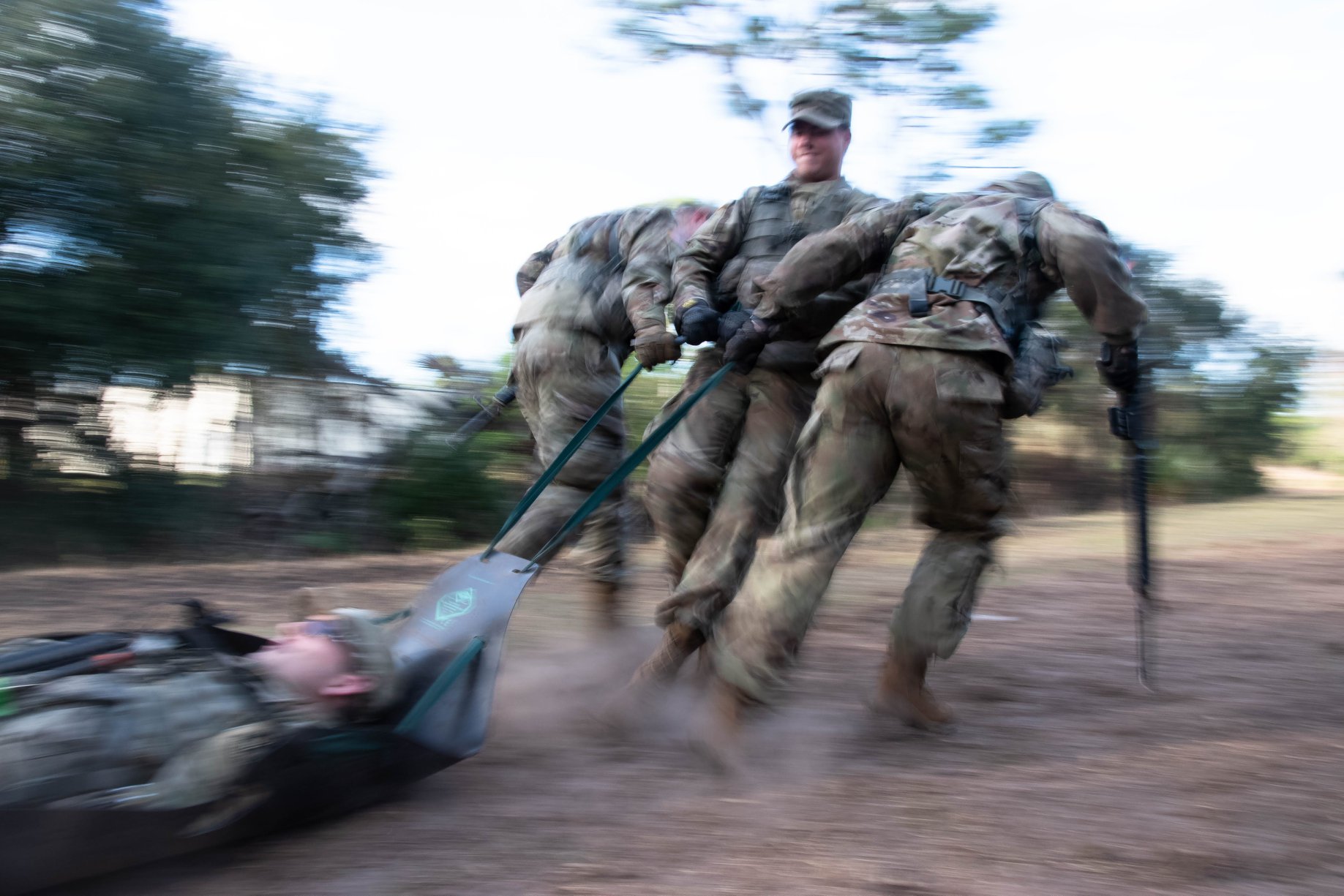 Backstory and Context
In 1916, President Wilson signed the National Defense Act of 1916, providing the opportunity for military training to be conducted at college and universities, also know as ROTC. On October 15th, 1986, UCF was officially established as an ROTC host school. Allowing the UCF Army ROTC program to be established. Over the course of the programs history, the number of students contracted in the program drastically increased. From only 20 cadets in the early years, to now over 210 cadets contracted in the program.
Not only UCF enrolled students are allowed to participate in the program. Other local colleges such as Seminole Community College (SCC) and Valencia Community College (VCC) all students the unique opportunity to participate in the program while attending another school for their respected studies. The UCF program as received highest regards as a top 15% program, in the nation since 1999 and honors of the "Best Battalion" in 2002.
Sources
UCF Army ROTC, University of Central Florida. Accessed February 28th, 2020. https://army.ucf.edu/
The University of Central Florida Department of Military Science is home to the Fighting Knight's Battalion, the Army ROTC unit which serves students at UCF, Valencia Community College, and Seminole Community College.
Army ROTC (Reserve Officers' Training Corps) is a program which can enhance a student's college education by providing unique leadership training and management experience. It helps to develop the qualities necessary for success in either a military or civilian career. Students are given a valuable opportunity to build for the future by earning a college degree and an Army Officer's commission at the same time.
UCF Army ROTC's curriculum is designed to train and develop future leaders. Military Science classes cover management, ethics, tactics, law, military history, and the Army society. Students get to apply the methods learned in classroom instruction during semi-annual field training exercises at local training areas.
Army ROTC: Getting Started, GoArmy. Accessed February 28th, 2020. https://www.goarmy.com/rotc/college-students.html
Through classes and field training, Army ROTC provides it's participants with the various tools and skills needed to become an Army Officer. In doing so, Army ROTC will provide this training at your respected school without interfering with your other college classes. Army ROTC also provides it's students with the discipline and money for tuition while enhancing your college experience.
Interested students can take Army ROTC has a 2 credit elective to test their interest in the program. If yu have at least two or more years remaining towards your respected undergraduate degree but not enough time to finish the Army ROTC Basic Course; than you can enter the Army ROTC Advanced Course. This course can be attended by completing the Leader's Training Course held at Fort Knox, Kentucky, during the summer.
Physical Fitness profile of Army ROTC cadets, Europe PMC. Accessed march 30th, 2020. https://europepmc.org/article/med/15574107
A major role for any ROTC program is to physically prepare themselves for their careers ahead. One of the key components of the United States Army is to be physically fit if any time of war or battle may occur. In an ROTC program, cadets participate in physical training (PT) 3 days a week to prepare themselves physically and mentally. 
According to the conducted study, a test was done to see how physically prepared ROTC cadets actually were. A random group of 43 cadets (30 men and 13 women) were selected for the study. In the study, they were tested on the Army APFT test which includes the 2 mile run, 2 minutes of maximum push ups, and 2 minutes of maximum sit ups. They were also tasked with finding their 1 rep max for the bench press. As a result, the only exercise performed below average was the women's 1RM on the bench press. Proving that Army ROTC were physically above standard. 
Patriot Battalion- Army Reserve Officer Training Corps, Providence College. Accessed March 30th 2020. 
https://cpb-us-e1.wpmucdn.com/sites.providence.edu/dist/e/71/files/2018/02/ROTC20College20Students20Scholarship.pdf
Provided is a brief guideline to the steps to becoming a Second Lieutenant in the United States Army through the ROTC program. The following guideline is presented by Providence College. Throughout the guideline, key factors for the program are highlighted and explained. The include: Requirements, Scholarships, Commissions, Classes, Athletics, Uniforms & Equipment, and Leadership Summer Internships & Professional Development Courses. 
Also included in the guideline is a brief summary of what Army ROTC is. This section is broken up into 4 sections; Freshman and Sophomore Years (The Basic Course), Junior and Senior Years (The Advanced Course), Commitment After College, and How to Apply. Each one of these describes the key steps before, during, and after your journey throughout the ROTC program at whatever college you choose to attend. 
ROTC Programs. Today's Military. Accessed March 30th 2020.
https://www.todaysmilitary.com/education-training/rotc-programs
The Reserve Officer Training Corps (ROTC) is a college program offered at more than 1,700 colleges and universities across the United States that prepares young adults to become officers in the U.S. Military. In exchange for a paid college education and a guaranteed post-college career, participants, or cadets, commit to serve in the Military after graduation. Each Service branch has its own take on ROTC.
Army ROTC is one of the most demanding and successful leadership programs in the country. The training a student receives in Army ROTC provides leadership development, military skills and career training. Courses take place both in the classroom and in the field, and are mixed with normal academic studies. Additional summer programs, such as Jump School, may also be attended. Upon completion, an Army ROTC graduate is commissioned as an officer in the Army.